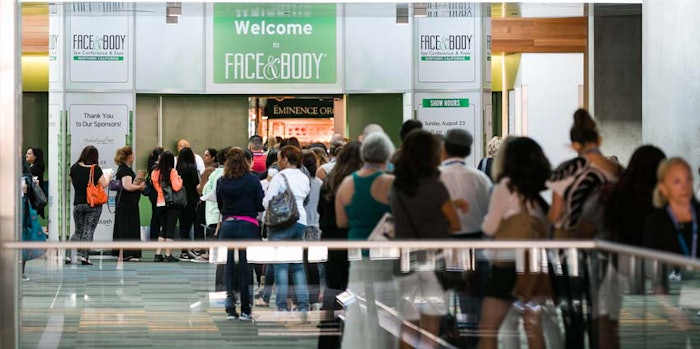 Those looking for the very best in cutting-edge skin care and techniques and technology attended Face & Body Northern California (FBNC), held Aug. 22–24, 2015, where 188 exhibitors and 93 presentors spoke about the latest in skin research, ingredient insights, product launches and treatment protocols. Nearly 3,846 professionals – including facility owners, directors, managers and estheticians – attended the event at McEnery Convention Center in San Jose, California, which kicked off on Aug. 22 with the Advanced Education Conference.
Advanced Education
The conference, organized by Skin Inc. magazine, hit hard right out of the gate with "Devices in Esthetics—What You Need to Know," a panel that discussed the latest device technology and and outlined what is in the scope of practice for estheticians. Panelists included Danielle Kooken Wachowski, Skin Smooth Pro; Susanne Schmaling, Associated Skin Care Professionals; Kristy Underwood, California Board of Barbering and Cosmetology; and Holly Amson, PCA Skin. The panel began with a series of reader-submitted questions taken from Skin Inc.'s Facebook page. Questions included:
Q1: Are dermarolling, dermaplaning and microneedling safe and legal for estheticians to use? Where can they use them?
Q2: What devices/machines are California estheticians licensed to use? Can we use red and blue lights? Ultherapy? Ultrasonic cavitation?
Q3: Is there a legal process through a device to address skin tags and broken capillaries?
Q4: Which is better-broad band light or laser? Which of these are allowed in CA?
After panelists answered the pre-set questions, the floor was open for attendee questions, where interactivity and engagement was high. Topics included the correlation between permanent cosmetics and microneedling, advanced certification in California and more. Attendees then shifted their focus to the main program, which was jam-packed with 20 expert presentations, organized into four tracks: Business, Wellness, Face and Body. These product-neutral classes provided top-level education on such topic as skin's microbiome (Rebecca Gadberry), employment law (Lori Hultman), adult acne (Mark Lees), meridian facial recontouring (Janel Luu, Le Mieux Cosmetics), acquiring top talent (Deedee Crossett, San Francisco Institute of Esthetics and Cosmetology), manscaping (Crickett Enos, The Wax Chick), nutrition and skin (Erin Madigan-Fleck, Naturophoria), energy healing (Linda Bertaut, Bertaut Beauty) and more.
Between the morning and afternoon education sessions, a lunch sponsored by PCA Skin was held, where attendees took a fun quiz, chatted with their peers and learned a little bit about the science behind PCA Skin products. During the Advanced Conference, attendees commented how beneficial the information was to their businesses, offering them ways to incorporate wellness practices into their treatments, improve their customer service, increase their skin science knowledge and step-up their treatments.
Bonus Education
In addition to the Advanced Education Conference program, industry suppliers presented their specific products and techniques and conducted hands-on demonstrations and lectures in the free-to-attendee Supplier Classes. Examples of topics included: acids by Shannon Esau (Rhonda Allison), brow shaping Chris Kolodziejski and Kayla Perks (Chella Brow Bar), the power of oxygen with Krystal Cawley (Glymed Plus), brow and Brazilian waxing with Deanna Derthick (Depliéve), fighting acne and rosace with Boldijarre Koronczay (Éminence), LED light therapy with Amy Gardner (LightStim), inflammation with Michael Pugliese (Circadia) and much more.
During the exposition, the show floor also hosted a dedicated Massage Area, where free classes were held for attendees. Speakers included Michele Nowak-Sharkey (Massage Envy Spa), Linda Bertaut (Bertaut Beauty), Aaron Parnell (Reposturing Massage), Jesse Cormier (Associated Bodywork & Massage Professionals) and Morgan Roy (Jindilli).
Expo Hall
In addition to products, exhibitors offered the latest trends and techniques, providing a forum for skin care professionals to learn and explore solutions to their treatment and business challenges. "Face & Body provides a unique opportunity for spa industry professionals and suppliers to meet. Over the course of two-days, attendees were able to meet with suppliers and shop and compare products and services to incorporate into their spa business. Additionally, this creates a sales and branding opportunity for spa industry suppliers – with nearly 4,000 highly qualified spa professional attendees, surpassing the 2014 attendance number, our on-site renewal rate for 2016 booth sales increased 210% over 2014," noted Sandy Chapin, group show director for Allured Events. Exhibitors at the show benefitted from a floor buzzing with interested and engaged spa professionals.
"Face & Body is always our favorite show because the customer base is always great – from large spas to interested students," said Mark Viktora, CEO, Viktoria De'Ann Peptide Cosmeceuticals. "But what really makes this show special is the management team. Everything they do is to help both large and small exhibiting companies succeed. The versatility of marketing programs to the pre-show marketing that draws such a large attendance, translates directly into success for everyone exhibiting at this event."
Technology and Techniques
Face & Body will continue to provide the great technology and techniques exibited at the Northern California event at future conferences. Upcoming Face & Body events include Face & Body Midwest, held in Chicago on March 12–14, 2016, and the 2016 Face & Body Northern California, held August 20–22, 2016. For more information, visit www.FaceandBody.com.