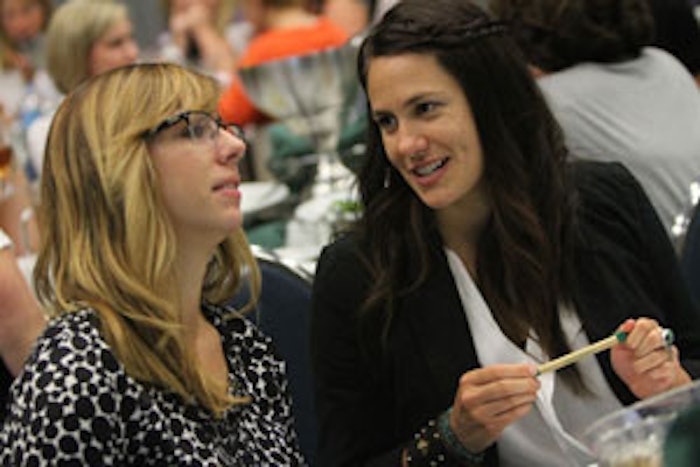 Face & Body® Northern California 2013 took place on August 24–26 at McEnery Convention Center in San Jose, California. More than 300 skin care professionals attended the Advanced Education Conference Program, a 10% increase from 2012, and more than 3,550 were registered for the Expo Hall on Sunday and Monday.
Advanced Education Conference Program
Saturday's Advanced Education Conference Program kicked off with a panel of legends, including Rebecca James Gadberry of YG Laboratories, Christine Heathman of GlyMed Plus and Mark Lees, PhD, of Mark Lees Skin Care, and moderated by Skin Inc. editor, Cathy Christensen.
The panelists discussed variety of topics, including the importance of education as an investment in your future, the value of having a mentor, taking part in the move toward established master-level esthetician licensing in the United States, and how selling retail will help your skin care facility survive.
Lees imparted his new way of thinking of skin care terminology—"self-care" rather than "home care," and "program" rather than "facial." Heathman spoke about educating the client rather than simply selling treatments and retail. And Gadberry inspired attendees with a few quotes she lives by, including, "I get what I want when I help others get what they want," "Attitude is the difference between an ordeal and an adventure" and "You never know how strong you are until being strong is the only thing you have left."
Following the opening session, Julie Rosenfeld, an esthetics learning leader at the San Francisco Institute of Esthetics and Cosmetology, said, "I love being here! Very inspiring and effective!"
After the panel, conference attendees chose from five all-new education tracks throughout the day, including Hyperpigmentation, Anti-aging, Acne/Rosacea, The Body and the Business Summit. Two 60-minute classes within each of the tracks featured 30-minute demos following the sessions, allowing for attendees to learn the hands-on tools needed to apply what their newly acquired knowledge in their spa directly following the event.
Debbie Bledsoe, an esthetician from Rancho Cucamonga, California, said, "I feel motivated to become an acne specialist. Although I've known for a long time this may be a niche for my business—I was a little intimidated," after attending the session "Become an Acne Specialist!" by Laura Cooksey from Face Reality Acne Clinic.
After attending Lori Crete's class, "Turning Your Passion Into Profit: The Fundamentals of Building a Lucrative Skin Care Facility," Kathy White, owner and esthetician of Face Value Skin Care Studio in Lake Oswego, Oregon, said, "It was great to see a successful esthetician who is willing to share knowledge and tips with others."
Amy Amaral, owner and esthetician at Pureskin Aesthetic Salon in Salinas, California, who also attended Crete's session, said, "I have been feeling lately like I should close my business because I am barely surviving. My own excuses and self-doubt have really taken over. Lori inspired me and got me excited about my business."
After an excellent day of product-neutral education on Saturday, industry professionals had the opportunity to attend Supplier Classes during the Expo on Sunday and Monday, in which industry suppliers presented their products and techniques, demonstrations and lectures about the latest product and treatment trends.
Expo Hall
Along with the knowledge gained in Supplier Classes, attendees had the opportunity to discover the latest products, services and treatments from 172 companies in 263 booths on the completely sold-out show floor on Sunday and Monday. Amber Yeargan, PCA Skin classroom experience manager, worked the PCA booth. "The show has been amazing. We have talked to so many clinicians that really care about our philosophy and really value education. I think that's the biggest thing that we've noticed here. Everyone who we've spoken to really cares about learning something new, and really cares about our vision, which is improving people's lives," said Yeargan. "We have had great, quality conversations, and it's been a lot of fun."
GlyMed Plus' sales reps Melissa Shippen and Missy Scofield, and education administrator, Christi Roberts, all agree that the show was strong and that quality attendees were there to learn and build their businesses … not just shop. "I've been doing trade shows for 10 years, and I said last night: 'I think this is one of our best trade shows we've ever done,'" said Shippen.
Passport to Prizes. Another new Face and Body concept was the Passport to Prizes. Attendees picked up their passports on-site and, to participate, visited 10 specific booths. Once they did so, they were able to drop their completed passport at the Skin Inc. booth for the chance to win $500, $150 or $50 during the daily drawings that took place on Sunday and Monday.
Face & Body Red Carpet. Lira Clinical exclusively sponsored the Face & Body Red Carpet event. Attendees had the chance to win a Lira Clinical gift basket with $1,000 of retail-valued products by striking a pose and posting it to Instagram with hashtags #liraclinical and #fbnc13.
Networking
Face & Body allows attendees the chance to take part in amazing education about various aspects of spa business and skin care and to learn about companies and product lines, but it also offers the opportunity to continually network with other industry professionals at various levels in their careers—from skin care students to spa owners, and supplier company CEOs to industry legends.
Networking Luncheon sponsored by PCA Skin. PCA Skin sponsored a family-style luncheon for Advanced Education Conference Program attendees on Saturday. Along with a delicious lunch, attendees got the chance to team up with other professionals at their table to compete in a skin care trivia game to win a prize from PCA. PCA gave each member of the winning table their Total Strength Serum, which combines a peptide blend with epidermal growth factor to help minimize the appearance of pores, fine line and wrinkles while firming, tightening and strengthening aging skin.
Face & Body Evening Out—Dinner Under the Stars. Many attendees chose to experience a relaxing dinner on Saturday night in the courtyard of the historic and breathtaking California Theater sponsored by Éminence Organic Skin Care. A three-course dinner was offered, with each course specially developed and prepared to be paired with an Éminence skin care product. Company founder Boldijarre Koronczay explained how the ingredients used in the products work, and attendees were each given a free Strawberry Rhubarb Dermafoliant. "We were honored to inspire an incredible three-course meal under the stars. With dishes created around the ingredients found in our organic skin care products, guests could experience Éminence on a whole new level and see just how nourishing they can be for both the skin and the body," Koronczay said.
New-age networking. Exhibitors and attendees alike took the opportunity to network further this year, connecting on Facebook, Twitter and Instagram.
Here is what some of you shared:
Anxiously waiting to get in the hall #fbnc13 pic.twitter.com/XknJc32cgi

— Ladyburg, LLC (@LadyburgVA) August 25, 2013

Try to spot yourself in the Face & Body Northern California 2013 Conference & Expo Photo Gallery and check out www.Facebook/FaceandBodyExpo for more fantastic photos from the weekend! Don't miss out on next year's Face & Body Northern California, August 23–25, 2014, at McEnery Convention Center in San Jose, California. If almost an entire year seems like just too long to wait, you can catch Face & Body Midwest on March 22–24, 2014 at McCormick Place West in Chicago. Check out www.FaceandBody.com to learn more.