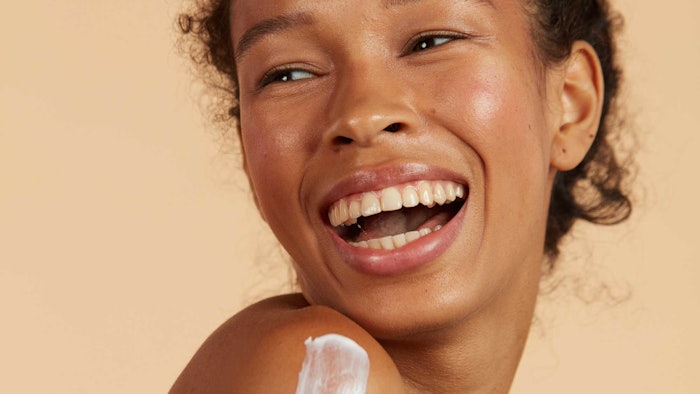 The global humectants market across industries is projected to reach $29.5 billion by 2023, expanding at a CAGR of 7.2% from 2016 to 2023, according to Allied Market Research. Owing to their ability to bond with water and retain moisture, humectants are frequently used in skin and hair care as well as in food, beverages, oral care, pharmaceuticals, animal feed, etc.
Data for user traffic on CosmeticsandToiletries.com has revealed a heightened interest in this ingredient type. In response, we offer the following brief review of select humectant-related research recently in the literature.
Comparative Analysis of Humectants in Human Skin
A. Olsen, R. Prince, C. Reeve, C. Peterson and J. Adams; Brigham Young University - Provo; March 2022; Library/Life Sciences Undergraduate Poster Competition 2022
Just in time for Halloween, this article explores the effects of four common humectants on water retention in human skin tissue—in this case, in cadavers. The ingredients included 2-phenoxyethanol, glycerol, propylene glycol and ethylene glycol. Humectants attract and retain water and according to this article abstract, when mixed with water to create wetting solutions, they can prevent the desiccation of cadaveric specimens.
Here, wet-dry analysis and concentration gradients were used to identify optimal concentrations of each compound for water retention, after which the water retention in tissue at these concentrations was assessed under standardized conditions. Results showed the tissue submerged in glycerol solution retained the most moisture.
Diverse Effects of Emollient Cream in Atopic Skin
S.G. Danby, P.V. Andrew, R.N. Taylor, L.J. Kay, J. Chittock, A. Pinnock, I. Ulhaq, A. Fasth, K. Carlander, T. Holm and M.J. Cork; Feb 15, 2022; Clinical and Exper Derm
According to this article abstract, despite the widespread use of emollient creams, relatively little is known about how these commonly prescribed treatments affect the skin's barrier. Therefore, the role of moisturizers in atopic dermatitis development and progression remains unclear. As such, these authors sought to compare three different types of emollient creams and a no-humectant treatment control.
Results showed that not all emollient creams for eczema are equal. The simple paraffin-based emollient, which is widely prescribed in England, had no effect on the skin's barrier and reduced the skin's natural moisturizing factor (NMF). Urea + glycerol markedly improved the skin's barrier and protected against irritation. Glycerol cream performed better than paraffin cream but not as well as urea + glycerol. 
Also, urea + glycerol strengthened the skin barrier through increased NMF levels in skin, and imparted protection against SLS-induced irritation. The authors concluded urea + glycerol has the potential to improve AD.
Impact of Glycerin and PEG 400 Humectant on Stability, Antibacterial Activity of Nanosilver Peel-off Mask
D.E. Ermawati, A.P. Surya, R. Setyawati and S.U. Niswah; April 5, 2022; Journal of Applied Pharmaceutical Science
As this article explains, the humectants glycerin and polyethylene glycol 400 (PEG 400) can be combined to control viscosity and keep the skin moist in peel-off masks. This study therefore aimed to determine the effects of this combination on the stability and antibacterial activity of the nanosilver peel-off mask.
Five formulas were made with varying concentrations of humectant. Results showed that glycerin-PEG 400 affected viscosity, dry time and pH. Specifically, the combination of 0.375 g and 0.125 g of glycerin and PEG 400, respectively, showed the best physicochemical stability and had moderate antibacterial activity.
Fermented Green Tea for Skin Health and Beauty
R. Liao, T. Parker, K. Bellerose, D. Vollmer and X. Han; September 2022; Cosmetics
This research describes a skin care system containing fermented green tea (Camellia sinensis) water, niacinamide, antioxidants and various natural plant extracts that was evaluated for improving facial skin health and beauty. In a study of 26 healthy adults, the test product or placebo was used for 30 days.
Skin moisture, fine lines and wrinkles, porphyrin count, red spots and red vasculature count were measured; questionnaires also were administered. Significant improvements were made in facial moisture, red spots, red vasculature and porphyrin count on day 30. Insignificant improvements were observed in pores, skin texture and wrinkles.
Moisture Retention of Various Glycerin Solutions
H.J. Chen, P.Y. Lee, C.Y. Chen, S.L. Huang, B.W. Huang, F.J. Dai, C.F. Chau, C.S. Chen and Y.S. Lin; June 2022; Scientific Reports
Finally, this study aimed to analyze the moisture-retention capacity of glycerin using gravimetric analysis, transepidermal water loss (TEWL) analysis and differential scanning calorimetry (DSC). Results revealed the moisture-retention capacity of glycerin increased with increasing glycerin concentration from 0% to 60% w/w; at 60% to 70%, no weight change was observed during evaporation.
Here, the consistency between normalized gravimetric and TEWL results was confirmed, and the study generated DSC thermograms to further identify two hydrated water forms (non-freezable water and free water) in the glycerin solutions that explained the measured evaporation rates. The authors believe these findings can be applied to prove the moisture-retention capacity of a humectant in cosmetic products by different measuring methods.