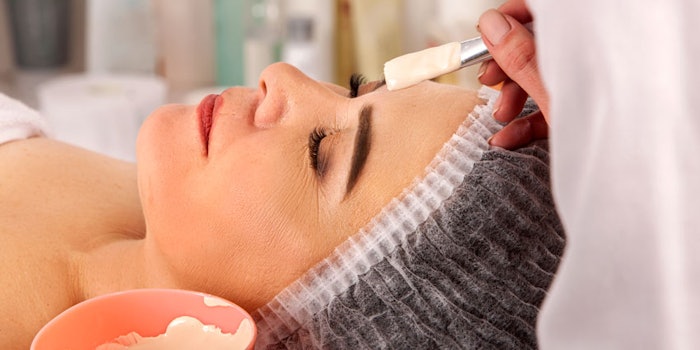 To wrap up the advanced ed sessions on the first day of Face & Body, Courtney Sykes, licensed esthetician and instructor, discussed some new protocols and procedures for anti-aging treatments. Sykes covered ingredient knowledge, combining ingredients and modalities, updating your existing menu, creating care plans and improve overall margins.
Powerhouse Ingredients
Sykes began by emphasizing the importance of understanding the layers of the skin and where certain cells are located. She specifically notes that keratinocytes and melanocytes are within the Stratum Germinativum, which leads to new cell growth and reduced HP for Estheticians reaching this layer. She continues to explain how the lipid barrier structure of Corneocytes assist estheticians in educating clients on the importance of protection.
It's also important to understand the underlying layers in the dermis. Peptides and hyaluronic acid work to mimic the body's natural proteins and strains of elastin fibers. When you educate the importance of these structures, you can help your clients understand how to build their own collagen and elastin through cellular health.
It is very important to also be able to tell the difference between ingredients that are acids and nourishing ingredients. Sykes went further to list the most popular form of each including:
Acids: alpha hydroxy acids, beta hydroxy acid, retinol, benzoyl peroxide, hydroquinone, arbutin
Nourishers: ascorbic acid, stem cells, growth factors, peptides, hyaluronic acids
What's New?
When it comes to ingredients, a lot changes and advances in this industry. Sykes talked about new spins on ingredients listing out some key ones for anti-aging.
Ferulic Acid. This ingredient is an antioxidant that is found in the cellular walls of plants like rice and oats. This acid can also play a key role in the protection and self preservation of the plants that are within, and it can be found in apples and oranges. When applied topically, ferulic acid acts like other antioxidants in regards to slowing down signs of aging and reducing free radical damage on the skin.
Pyruvic Acid. This ingredients serves as an intermediate in sugar metabolism found in cane sugar juice. It has recently been utilized as a medium chemical peeling agent for clients with inflammatory acne scarring, excessive oiliness, actinic keratosis and warts. This is an alpha keto acid, so it supplies energy to cells through the citric acid cycle.
Perfluorodecalin. This ingredient uses a high-density liquid fluorocarbon to carry large volumes of oxygen gas into the skin to get rid of bacteria in the pores and bring life to asphyxiated skin. This ingredient is used in artificial blood substitutes and in liquid breathing. Oxygen delivered topically through the skin reaches capillaries that don't get as much oxygen with regular breathing.
Hexapeptide-30 and Acetyl Hexapeptide-8. These two peptide strains target postsynaptic pathway at the chemical binding site of the muscle cells that cause wrinkling. Thus, these peptides result in smoother and calmer muscle movements.
Modern Protcols for Anti-aging
Sykes emphasized the importance of time management when it came to modern protocols for anti-aging, and she continued to list out a protocol to follow to help shave some time off of your service from start to finish.
Step 1: Pre-consultation
Step 2: "Before" images
Step 3: Service
Step 4: Makeup touch-up
Step 5: Post-consultation and "homework" or assigned activity
Step 6: Rebooking and check out.