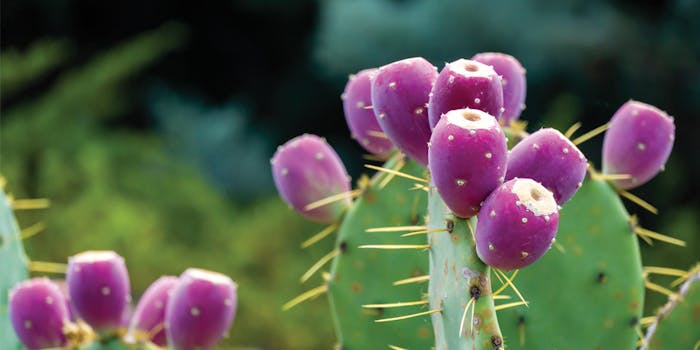 A cactus is certainly not the first botanical you might imagine for skin benefits. But as survivalists have taught us, beneath its spiny, prickly exterior lies a rich source of water, vitamins and other nutrients that ensure the plant's survival. So really, skin care could take a page from prickly pear's book in terms of defending and maintaining human skin.
Opuntia, often referred to as prickly pear, is a genus of flowering plants in the cactus family Cactaceae.1 It is one of the most commonly sourced cactuses for skin care. Many parts of the plant are used, including the flowers, seeds, stem, etc. As such, the plant is often referred to by the part being used; for example, tuna (fruit) or sabr/sabra (Arabic/Hebrew name for the fruit),2 and nopal (paddle; plural nopales) or paddle cactus, among others.
Indeed, the Indian fig opuntia, Opuntia ficus-indica, bears large yellow flowers, maturing into white, yellow or reddish purple fruits. The plant is widely grown for its fruits as well as edible paddles, and as a forage crop. The hard seeds are used to produce an oil, and due to their high water content, the stems, especially of spineless varieties, are sourced as emergency stock feed during drought. Some prickly pear species are also cultivated as ornamentals for their large flowers.3
According to Wikipedia, the genus Opuntia is named for the Ancient Greek city of Opus, where the plant was discovered growing; other sources cite is origins elsewhere (described next). The plant was found to be edible and could be propagated by rooting its leaves; the most common culinary species today is the Indian fig opuntia (O. ficus-indica).1 Notably, there is considerable variation of taxonomy within Opuntia species.
Contrary to its Greek name, the prickly pear cactus is reported by several sources to be native to the Western Hemisphere.3 One reference specifies4 the prickly pear genus as originating in South America, from which the seeds, carried in the guts of animals, were transported to North America when a land bridge formed between the continents nearly three million years ago. Another source indicates that Opuntia species hybridize easily and points to the wild origin of O. ficus-indica as more likely being Mexico, due to the fact that its close genetic relatives are found in central Mexico.1
Traditional Uses
According to WebMD,5 the cactus is a staple in many Latin American cultures. As noted, two parts are typically eaten: the fruit and the flat pad (nopales). Cactuses are known for their nutrients—including vitamins C, E and A, iron, calcium, potassium, manganese, copper and omega-3—which are said to help reduce inflammation in the body, as well as medicinal properties.
The same source reports both cactus pads and fruit can help fight infections and ease symptoms of everything from hangovers to high cholesterol, the latter due to high fiber content.5 While there is some evidence that prickly pear cactus might lower blood sugar levels to aid diabetic patients, other uses for enlarged prostates, hangover symptoms, obesity, hardening of the arteries and ulcerative colitis require more evidence.5
Skin Care Applications
Numerous consumer media sources have touted the benefits of cactus for skin. The Times of India highlighted the plant's multiple antioxidants, vitamins and electrolytes to protect the skin against sun damage, aging and collagen loss. The same article reported cactus oil contains antibacterial properties to address acne prone skin, and gel from within the plant contains electrolytes that can moisturize skin and hair.6 Similarly, a study published in the European Journal of Molecular & Clinical Medicine found that at a concentration of 40% Opuntia ficus extract successfully inhibited the growth of bacteria isolates.7
Elyse Shelger, RN, director of medical operations at Skin Laundry, stated in an interview that vitamins E and K as well as skin-nourishing fatty acids in cactus extracts can soften skin. More specifically, as reported in the book Opuntia spp.: Chemistry, Bioectivity and Industrial Applications, the main fatty acids of prickly pear seed oil are palmitic, stearic, oleic and linoleic, although environmental conditions have effects on the properties of the oil.8
Additionally, Shelger concurred that high levels of antioxidants in cactus extract can prevent skin damage caused by aging and free radical exposure, and that cactus extract is hydrating.9 In relation, a study published in the International Journal of Phytomedicine found not only antioxidant and anti-inflammatory properties in O. ficus-indica seed oil in a drug delivery system, but would healing effects as well.10
Skin Care Ingredients
Cosmetic and personal care ingredient suppliers have also studied and tapped into the benefits of cactus for skin care. One company offers what it describes as "an ultra-refined elixir from organic cactus (O. ficus-indica)a." According to the supplier, clinical studies conducted on both women and men showed the product imparted exceptionally soothing and firming activity. In addition, it was found to be hydrating, even from rinse-off products.11
One Slovenian-Morrocan plantation is focused on cultivating both prickly pear cactus seed oil and argan for skin care. Here, the cactus oil is proposed for anti-aging benefits as it, "regenerates, hydrates and protects the skin."12
Another supplier features O. ficus-indica seed oilb as an "exotic oil," rich in linoleic acid, that is deeply moisturizing to skin. It reportedly penetrates easily into the epidermis and gives a velvety feel, and is therefore recommended for light moisturizers and skin care products. "Prickly pear has connotations of protection from the elements, and of helping skin to retain moisture," the company writes.13
In the Spa
Prickly pear cactus has a place in many spa treatments, but it sees special attention at spas in the Southwest for obvious reasons. For example, the Arizona Copper Peptide Facial (60 min., $185) at Hashani Spa in the JW Marriott Tucson Starr Pass in Tucson, Arizona, taps into prickly pear and white sage toners after it cleanses the skin. The facial is said to reduce the appearance of fine lines and wrinkles.
At Canyon Ranch in Tucson, prickly pear is the star of the show in the Prickly Pear Pedicure (50 min., $90), where it is combined with cactus flower, local jojoba and desert aloe to soften and rejuvenate feet.
Solei & Co. Day Spa and Boutique in Sumner, Washington uses prickly pear cactus for body hydration in its Blushing Agave Cellulite Scrub & Wrap (75 min., $129+). In the treatment, a stimulating prickly pear cactus toning gel is used to increase circulation and firm the skin. This is folllowed by exfoliation with body brushing and a body polish to increase circulation and improve texutre. Gentle cupping is then applied, followed by a agave cactus toning wrap to moisturize and tone the skin.
For a more physical take on prickly pear, the Omni Rancho Las Palmas Resort & Spa in Rancho Mirage, California, offers the Nopal Cactus Massage (60 min., $185), where warmed Nopal cactus pads are used on the body for detoxifying, antioxidant and anti-inflammatory benefits. The body is then massaged with a healing oil blend of indigenous flora, sage and arnica for muscle relief and nourishment.
Want to get a little cactus into your treatment room? The industry has plenty of options.
Based in Arizona, it may come as no surprise that Skin Script recognizes the benefits of prickly pear cactus. It formulates with the ingredient in its Cacteen Balancing Moisturizer to hydrate, smooth and protect the skin from environmental stress. Cactus stem extract is used for its essential amino acids, antioxidant and water-binding polysaccharides.
Pevonia utilizes cactus in its Cactus Agave Body Wrap, where it is combined with ingredients like hyaluronic acid to provide antioxidant benefits while hydrating the skin. This treatment also provides de-aging benefits to the skin while healing, repairing, soothing and nourishing.
Prickly pear cactus is also combined with hyaluronic acid by Yon-Ka it its Nude Perfect Fluide. The two ingredients hydrate the skin, while mineral sheets, rice powder and amino acid powder provide a blurring effect to the skin.
You can find prickly pear cactus stem extract in Éminence's Rosehip and Lemongrass Repair Balm, where it soothes and hydrates the skin while retaining firmness.
For practitioners looking to design an entire treatment on the hydrating cactus, look to Body Bliss, which has a Prickly Pear line of products, including: a soap, essential oil, facial oil, body polish, body wash, body butter, mask, salt soak, body mist, hand cream, gel treatment, body lotion and body oil. The company uses prickly pear extract for its soothing and anti-inflammatory benefits along with essential oils to uplift and pomegranate to reverse the signs of age.
Conclusions
Beneath its rough exterior, prickly pear cactus is rich in an array of constituents that can benefit human skin. It could serve as inspiration for product developers, concentrating the best defenses nature has to offer in one entity that sticks it to the elements.
Rachel Grabenhofer is the managing scientific editor of Cosmetics & Toiletries, Skin Inc.'s sister brand for cosmetic chemists. She's a member of the Skin Microbiome Council and Society of Cosmetic Chemists, and for several years, led judging panels to honor the best ingredients in cosmetics.