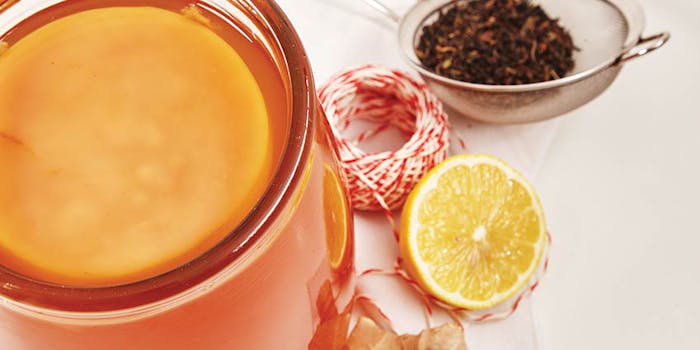 The ancients have gifted us with the knowledge of fermentation, which has brought us beer, wine, bread, kimchi, yogurt and more.1 Kombucha is another example; this fermented drink, often created using black or green tea, according to WebMD,2 has been around for nearly 2,000 years.
Kombucha originated in Northeast China around 220 B.C. and was initially prized for its healing properties. According to a report in Forbes, the drink's name may have derived from a Korean physician, Dr. Kombu, who brought the fermented tea to Japan as a curative for Emperor Inkyo.3 Others attribute it to the incorrect use of the Japanese words kombucha or kobucha, i.e., "tea made from kelp," by English speakers who confused the drink for seaweed due to the appearance of the thick film of bacterial culture on it.4
Kombucha reached Europe with trade route expansions in the early 20th century, notably appearing in Russia as kambucha and Germany as kombuchaschwamm.3 It has gained more recent popularity in the United States thanks to its reputation as a health and energy drink;2 although initial interest may have inadvertently been sparked due to its misregulation as an alcoholic beverage, landing it amidst scandal in 2010.2
Kombucha Contents
The basic ingredients in kombucha are yeast, sugar and typically black or green tea, which are mixed and set aside for a week or more during which bacteria and acids form on top in the process of fermentation. The symbiotic colony of bacteria and yeast (SCOBY) produced can be used to ferment more kombucha.2
The microbial populations in a SCOBY vary, Wikipedia reports. The yeast generally includes Saccharomyces cerevisiae, among other species, and the bacteria almost always includes Gluconacetobacter xylinus, which oxidizes yeast-produced alcohols to acetic and other acids. The sugar in the drink serves as a nutrient for the SCOBY to support the bacterial growth. The resulting kombucha typically contains B vitamins and lactic acid bacteria, the latter of which acts as a probiotic.2
Reported benefits of orally administered kombucha include aiding digestion, removing toxins from the body, boosting energy and the immune system, and encouraging weight loss; as well as staving off high blood pressure and heart disease and even preventing cancer; although WebMD reports there is little evidence to support these claims. Kombucha's digestive benefits are attributed to the probiotics created via fermentation, which aid diarrhea and irritable bowel syndrome (IBS) and may strengthen the immune system.2 Green tea-based kombucha, in particular, is also rich in bioactive compounds such as polyphenols that act as antioxidants and can reduce inflammation in the body5—as do green coffee and Yerba Mate kombucha, which are described below.
Skin Care Applications
Kombucha is said to support glowing skin; the ingredient has been highlighted in European and Chinese skin care products with brightening and shine claims. In relation, one U.S. skin care serum described kombucha as "a natural ingredient well-known for its brightening properties [that] helps to reduce sallow undertones in the skin."6 Another product features the ingredient to protect skin against air pollution, and make skin luminous as well as smooth;7 the ingredient also has been referenced as a skin-conditioning and anti-aging agent by at least one cosmetic raw material supplier.8, 9
In a recent interview featured in The Zoe Report,10 Marina Peredo, M.D., a board-certified dermatologist in New York, explained the fermentation process amplifies the naturally occurring concentration of probiotics, vitamin C, B vitamins and antioxidants in kombucha that protect skin cells from damage. She added the most common probiotic strain in kombucha is lactobacillus, which can calm skin irritation and promote good bacteria, keeping the skin microbiome in balance. "This repairs and strengthens the skin barrier to aid in better natural protection from environmental stressors," she added.10
In the same report,10 another board-certified dermatologist, Amanda Champlain, M.D., based in Texas, stated that topical probiotics can support a healthy skin microbiome, which serves important functions including preventing infection, maintaining skin moisture and an acidic skin pH, and controlling inflammation.
Previously, research published in the Medical Sciences Journal of Islamic Azad University explored the oral and topical administration of kombucha on third-degree burns in an animal model.11 Results showed the complete closure of wounds were improved with orally administered and oral plus topically administered kombucha tea. More specifically, skin, keratinocyte layers, epidermis and hypodermis thicknesses, and also the number and diameter of hair follicles, significantly increased.11
A paper published in the Journal of Cosmetic Dermatology examined the intradermal cosmeceutical effect of kombucha tea (KT), citing previous reports of its pharmaceutical and favorable wound repairing effects.12 According to the authors, these benefits were attributed mainly to the presence of fermentation products such as flavonoids and other polyphenols, as well as the inhibition of hydrolytic and oxidative enzymes and anti-inflammatory effects. KT intradermally administered significantly increased collagen content and both nicotinamide adenine dinucleotide (NAD+) and NAD+ hydrogen levels while improving skin connective tissue abnormalities in aged skin—without irritation or sensitivity.12
A recent study in Scientific Reports explored the bioactive compounds and potential cosmetic and dermatological properties of kombucha made from Yerba Mate. Ferments made for 14 and 21 days showed a strong ability to inhibit the activity of lipoxygenase, collagenase and elastase enzymes and impart long-lasting hydration in skin. The active chemical compounds identified included phenolic acids, xanthines and flavonoids. The authors concluded Yerba Mate kombucha may be valuable in cosmetic products.13
Lastly, a study published in Molecules explored the effects of fermentation time on antioxidant and anti-aging properties of kombucha derived from green coffee and compared this with non-fermented green coffee extract.14 The antioxidant potential of the ferments and their ability to inhibit the activity of collagenase and elastase enzymes—as well as their influence on skin hydration and transepidermal water loss (TEWL)—notably improved with longer fermentation times, which had a positive effect on the content of bioactive compounds and antioxidant properties. Others have noted, however, that green coffee is not as good a raw material for fermentation with kombucha as green or black tea.14
In the Spa
If getting your daily dose of kombucha through a drink is a little more than some of your clients care to bear, consider adding this ingredient to one of your treatments, as many have done across the country.
Mokara Spa at Omni Louisville Hotel offers The Kentucky Kombucha Facial (50 min., $135) to give its clients a boost of clarity and balance. It begins with the kombucha cleanse, followed by natrual fruit acids and a variety of plant-based technologies to renew the complexion and help soften fine lines and wrinkles. A locally brewed Kentucky kombucha beverage is served after the service.
Kombucha is used to cleanse in the Ginger-Coconut Argan Sugar Glow at Carillon Miami Wellness Resort (50 min., $179). A citrus-kombucha body wash begins the treatment, followed by the ginger-lime sugar scrub and a coconut and argan oil.
At Solace Organic Spa in Salt Spring Island, British Columbia, clients can choose to add a little kombucha onto their treatments with the Bio-Cellulose (Kombucha) Eye Mask With Accupressure Eye Treatment (15 min., $35). A serum is added on top of the mask, which absorbs 2.5 times its weight in liquid to provide optimal hydration.
To make these amazing kombucha treatments happen for your clients, of course, you are going to need some amazing products.
The Green Coffee Berry Line from Yüm Skincare is formulated with kombucha to nourish the skin. The three products in the line—a cream, serum and cleanser—each contain a patented complex of kombucha that is shown to enhance smoothness, radiance and uniformity of tone.
Kombucha is the main ingredient in Pevonia's Lumafirm Collection—Pevonia's Lumafirm Eye Contour, Lumafirm Repair Cream Lift & Glow and Lumafirm Body Moisturizer Firm & Glow—for its ability to firm, lighten, brighten, smooth, repair, plump and protect. "In vitro testing has proven that kombucha, when in contact with adipocytes cells for six days, increases enzyme activity by up to 136% during the lipid storage phase," noted Christian Jurist, M.D., medical director of global education for Pevonia.
For male focused skin care with kombucha, look no further than Rhonda Allison and its REDMethod PM Retinol Redux - Restore + Rebuild. This repair cream is formulated with kombucha to plump and brighten skin.
"Kombucha, often referred to as the "long-life fungus," is the product of specially fermented black tea by the microorganisms, saccharomyces and xylinum. It boosts skin immune function and improves overall skin quality with anti-glycation activity, enhancing radiance and color. Its ability to restore volume to adipocyte cells creates a lipo-filling effect for smoother, younger-looking skin," added Shannon Esau, CEO of RA Skin Care.
Kombucha is also used to plump the skin and reduce wrinkles in Sothys' Redensifying Youth Cream. The cream also contains saffron and sophora peptides to fight against oxidative stress and aging.
Conclusions
Bacterial breakdown is nature's way of reinventing itself, and innovators have reaped the benefits for health, skin care and more. It is perhaps the most distinctive display of the proverb, "To the victor go the spoils."