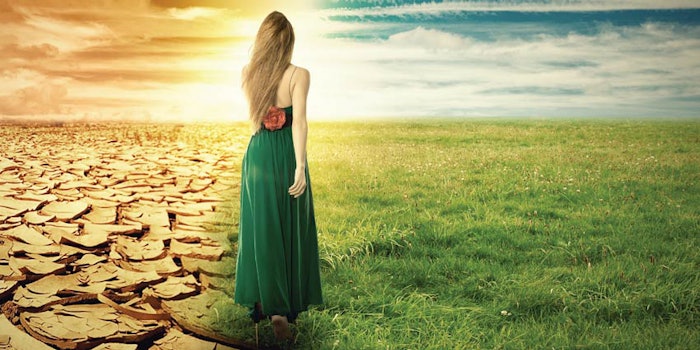 Anti-pollution skin care has become one of the hottest trends in beauty over the past two years. In fact, according to in-cosmetics Asia,1 79% of all global skin care products marketed in Q1 2016 brandished an anti-pollution claim. Why the surge in popularity? Some attribute this to falling air qualities; others, to urban migration—in 2017, a 1.6 million increase in urban population is anticipated weekly. There's also an overall shift in the mindsets of consumers toward health and nutrition.
Protect and Deflect
What exactly is anti-pollution skin care—almost any product that aims to reverse the negative effects of pollution and its related entities in the skin. This may mean through repair mechanisms such as antioxidants; physical films that shield the skin; or both, simultaneously.
So what pollutants are we fighting? Particulate matter is the biggie. Research has shown the exposure of human skin to particulate matter in the air can activate aryl hydrocarbon receptors in the body. This, in turn, induces the expression of genes responsible for premature skin aging and dark spot formation.
Kim et al. found particulate matter to induce oxidative stress, the production of reactive oxygen species (ROS), and the secretion of pro-inflammatory cytokines. This further increases matrix metalloproteinases (MMPs)-1, -2 and -9, which degrades collagen.2 Another study3 of German and Chinese women identified a link between air pollution and associated gases (i.e., NO2) with the formation of lentigines on the skin, especially on the cheeks of Asian women over the age of 50.
Less evidence exists for effects in hair, although pollution particles, smoke and gases have been found to settle on the scalp and hair, causing irritation and damage and leading to hair loss.4 Similar effects have been reported due to chlorinated pools and electromagnetic radiation from excessive cell phone use.
Not Just Exhaust
Pollution is not limited to airborne sources such as vehicle traffic, exhaust, coal burning power plants and industrial combustion. Jennifer Marsh, Ph.D., of P&G, explained, "The sources of pollution can be multiple and can include particulates from the air, cigarette smoke and [even] pollutants such as minerals from water. Formulators should be thinking of multiple strategies [for all these sources]."
Anti-pollution Ingredients
Several ingredients have been launched to fight pollution in different ways.
Snow mushroom. Another complexb comprised of a viscous gel based on a mushroom polysaccharide (Tremella fuciformis) protects skin from pollution by forming a soft hydrating film that protects the skin and the hair from environmental stresses. Its superior moisturizing effect and its high water retention capacity are particularly appreciated in urban life (dry atmosphere with air conditioning) and dry environment.
Combo method. There has been a complexc specifically developed to scavenge free radicals and form a barrier from air pollutants. The complex contains a polymer with metal chelating properties to prevent the interaction of toxic metals with the skin and a potent free radical scavenger to avoid oxidative stress.
Arabian desert daisy. Asteriscus graveolens is a perennial growing in arid, hot and sunny desert areas from the Sahara to the Judea desert. It has been used to treat fever, pain and inflammation as well as to heal wounds and prevent microbial infections. The desert daisyd has been found to protect skin cells from oxidative stress, protect cells from the inflammatory response and protects cells from air pollution-induced cell death.
Horehound. Marrubium vulgaree, also known as white horehound has been used to treat respiratory conditions and improve the digestive function, but its extract has been shown to help protect skin from pollution. The extract was shown to protect skin from pollutant penetration, while fighting free radicals. It has also been shown to strengthen the skin barrier and reduce inflammation.
The above are just a few examples of antioxidant anti-pollution ingredients that have made their way to the cosmetic market. There are many more, and there will undoubtedly be more introduced to the market as pollution worsens and the need increases.
Anti-pollution in the Spa
In the past few years, a number of anti-pollution products have been launched in the professional skin care market. Most of these products incorporate powerful antioxidants to protect the skin from free radicals, but some also strengthen the skin's barrier or form a film to keep pollutants out. Still further, a few restore minerals to the skin to reinforce its strength.
Barrier defense. Decleor has a duo of dedicated anti-pollution products, Hydra Floral Anti-Pollution Hydrating Gel-Cream and Hydra Floral Anti-Pollution Hydrating Active Lotion. Both act as a barrier to protect the skin free radicals and pollutants.
Antioxidant protection. This month, Éminence Organic Skin Care introduced a product trio with superfood microgreens to prevent pollutants in the air from damaging skin. The Stone Crop Cleansing Oil, Stone Crop Oxygenating Fizzofoliant and Lotus Detoxifying Overnight Treatment utilize Swiss cress sprouts to protect against free radicals and increase the body's natural production of enzymes that help skin cells combat the damaging effects of pollution and sun radiation. Boldijarre Koronczay, president of Éminence, added, "[Swiss cress sprouts] activates enzymes in the skin that naturally detox the complexion by shedding old skin cells. Simultaneously, it enhances the resistance of skin cells against environmental pollutants."
Yon-Ka developed a daily skin cream to defend skin from the free radicals generated by the environment. Multi Defense Antioxidant Anti-pollution Day Cream contains myrtle, Q10, vitamin E, vitamin C and moringa peptides to provide antioxidant and anti-pollution protection. "Myrtle and moringa peptides actively neutralize the effects of free radical damage and protect the skin from the harmful, asphyxiating effects of pollution. It promotes a well-oxygenated, stress-free and resilient complexion," added Katherine Tomasso, national director of education for Yon-Ka.
Skin is also given antioxidant protection from the environment in Guinot's BiOxygene Face Serum. This serum contains vitamin E for antioxidant protection as well as Pro-Oxygene to oxygenate skin cells. The serum restores a healthy complexion and rids the skin of toxins created by stress, pollution, smoking and others, allowing for skin cells to breathe and improve vital functions.
CosMedix removes pollutants and delivers antioxidant protection to the skin with Benefit Clean, a light, foaming cleanser rich in antioxidants that gently exfoliates. Deep cleansing ingredients delicately remove debris and environmental pollutants from the skin, imparting a clarified complexion.
Mineral replenishment. Phytomer has a trio of anti-pollution products, Citadine Citylife Face and Eye Contour Sorbet Cream, Souffle Marin Cleansing Foaming Cream and and Souffle Marin Energizing Oxygenating Serum. The serum and foaming cream use Armeria maritima extract to protect the skin against pollution and cigarette smoke. Both the cream and the foaming cream also use marine sugar to protect the skin from pollutants. They also both strenghten the skin with oligomer to supply the skin with trace elements. The marine sugars, blue and red algae are combined to form Citylife in the company's sorbet cream to fight against the signs of pollution.
Bioelements also replenishes depleted minerals to the skin with its aply named Remineralist Daily Moisture. "Pollution depletes essential minerals (like iron, manganese, selenium and zinc), weakening the skin's defenses. [We use] a sea salt cocktail of these minerals, plus copper-rich malachite, which helps support natural cellular damage protection, explained Teresa Stenzel, director of education for Bioelements.
A Valid Concern
When anti-pollution cosmetic claims first surfaced on the market, there were many who questioned their validity. Thankfully, science has identified that particulate matter from pollution affects the skin, so anti-pollution activities can be measured and validated. In an attempt to justify the claim, scientists are finding out that pollution may be an even bigger skin problem than they originally thought. As research progresses, the skin care industry undoubtedly will see interesting findings surrounding pollution protection, followed by more comprehensive ingredient and product solutions.
REFERENCES
(All websites accessed Aug. 5, 2016)
a Chiaprotect (INCI: Salvia Hispanica (Chia) Seed Oil) is manufactured by Cobiosa.
b Vegeluron (INCI: Water (aqua) (and) Propanediol (and) Tremella Fuciformis (Mushroom) Extract (and) Gluconolactone (and) Sodium Benzoate) is manufactured by MMP Inc.
c Pollushield (Water (aqua) (and) Propanediol (and) Diisopropyl Adipate (and) Lecithin (and) Acrylic Acid/Acrylamidomethyl Propane Sulfonic Acid Copolymer (and) Dimethylmethoxy Chromanol (and) Glyceryl Caprylate (and) Xanthan Gum) is manufactured by Lipotec.
d IBR-Pristinizer (INCI: Water (aqua) (and) Asteriscus Graveolens Flower/Fruit/Leaf/Stem Extract) is manufactured by IBR Ltd.
e Citystem (INCI: Glycerin (and) Marribium Vulagre) is manufactured by Sederma.