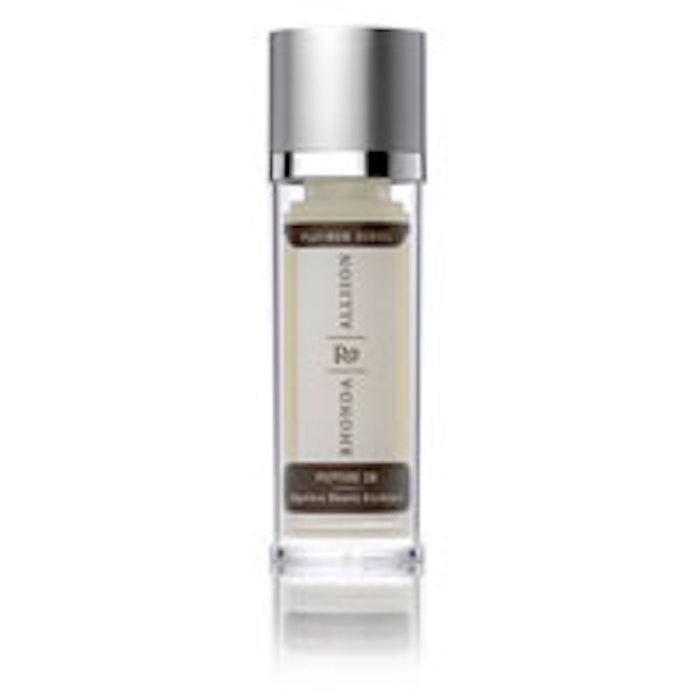 What if you could erase 10 years from your clients' skin age? Advances in science have uncovered some amazing new ingredients that continue to lead skin care professionals and clients alike a couple of steps closer to that elusive fountain of youth.
There are 10 more recent leading-edge ingredients are currently being included in Rhonda Allison Cosmeceuticals that are producing amazing results. These will prove highly beneficial for skin care professionals in turning back the hands of time on the skin.
Top 10 for erasing 10
1. Encapsulated retinaldehyde. Similar to retinol, it is a pro-drug that converts to retinoic acid, but is less irritating to the skin and has one less step involved in the conversion to retinoic acid.
Retinaldehyde is a stable precursor to retinoic acid and, when encapsulated, its pro-youth and clear-skin benefits are boosted. It also produces the least amount of skin irritation of all vitamin A derivatives, making it a good choice for all skin types.
Encapsulated retinaldehyde provides powerful wrinkle-reduction and -prevention. It also has been shown to bring UVA-damaged skin back to health, and works to stimulate cellular cohesion and eliminate bacteria. This pro-youth ingredient may be found in Rhonda Allison's ChronoPeptide A.
2. Dioxygenated lipopeptide. This powerful peptide boosts six skin-rebuilding essentials and drastically reduces the inflammatory response created by interleukins. It is a mimetic peptide that stimulates the synthesis of six major constituents of the skin's matrix molecules: fibronectin, collagen I, collagen II (the youth collagen), collagen IV, elastin and glycosaminoglycans (GAGs).
Lipopeptide works by nourishing the fibroblast cells, inhibiting matrix metalloproteinases (MMPs), increasing hyaluronic acid production, and supporting the healing process of damaged or wounded skin. It helps keep wrinkles at bay, particularly around the forehead and eye area, provides relief, hydrates and smoothes the skin. We use this skin-building peptide is used our Peptide 38 to plump, smooth and hydrate the skin.
3. Galactoarabinan (GA). A polysaccharide extracted from larch trees, GA is a natural plant collagen with numerous skin benefits. It promotes cell renewal, reduces trans-epidermal water loss, and studies have also shown it to improve skin texture and minimize the appearance of superficial fine lines. Perhaps one of the most interesting properties of GA, however is its ability to increase dispersion of UV filters. It has been shown to enhance SPF in products containing sunscreen in ranges from 5% to as much as 60% in barrier protection. Watch for this in our newest tinted cream formulation coming soon.
4. Chrono peptide. This is an active pro-youth ingredient that optimizes the skin's defense and cell-regeneration activity. Every person has genes that direct their circadian rhythms--the physical, mental and behavioral changes the body follows in a 24-hour cycle. This rhythm is typically cued by light and certain genes that control the internal clock to either turn on or off. In the cutaneous tissue, for instance, genes that strengthen the skin's natural defenses are turned on during daylight and, at night, genes that support regenerative metabolism are activated.
There are many factors that can disrupt this natural biological rhythm, including aging, fatigue, stress and the environment, which can lead to premature aging of the skin. Chrono peptide stimulates and resynchronizes the natural rhythm of the circadian genes for DNA protection and repair; cell renewal and regeneration; and microcirculation, as well as vitamin D activation.
5. Palmitoyl tetrapeptide-7/palmitoyl oligopeptide. A powerful ingredient that eliminates the blood pigments responsible for dark circles and inflammation around the eye area, palmitoyl tetrapeptide-7/palmitoyl oligopeptide also reinforces firmness and tones the region.
The accumulation of hemoglobin is responsible for dark circles around the eye area. The chrysin in this formula stimulates an enzyme that clears out the colored degradation byproducts of the hemoglobin, while the N-hydroxysuccinmide aids in its elimination.
6. Arginine (L)/Hexapeptide-30 Complex. This powerful peptide was specifically designed to help diminish expression wrinkles. It does this through a post-synaptic approach in which it inhibits acetylcholine release to block the nerve signals that cause facial muscles to contract and eventually form lines and wrinkles. By reducing the nerve signal intensity and muscular contractions, it helps reduce and prevent the formation of dynamic wrinkles. Arginine (L)/Hexapeptide-30 Complex can be found in the Rhonda Allison Peptide 38. 
7. Ergothioneine (L). This highly potent all-natural, broad-spectrum antioxidant and amino acid can be used as an alternative to vitamin E--essentially recycling vitamin C. This powerful ingredient also:
Inhibits tyrosinase and melanin, and brightens skin tone;
Improves ATP synthesis, cellular respiration and cellular potency;
Is an effective hydroxyl and UV-induced O2 scavenger;
Protects against UV-induced DNA damage, collagen damage and TNF-a (a pro-inflammatory marker);
Has a kind of spin-trapping effect, like a-Phenyl-N-tert-butyl nitrone (PBN);
Protects against a multitude of environmental factors, such as heavy metals in pollution; and
Energizes and clarifies the skin.
Ergothioneine is found in one of our newest formulations, AGE less, an enhanced anti-glycation serum.
8. Cetearyl/sorbitan olivate. A complex combination of fatty acids from pure olive oil, it reduces water loss, provides deep hydration and integrates into the skin barrier to reinforce its integrity. A unique property of cetearyl/sorbitan olivate is its ability to self-emulsify. Similar to the lipids in the cutaneous barrier, it integrates with the stratum corneum and penetrates deeper layers of the skin. It is also rich in essential fatty acids (EFAs) and antioxidants, and works to neutralize damaging free radicals.
9. Organic stem cells. Extracted from plants and certain fruits, organic stem cells have the ability to promote longevity in human cells, boost the skin's defenses against oxidative stresses, protect from UV-induced oxidative stress, inhibit collagenase, and provide antioxidant and anti-inflammatory support. We use stem cells from Plantago lanceolata leaf in our new AGE less Anti-Glycation Serum to rebuild, brighten, improve elastin synthesis and smooth the skin. The powerful ingredient also strengthens the barrier-surrounding melanocytes to prevent melanin overproduction, inflammation and oxidative stress.
It works by targeting microRNAs--small noncoding molecules now recognized as the most fundamental regulators of the genome--to prevent the decline of protein sythesis. It also repairs loss of elasticity, increases skin density and thickness, and brightens.
10. Albizia julibrissin bark extract. This is a plant often called the "Persian silk tree" or "mimosa." In the world of skin care, it's known for its ability to protect skin cells by producing melatonin. It works by improving respiration, ridding the skin of toxic glycogens, increasing cellular energy and reducing the formation of AGE pigments.
Finally, as powerful as these ingredients are, they will be rendered ineffective if clients are not properly cleansing and preventing damage. Be sure to educate them on the importance of cleansing, as well as daily UV protection. Mineral-based sun protection, such as zinc oxide and titanium dioxide, will help protect the skin from damaging elements.
With proper cleansing, prevention and advanced next-generation ingredients, you can help clients begin to turn back the hands of time … for their skin, at least. Look to ChronoPeptide A, Peptide 38, Drop of Essence Hydration Drops, AGE less and Eye & Lip Renew Serum, and our up-and-coming Tinted Day Cream, all found in Rhonda Allison Cosmeceuticals' new Minus 10 kit, to support your clients in reaching their re-youth goals.
Disclaimer:
The above paid-for content was produced by and posted on behalf of the Sponsor. Content provided is generated solely by the Sponsor or its affiliates, and it is the Sponsor's responsi­bility for the accuracy, completeness and validity of all information included. Skin Inc. takes steps to ensure that you will not confuse sponsored content with content produced by Skin Inc. and governed by its editorial policy.