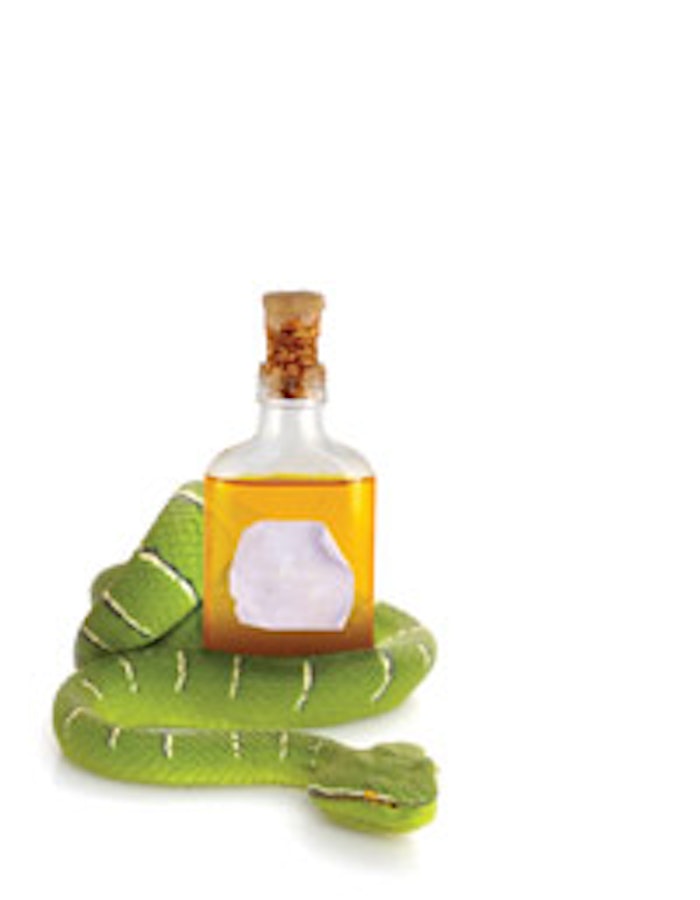 Today, a synthetically produced ingredient that mimics the activity of a polypeptide that is found in snake venom is readily available in the marketplace. Among the earliest recorded uses of snakes in Chinese medicine was the application of snake skin in the treatment of superficial diseases, including skin eruptions described in the Shen Nong Ben Cao Jing (ca. AD 100). Modern records indicate that snake venom was used to treat pain and arthritic conditions as early as 1837. It wasn't until 1949 when Bill Haast established the Miami Serpentarium and became world famous for his dedicated work in conducting self-inflicted studies to try to establish a true medical connection with venomous snakes.
Together with Murray Sanders, PhD, from the University of Miami's Department of Microbiology, they eventually developed a treatment for polio. Sanders went on to become a Nobel Prize nominee and received several patents for neurotoxins based on snake venom. Research studies on venomous neurotoxins continue in the areas of pain management, breast cancer treatments, Lou Gehrig's Disease and hematology.
Synthetic Venom Used Today
Pentapharm, a Swiss pharmaceutical company with more than 50 years of experience, is the manufacturer of SYN-AKE, a topical synthetic tripeptide derivative. According to the company, "SYN-AKE is a small peptide that mimics the activity of waglerin 1, a polypeptide that is found in the venom of the Temple Viper, Tropidolaemus wagleri. Clinical trials have shown that SYN-AKE is capable of reducing mimic wrinkles by inhibiting muscle contractions." Pentapharm conducted in vivo testing with 4% SYN-AKE using 45 volunteers for 28 days, applying the product two times a day. Forehead wrinkles were reduced up to 52% and crow's-feet were reduced up to 37%. It also showed a reduction in the frequency of contractions of innervated muscle cells by 82% after only two hours of treatment and remained 67% lower two days after treatment. The INCI name is dipeptide diaminobutyroyl benzylamide diacetate (DDBD).
How it works. DDBD is a small peptide that imitates a part of the Temple Viper's venom (waglerin 1) that is responsible for the snake's ability to paralyze its prey. Acting at the postsynaptic membrane, DDBD is a reversible antagonist of the muscular nicotinic acetylcholine receptor (mnAChR). As the receptors are blocked, the ion canal remains closed. There is no uptake of sodium ions (Na+), and the muscles stay relaxed.
How it is supplied. DDBD is often a key ingredient in creams and serums dedicated to the eye area. It can also be found in facial creams because it has shown promising results beyond the crow's-feet area. As an isolated ingredient, DDBD contains no preservatives and has a shelf life of up to one year. As with all natural products, be sure to procure your product from a reputable company.
What skin types will benefit? All skin types may show improvement of crow's-feet and forehead lines with continued and diligent use. This topical treatment will help smoker's lines to achieve depth reduction and droopy necks may even tighten over time. DDBD has also been shown to extend the benefits of injections and surgical treatments. The ingredient works especially well under a mask to protect and nourish the delicate eye area. At the end of a treatment, it can provide a slight tightening effect.
Just Another "Snake Oil" Fallacy?
A common client concern is in regard to crow's-feet. The test results for DDBD were conducted on humans as opposed to test tube tissue cultures. These results should be quite convincing to your clients. Your skin care supplier should be able to provide you with a printout of this information or you can easily obtain it from the Pentapharm website.
Exact proof in the anti-aging industry is hard to come by. However, the Pentapharm in vivo test showed good results for DDBD and, because this ingredient has been used steadily for more than a decade, some proof lies in its longevity. Why would today's educated consumers continue to purchase a product if it did not give them results?
Twenty-four years ago, Christine Cowheard, founder and CEO of A Natural Difference Skincare, was a practicing esthetician working at a spa in south Florida. She has been recognized for excellence and outstanding industry achievement.