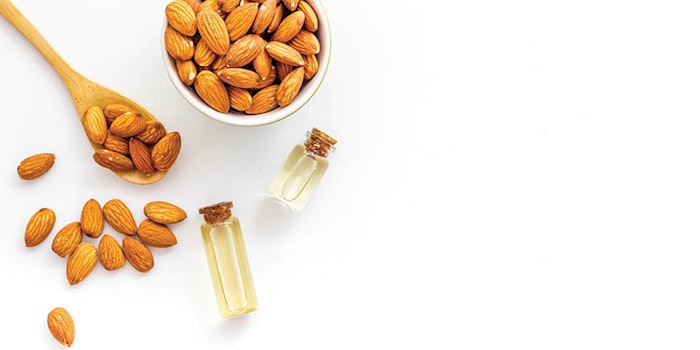 Most know that nuts as a food are healthy to add to our diets, but we are beginning to see more nuts and their oils in our skin care products. Most oils are full of omegas, fatty acids, antioxidants and other minerals that repair and protect the skin at various levels, providing a variety of benefits. Here are a few of the more common options available in pure form as a stand-alone oil or in your favorite skin care product.
1. Sweet Almond
Prunus dulcis (sweet almond) oil is anti-inflammatory, which will help a variety of skin types and conditions. The high amount of fatty acid content and retinoids contained in this oil may help dissolve excess oil on the skin and also reduce the appearance of acne and help with cell turnover. The vitamin E contained in sweet almond oil can help reduce scarring and may reduce damage to the skin from UV exposure. Studies are starting to show this oil may help with preventing and reducing stretch marks, as well as help with people that have eczema and psoriasis.
2. Bitter Almond
Mandelic acid is an alpha hydroxy acid (AHA) derived from bitter almonds. It is considered gentler on the skin than other common AHAs like lactic and glycolic. Like other AHA exfoliants, mandelic helps slough dead skin cells and assist in cell turnover to help improve texture and complexion problems, such as wrinkles and uneven tone. What's unique about mandelic is its ability to be as effective in treating mature skin conditions as glycolic acid, but with significantly less irritation and redness, especially for those with sensitive or darker skin. With added antibacterial and anti-inflammatory effects, mandelic is an ideal choice for a wider range of skin conditions and types looking for an improved appearance with fewer side effects.
3. Horse Chestnut
Many parts of the tree that provides Aesculus hippocastanum (horse chestnut) is used including leaves, bark and seeds. Horse chestnut extract used topically improves circulation and strengthens the connective tissue around the capillary system. The saponins of this ingredient are anti-inflammatory and also help inhibit the breakdown of hyaluronic acid in the skin.
4. Kukui
Aleurites muluccana (kukui) nuts come from the Hawaiian state kukui tree. One of the hardest things in skin care is to find ingredients that will penetrate the deeper skin levels. Kukui is one of those ingredients. The oil from this nut is a "dry" oil, which will not leave a greasy film on the skin. It contains healthy fatty acids like linoleic acid and omega-3s, which helps calm skin and reduce inflammation. Kukui oil is an emollient that can help soften the skin texture. This oil forms a barrier on the skin to help protect against possible environmental damage.
5. Macadamia
Macadamia ternifolia/integrifolia (macadamia) nut oil is sourced from the pulp of the macadamia nut and then pressed into a rich elixir. It is great for most skin types and rich in antioxidants and essential fatty acids. It is a great moisturizer for dry skin, anti-inflammatory for sensitive skin and will also help improve mature skin by targeting fine lines and wrinkles. Besides oils like jojoba and squalene, macadamia nut oil is the closest to the naturally occurring sebum found in your skin. It will absorb easily in the skin, but will not clog pores for those with acne.
Continue reading about the skin care benefits of nuts in our Digital Magazine...