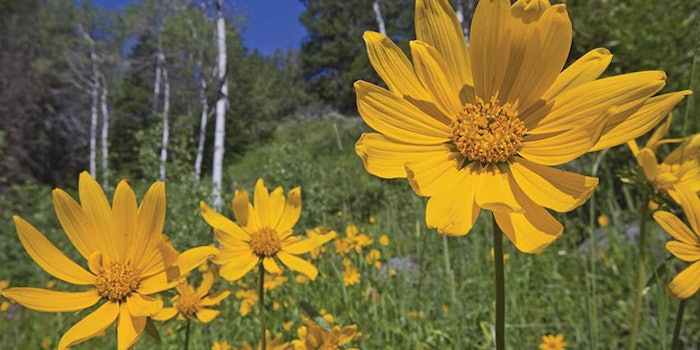 Known by many names and for multiple purposes, arnica or Arnica montana, leopards-bane, wolfsbane, mountain tobacco, etc., is a flowering herb native to the mountains of Siberia and central Europe. Species of the herb also thrive in pastures and forests in the northern mountains of North American and Canada, including A. fulgens, A. sororia and A. cordifolia.1
According to Encyclopedia.com1 the leaves were smoked by some as a substitute for tobacco, earning it the common name of mountain tobacco. Thanks to its bright yellow-orangish flower, it is also sometimes called the mountain daisy, as it looks like the familiar flower2—although it belongs to the genus of herbaceous plants in the sunflower family (Asteraceae).3 According to Wikipedia, the genus name Arnica may be derived from the Greek arni or "lamb," referring to the plant's soft, hairy leaves.
Past and Present Uses
Since the 16th century, arnica has been used in folk medicine in North America, Germany and Russia.1 Reportedly, indigenous North Americans prepared a tea from its roots to ease back pain. The German writer Goethe credited arnica for bringing down a persistent high fever and saving his life. In Russia, arnica preparations were indicated to treat wounds, black eyes, sprains and contusions, and the herb itself for uterine hemorrhage, myocarditis, arteriosclerosis, angina pectoris, cardiac insufficiency and various other applications.1
According to WebMD,4 today, arnica is used for pain caused by osteoarthritis, sore throat, surgery and other conditions. Herbalists consider arnica a remedy for sprains, sore muscles and bruises—as such, its use is popular among individuals who have undergone surgery, especially plastic surgery.5 According to Healthline, a 2006 study of patients who underwent a rhytidectomy (facelift) showed that homeopathic arnica significantly boosted healing, although other research has provided mixed results regarding its effectiveness.5 WebMD also reports uses for arnica such as for bleeding, bruising and swelling after surgery, but additionally underlines there is limited scientific evidence to support these uses.4
Continue reading about the skin benefits of arnica in our Digital Magazine...