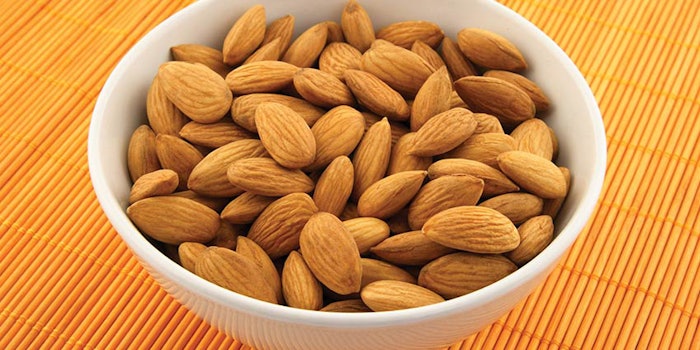 Pop culture is embracing mandelic acid as the lesser-known and "gentler" alpha hydroxy acid (AHA), compared with salicylic and hyaluronic acids. Once a quiet "stand-in," it is now in the limelight for its multiple skin benefits; for example, it has been indicated by Healthline.com to improve dark spots, wrinkles, skin texture, dullness and acne. Glamour also listed it among "the very best skin care products to use on dark skin," mainly due to its gentle nature, which lends itself to higher use levels for greater efficacy. Indeed, its mildness can be attributed to its size—as one of the largest AHAs, it penetrates the skin at a slower rate, which makes it less irritating.
History, Chemistry and Uses
Wikipedia sources report that mandelic acid was first discovered in 1831 by the German pharmacist Ferdinand Ludwig Winckler while heating amygdalin, an extract of bitter almonds, with diluted hydrochloric acid. Its name is derived from the German word mandel for almond.
Mandelic acid belongs to the class of compounds known as benzene and substituted derivatives, which are aromatic compounds. The acid has been used by the medical community as an antibacterial, which is a common property of aromatic compounds. In particular, mandelic acid has been indicated to treat urinary tract infections and used as an oral antibiotic.
As most readers know, it also is a common component of chemical facial peels, similar to other alpha hydroxy acids. Mandelic acid is known to accelerate cellular turnover by breaking desmosome bonds between skin cells to exfoliate and remove those that are dead. This keratolytic effect thereby improves skin appearance by regulating sebum production, unclogging pores, preventing the formation of comedones and reducing inflammation. The acid also is reported to promote collagen production to support the skin and connective tissues, providing anti-aging benefits.
In relation, one source described the effects of mandelic acid as acting through two primary paths: as an exfoliant on one hand and the other, a disinfectant/antibacterial. The exfoliating properties are said to be proportional to its concentration. As an antibacterial, it has been shown to inhibit the growth of Staphylococcus aureus, Proteus sp., Escherichia coli and Klebsiella aerogenes; ergo, the anti-acne effect.
Leveraging these antibacterial properties, a commercial deodorant recently introduced to the mass market even has utilized mandelic acid and other AHAs to create and unfavorable environment for odor-causing microbes, eliminating the need for other deodorant actives. And, once again, as an exfoliant, the product accelerates turnover to reduce armpit-area pigmentation and deter ingrown hairs.
Continue reading about the skin benefits of mandelic acid in our Digital Magazine...