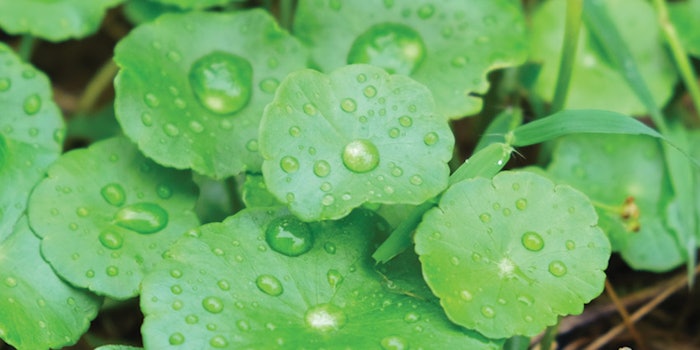 Cica, a distant relative to parsley, brings more to the table than a garnish on a beautifully plated meal. Short for Centella asiatica, and also known as gotu kola, cica has been used in folklore medicine for hundreds of years and is making its way into modern medicine.1 According to a review published in the Indian Journal of Pharmaceutical Sciences,2 the perennial herb belongs to the Umbellifere (Apiceae) family, along with parsley,3 and grows in tropical, subtropical and swampy, moist places up to altitudes of approximately 1,800 meters, including in parts of India, Pakistan, Sri Lanka, Madagascar, South Africa, the South-Pacific and Eastern Europe. The plant has small, fan-shaped, green leaves; blooms white or light purple/pink flowers; and bears small, oval-shaped fruit.2
Medical Applications
The entirety of the plant has been used for medical purposes such as purifying blood, treating high blood pressure, enhancing memory and promoting longevity.2 In ayurveda, Centella asiatica is one of the main herbs used to revitalize nerves and brain cells. Eastern healers also have relied on the ingredient to treat emotional disorders such as depression.
In the mid-20th century, Western medicine even found that cica and its alcoholic extracts showed positive results in the treatment of leprosy.2 According to WebMD,3 cica also is used to treat burns and poor circulation that can lead to varicose veins, scars, stretch marks and other conditions.
Other sources support wound-healing and anti-inflammatory effects. For example, one study published in BMC Complementary and Alternative Medicine found4 that cica imparted wound-healing properties in a rabbit model. Here, a cica-enriched hydrogel was applied to wounds, and this treatment enhanced healing 15% faster than a commercial cream, and more than 40% faster than untreated wounds. The authors reported skin healing was observed in all wounds and marked by the formation of a thick epithelial layer, keratin, and moderate formation of granulation tissues, fibroblasts and collagen with no fibrinoid necrosis detected.4 They attributed these effects to cica.
Similarly, a study published in Phytomedicine investigated the effects of Centella asiatica on inflammatory responses by macrophages in an atopic dermatitis mouse model. Results showed various anti-inflammatory mechanisms of cica, suggesting its use as a treatment for atopic dermatitis.5
Active Compounds
What compounds present in Centella asiatica might impart the described effects? The Indian Journal of Pharmaceutical Sciences review2 points to triterpenoids and saponins, which it reports are the primary constituents behind such wide therapeutic actions. WebMD, again, notes that cica contains "certain chemicals" that seem to decrease inflammation and also decrease blood pressure in veins; these chemicals are not specifically named. Further, it highlights cica's apparent ability to increase collagen production, which is important for wound healing3—and, of relevance to this column, skin repair.
A report from Advances in Dermatology and Allergology delves into more depth,1 listing the active compounds as pentacyclic triterpenes, mainly: asiaticoside, madecassoside, asiatic and madecassic acids. These entities are reported to improve not only wounds and burns, but also psoriasis and scleroderma.1
A recent report in Regenerative Engineering and Translational Medicine confirms6 that cica contains important alkaloids, phenolics, asiatic acid, madecassic acid, asiaticoside and madecassoside. Among them, asiatic acid and madecassic acid are linked to anti-inflammatory and apoptotic effects, while asiaticoside and madecassoside stimulate collagen (I, II, III) synthesis and new blood vessel formation, which ultimately helps wound healing. Moreover, vimentin and α-SMA produced by Centella asiatica help to speed healing.6
Skin Repair
A 2018 article featured in Allure described7 cica's benefits as being "about as numerous as the sheet mask options available these days." According to the interview subject, Ellen Marmur, a New York City-based dermatologist, "No matter what your skin type or biggest concerns are, cica could probably assist you in some way." She added that cica is believed to soothe and repair irritated skin, including treating acne and calming sensitive skin. "However, that's just a small fraction of how cica could boost your skin-care routine," she added.
Advances in Dermatology and Allergology specifically described1 cica's mechanism of action as promoting fibroblast proliferation and increasing collagen synthesis and intracellular fibronectin content. In addition, it improves the tensile strength of newly formed skin and inhibits the inflammatory phase of hypertrophic scars and keloids. The same report notes cica can be used to treat photoaged skin, cellulite and striae.1
Anti-acne and Skin Hydration
A study published in Food & Nutrition Science8 explored the effects of madecassoside, the major pentacyclic triterpene saponin from Centella asiatica, on skin inflammation and moisture. The ingredient significantly inhibited the pro-inflammatory cytokine IL-1β, TLR2 and nuclear translocation of NF-κB in Propionibacterium acnes-stimulated THP-1 human monocytic cells; thus, it reduced P. acnes-related inflammation.
Madecasssoside also enhanced skin hydration by increasing the key moisturizing contributors of aquaporin-3, loricrin and involucrin in HaCaT keratinocytes, as well as hyaluronan secretion in human dermal fibroblasts. These effects, plus the inhibition of reactive oxygen species formation, improved hyaluronan content. Together, these results suggest the potential medical and cosmetic application of madecassoside for skin protection.8
Antimicrobial Effects
According to the authors, this work substantiates the extensive use of Centella asiatica leaf extract against skin disease by indigenous tribes of the Indian subcontinent.9
Cica in Cosmetics
Recognizing the potential this material holds, the cosmetic industry has embraced its many benefits. For example, Mary Kay inventors combined the meristem cells of Centella asiatica with a unique peptide that, according to the brand, lifts sagging skin.10
However, when it comes to skin delivery, product developers must get creative. As the authors on a study published in the International Journal of Pharmaceutical Sciences and Research explained, Centella asiatica contains several active triterpenoids that have been reported to induce type I collagen—which substantially decreases in photoaged skin. While the extract is highly soluble in water, it has low absorption into the skin. To overcome this, water-in-oil nanoemulsions loaded with Centella asiatica extract were formulated, optimized and evaluated. Results indicated a significant increase in permeation as well as significant improvements in wrinkle formation in UV-exposed skin.11
In the Spa
Although cica is a trending ingredient in K-beauty and consumer skin care, it is alive and well in the professional market, often referred to by its Latin name Centella asiatica or the more common gotu kola. The herb is often tapped by professionals for its moisturizing properties, but it also is seen contributing antioxidant properties to formulations.
Spa Lux in Tulsa uses cica in its Firming Anti-aging Facial (55/85 minutes, $110/140), where it joins asparagus in a moisturizing face mask. The treatment leaves skin toned and hydrated, and galvanic is often added for extra hydration.
Cica is also incorporated for its hydration benefits in the Moisture Drench Facial (50 min., $145) at The Underground Spa & Wellness at The Logan Hotel in Philadelphia. This hydrating facial uses a hibiscus enzyme peel to smooth and calm skin, followed by a nourishing facial massage with a gotu kola balm.
Gotu kola is utilized for healing at Miraval in Tucson as part of its Gotu Kola Coffee Scrub (50 min., $145). The treatment begins with a coffee exfoliation containing black silt and sarsaparilla. Warm compresses are applied, followed by warm ginger cardamom oil, and the treatment is finished with a healing gotu kola and kokum butter balm.
If you are intrigued by the moisturizing powers of cica, you can find it in a wide range of professional products. Sofiel uses the ingredient in its Ultimate Skin Miracle, which is formulated to help nourish the skin, improve texture and restore softness while also supporting collagen repair and promoting skin healing.
PCA Skin utilizes gotu kola in its Advanced Treatment Booster, which was created to increase post-treatment exfoliation, normalize keratinization, accelerate barrier repair and reduce redness. Centella asiatica is combined with other ingredients to soothe, calm, restore the barrier and reduce redness.
Gotu kola is seen in FarmHouse Fresh's Spotted Leaving Spot and Pigment Lightening Serum, where it is used for its antioxidant benefits to prevent future skin damage.
HydroPeptide's Cashmere Cleanse uses gotu kola to help use the body's antioxidants effectively. The cleanser was designed to cleanse without drying, while supporting barrier function.
Gotu kola is tapped for hydration in Éminence's Arctic Berry Peptide Radiance Cream, which was formulated to reduce wrinkles and age spots while hydrating. Gotu kola stem cells improve hydration while reducing the appearance of wrinkles.
Conclusions
Cica or Centella asiatica may have been the go-to ingredient for primitive healers but it's even more relevant today, as research reveals it packs a mean phytochemical punch. It's an unassuming ingredient to meet the assumptions and high expectations of modern skin care consumers.
References