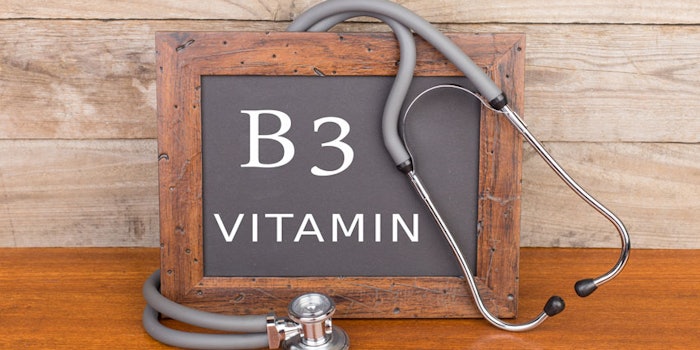 When it comes to vitamins and total body health, vitamins C, E and A often get most of the attention, leaving their powerful, mutifunctional counterpart B3 in the shadows. No longer can we overlook vitamin B3, as this vitamin has entered the spotlight as a potent source of many skin benefits. It fact, it is a star ingredient in a new line launch by Repêchage (see sidebar), so we sat down its founder and skin care expert Lydia Sarfati (LS) to learn why you can't afford to ignore B3 any longer!
Here are the eight things you NEED to know about niacinamide (B3).
1. It is Multifunctional.
LS: Many vitamins used in skin care have primary functions, such as exfoliating (vitamin A) or antioxidant (vitamin E and C). Niacinamide (vitamin B3) differs from other vitamins in that it has a multitude of benefits. Studies have found that it has many benefits, including antioxidant properties, improvement of skin elasticity,1 and reduction the appearance of redness, pores and hyperpigmentation.2 Also, niacinamide is greatly tolerated by many skin types.
2. The Body Needs It (But Doesn't Make It).
LS: One of the most studied skin care ingredients is niacinamide/vitamin B3. As an essential component of living cells, vitamin B3 is essential for protein, carbohydrates and fat metabolism. It is considered a precursor in the synthesis of coenzymes involved in cell metabolism, and as such, and plays a key role in the production of energy.3
We knew from research that niacinamide/vitamin B3 was an essential element not produced by the body that must be obtained from outside sources.
3. It Boosts Hydration.
LS: Niacinamide is a versatile ingredient, and it can be used in many products. Not only can it help to maintain skin hydration, but it is known to boost the efficacy of other moisturizers, which is a reason why it has been paired with our exclusive Laminaria digitata extract. 
LS: Because niacinamide is one of the most proven-effective skin care ingredients, helping to maintain skin hydration and known to boost the efficacy of other skin moisturizers to maintain the skin barrier, it could be key to preventing immunoaging. New research is indicating that proper maintenance of the skin barrier can have effects on overall health and wellness.4
5. It Rolls Back the Clock on Wrinkles and Spots.
LS: Niacinamide's benefits when applied topically include reduction in the appearance of in fine lines and wrinkles, hypepigmented spots, red blotchiness and skin sallowness.5 In addition, elasticity can be improved, as well the skin's barrier function.6
For the past several years, we have been researching the effects of niacinamide/vitamin B3. In independent laboratory tests, our B3 serum showed a 58% reduction in the appearance of wrinkles.
Dr. Samuel Shatkin Jr., FACS, M.D., and principal physician/owner of the Aesthetic associate centre for Plastic Surgery in Buffalo, led an independent study with [our new collection], analyzing the results of 10 patients using the collection for a 21 day period. The analysis found that 88% saw tighter and firmer skin, smoother skin and reduced dryness.
6. It Shrinks Pores.
LS: This versatile ingredient also helps to reduce the appearance of pores, making it beneficial for every skin type, including oily/problem skin. In independent laboratory tests, our B3 serum showed a 41% reduction in the appearance of pores.
7. Sourcing Matters.
LS: The most important aspect of sourcing is to ensure that the source will provide a high quality niacinamide, preferably in a sustainable process that yields a consistent product.
8. It is Non-irritating
LS: Our formulations have been dermatologist tested on fifty subjects with repeat insult patch tested (RIPT) with no irritation reported.
References
1. www.ncbi.nlm.nih.gov/pubmed/18492135
2. www.ncbi.nlm.nih.gov/pmc/articles/PMC3583892/#R52
3. www.ncbi.nlm.nih.gov/pmc/articles/PMC2921764/
4. www.ucsf.edu/news/2019/03/413576/skin-repair-eliminates-inflamm-aging-linked-chronic-disease
5. www.ncbi.nlm.nih.gov/pubmed/16029679
6. www.ncbi.nlm.nih.gov/pubmed/10971324