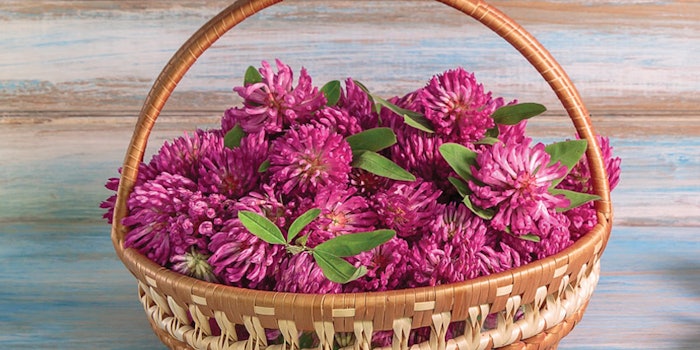 If you've spent any time in moderate regions of the United States, you've likely come across red clover. In many states, a flat or rolling landscape with regular rainfall serves up the right environment for sprawling green fields of clover, dotted with purplish, spiky flowers. You may have even sampled their sweet nectar while searching for the elusive four-leaf variant, to bring good luck.
Known as red clover, or Trifolium pratense, this flowering herb actually belongs to the Fabacea legume family. It is native to Europe, Western Asia and northwest Africa; although it clearly has flourished in other regions. In traditional Indian medicine, it was used as a deobstruent, antispasmodic, expectorant, sedative, anti-inflammatory and antidermatosis agent. In alternative medicine, it has been promoted as a treatment for menopause, cough, lymphatic disorders and even a variety of cancers.2
According to the National Center for Complementary and Integrative Health,a extracts from the flowers of red clover, in particular, are used as dietary supplements for menopausal symptoms. This is due to their isoflavone content, since isoflavones are phytoestrogens and similar to the female hormone estrogen. However, little evidence exists supporting this use.1
Active Constituents
As stated, the main actives in red clover are the hormone-like isoflavones, which are converted in the body to phytoestrogens. Due to this activity on estrogen receptors, however, red clover has been contraindicated in individuals having a history of breast cancer, endometriosis, ovarian cancer, uterine cancer, uterine fibroids or other estrogen-sensitive conditions. On the other hand, some have suggested that high isoflavone content can counteract and can even benefit these conditions.1
Additional constituents have been identified as well. One study,3 focused on clinical trials for a red clover botanical supplement, found some 22 compounds and quantified 20 of them. This was significant since previous clinical work had identified and quantified just the four main isoflavone components: daidzein, genistein, formononetin and biochanin A. Notably, these four compounds have gained interest due to human health benefits including estrogenic, progestogenic, antioxidant and anti-inflammatory activity.4
In the described study,3 the supplement was found to comprise 35.54% isoflavones, 1.11% flavonoids, 0.06% pterocarpans, "0.03% coumarins and" 0.03% tyramine.3 Other reports in the literature for red clover list phytochemicals including: beta-carotene, beta-sitosterol, biochanin, caffeic acid, campesterol, chlorogenic acid, coumarin, coumestrol, daidzein, eugenol, formononetin, genistein, isorhamnetin, methyl salicylate, myricetin, p-coumaric acid and salicylic acid.5 Of course, variations in chemical content will occur based on the region of the plant's cultivation.6
Topical Uses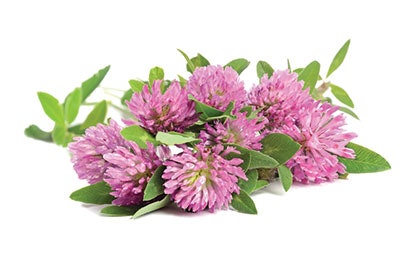 Topical treatments reported for red clover range from everything including hair loss7 and cold sores,8 to skin cancer, skin sores, burns, chronic skin diseases including eczema and psoriasis,9 and even vaginal rejuvenation.10 According to a report by Fox News,11 as a topical aid, red clover is used in liniments and balms for relieving the pain of both eczema and psoriasis, and for sores and burns. The pain-relieving properties are likely due to the presence of the anti-inflammatory compounds eugenol, myricetin and salicylic acid in the flowers. Salicylic acid also has demonstrated activity against eczema.11
Anti-aging is another use. One study, published in Phytotherapy Research, explored changes in skin induced by treatment with red clover isoflavones.12 Reportedly, estrogens have a profound influence on the improvement of skin; they increase collagen content, skin thickness and improve skin moisture. The described study examined the histology of skin, skin thickness and the amount of total collagen in ovariectomized rats, treated as such to model menopause.
After treatment for 14 weeks with a red clover extract containing 11% isoflavones, skin appeared well-organized with a normal epidermis, uniform thickness and regular keratinization; vascularity, collagen and elastic fibers also were well-developed. In untreated skin, the thickness and keratinization of the epidermis were reduced; glands were fewer in number and vascularity was poor. In addition, the distribution and morphology of the collagen bundles and elastic fibers were altered. These findings suggest red clover isoflavones are effective in reducing skin aging induced by estrogen deprivation.11
In fact, a patent filed a few years ago by AmorePacific described compositions for skin care including coumestrol from various sources, including red clover. Here, the company observed coumestrol could inhibit the expression of matrix metalloproteinase-1, in turn maintaining collagen in the skin and improving skin elasticity and wrinkles.13
Cosmetic Ingredients
Cosmetic ingredient suppliers, too, have leveraged the benefits of red clover in various ingredient offerings. One blend, in particular, includes a peptide along with red clover extract for hair growth and conditioning benefitsa. Another, by the same company, incorporates clover extract in a mixture for astringent and pore-minimizing effects, as well as to support keratinocyte differentiation and sebum controlb. Lastly, a different supplier has employed the isoflavone benefits of clover extract to treat mature skinc.
In the Spa
In the spa industry, red clover is an anti-aging workhorse, providing primarily anti-wrinkle and antioxidant benefits due to its isoflavone content. However, the natural ingredient is tapped for its anti-inflammatory, moisturization, skin smoothing and oil reduction properties by some spas and professional manufacturers.
At Spa Anjali at the Westin in Avon, Colorado, red clover is utilized for its antioxidant and moisturization benefits in the Red Clover Body Mask (100 min., $245). This healing mask also contains mountain honey and shea butter to moisturize and renew skin. After the wrap is applied, it is warmed.
In January, Bella Reina Spa in Delray Beach, Florida offered the Red Clover Radiance Re-Boot ($79, 30 min.) as a facial special. This express antioxidant facial exfoliates the skin with a lipid, copper and vitamin C formulation. Red clover then restores moisture to the skin for a radiant glow.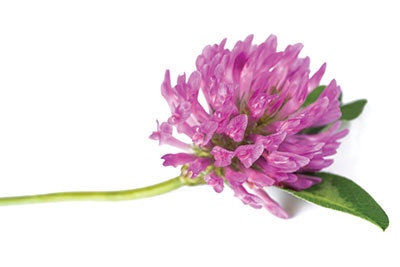 Red clover it harnessed for its anti-aging benefits by Arcadya Salon & Spa in Manchester, New Hampshire. In the Orange Zest Facial ($100), red clover is used to diminish fine lines and wrinkles. It is accompanied by other anti-aging ingredients such as L-lactic acid, salicylic acid, boswellic acid, mandarin and orange oil.
Focusing on the eyes, the Éminence Organic Eye Treatment ($30) at Venelle Salon & Spa in Brooklyn, New York, is an add-on treatment that uses red clover and evening primrose to reinforce collagen fibers and combat dehydration for a reduction in fine lines and wrinkles.
Mature skin is also the target for Bioline Jató, where the ingredient can be found in its Energy Milk Cream Cleansing and Energy Lotion Refreshing. In these products, red clover serves as a natural phytoestrogen to protect the skin from free radicals and help it regenerate. It also boosts hydration that has been depleted with age.
Hydration and free radical protection are also benefits of Elina Organics' Super Antioxidant Night Cream. "Along with a variety of antioxidants, it contains phytoestrogen, which helps to slow down aging process of the skin and hydrate the skin. [Red clover] also has an anti inflammatory effects on the skin and supports flexibility of capillaries," noted Elina Fedotova, formulator and CEO of Elina Organics.
The phytoestrogen action of red clover is utilized by dermaviduals in its Phytohormone Liposomes, where it is encapsulated in liposomes. The encapsulated red clover is said to balance estrogen deficiencies, stimulate collagen synthesis as well as cell formation and slow down collagen degradation.
The anti-aging benefits of red clover can be seen in Glo Skin Beauty's Restorative Mask. This nourishing mask is formulated for dry, dehydrated skin with antioxidant-rich, conditioning ingredients to help restore skin's strength and elasticity.
For a unique take on red clover, look to Pevonia and its Power Repair Micro-Pores Bio-Active Mask, Intensifier Micro-Pores Bio-Active Serum and Power Repair Micro-Pores Refine Cream. These three products use red clover to reduce oil production, reduce the appearance of pores and exfoliate the skin to turn over new skin cells. These actions are contributed by biochanin-A, an isoflavone in red clover.
Conclusions
It's always interesting to learn how Mother Nature balances life's woes with her endless supply of phyto-solutions. As children sipping on the nectar of red clover flowers, little did we know how we were arming ourselves with isoflavones and more to maintain our youth and health-and if we stumbled on that fourth leaf, luck.
References:
Footnotes:
a Capixyl (INCI: Butylene Glycol (and) Water (aqua) (and) Dextran (and) Acetyl Tetrapeptide-3 (and) Trifolium Pratense (Clover) Flower Extract) and
b Miniporyl (INCI: Isopentyldiol (and) Trifolium Pratense (Clover) Flower Extract) are products of Lucas Meyer Cosmetics.
c Sterocare PH (INCI: Glycerin (and) Trifolium Pratense (Clover) Flower Extract (and) Butylene Glycol (and) Lecithin) is a product of Sederma.