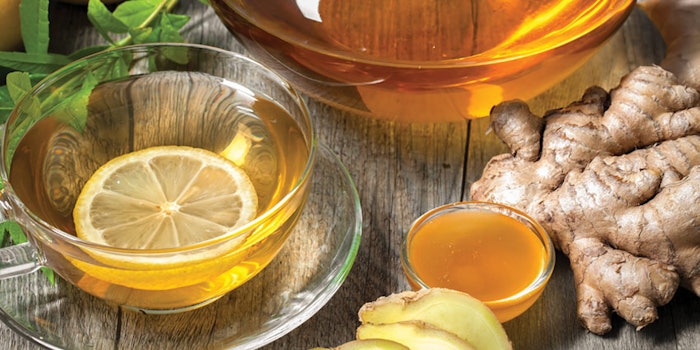 Freshly peeled and nestled atop a sushi roll, or infused into a steamy cup of hot tea, ginger punctuates a number of foods and beverages—and increasingly, skin care. Part of the Zingiberaceae family, ginger is indigenous to southeastern Asia.1
Zingiber officinale (ginger) is one of the earliest-known spices revered for its pungency and aroma, and viewed as a "healing gift from God" in ayurvedic beliefs.1
In traditional Chinese medicine, ginger mainly was used to transport body fluids. This is due to its stimulant activity, which accelerates circulation, in addition to its capacity to dilute blood.1
As an ancient herbal remedy, used for more than 2,000 years,2 ginger treated a range of other ailments, serving as everything from a digestive aid, spiritual beverage, aphrodisiac and anticancer agent, to an antimicrobial, antioxidant, anti-inflammatory ingredient, analgesic, immune system stimulant, and more.1 Clearly, some of these folklore functions lend themselves to skin care.
Active Constituents
Fresh ginger contains a multitude of compounds. Zingiberene dominates, comprising 30% of the essential oil. Other entities lending to ginger's characteristic flavor include ß-sesquiphelandrene and ar-curcumene. The pungency of ginger can be attributed to its gingerol content, one main actor of which is [6]-gingerol. This chemical is related to capsaicin, found in chilis, and piperine, found in black pepper.3
When ginger is heated or dried, its gingerols transform to different compounds. Zingerone is one, which is less pungent and imparts the flavor found in gingerbread. Shogaols also are formed, which are almost twice as pungent as gingerols and characteristic of the dried spice.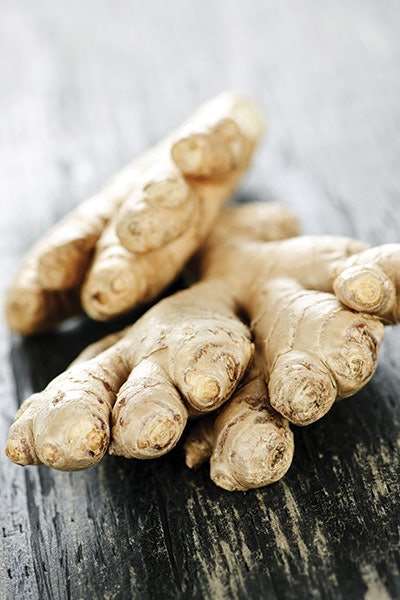 Gingerols are believed to be the source of the plant's antiemetic, analgesic, antipyretic, anti-inflammatory, chemopreventive and antioxidant properties.1 Research from Georgia State University notes that ginger and its phenolic constituents 6-gingerol, among others, suppress carcinogenesis in the skin, gastrointestinal tract, colon and breast.2 The specific mechanisms are not well-understood, but they are believed to involve the up-regulation of carcinogen-detoxifying enzymes, antioxidants and anti-inflammatory agents. Furthermore, [6]-gingerol has been shown to have an anti-angiogenic effect, preventing the formation of new blood cells that support tumor growth.3
In a similar manner to non-steroidal, anti-inflammatory drugs,3 6-gingerol, 6-shogaol and other structurally similar substances in ginger have been found to inhibit entities that contribute to prostaglandin biosynthesis.1 Furthermore, [6]-shogaol also has been shown to inhibit the release of histamine from mast cells, reducing the allergic response.
Ginger also has been shown to inhibit NF-κB, a protein complex that controls the transcription of DNA, cytokine production and cell survival. It can induce antioxidant response element (ARE)-reporter gene activity, as well as nuclear factor erythroid 2 related factor 2 (NrF2) expression.2
What do these chemical entities mean for skin care—plenty of benefits.
Anti-inflammatory/Antioxidant
According to an article featured in the Journal of Young Pharmacists, gingerol, shogaol and paradols isolated from Zingiber officinale show antioxidant and anti-inflammatory activities. In fact, this study demonstrated that nano-encapsulated ingestible red ginger imparted anti-cellulite effects due to its ability to inhibit reactive oxygen species (ROS). Previous researchers identified that red ginger acts by decreasing lipid peroxidation through the activation of superoxide dismutase, catalase and glutathione peroxidase in a manner comparable to vitamin C.4
In relation, a recent patent application describes a combination of Zingiber officinale and bisabolol to synergistically reduce skin irritation, inflammation, heat/discomfort and redness. The compounds are reported to reduce inflammatory mediators including interleukins and prostaglandins.5
Photodamage Protection and Anti-aging
Taking antioxidant activity a step further, a study published in Biochemical Pharmacology highlighted the sun-protection activity specific to ginger's zerumbone content.6 Zerumbone, a sesquiterpene found in ginger,7 was found in vitro to be capable of protecting against UVA-irradiated damage, including photo-aging and skin cancer, by inducing Nrf2.
Furthermore, UVA-induced excessive ROS production, DNA single-strand breaks, apoptotic DNA fragmentation and more were reversed by the application of zerumbone to keratinocytes, suggesting zerumbone could be used to treat or prevent UVA-induced skin damage and photoaging.
Also focused on anti-aging effects, one patent application described extracts of ginger root as demonstrating both antioxidant and anti-aging benefits, specifically for the improvement of wrinkles by inhibiting elastase activity.8
Skin Whitening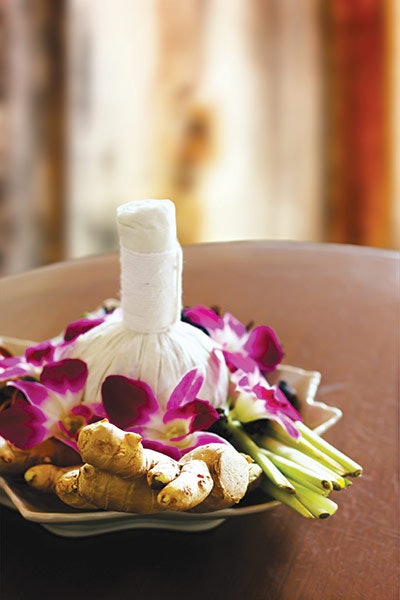 New work published in the International Journal of Molecular Science demonstrates how zerumbone, a sesquiterpene found in the tropical ginger Zingiber officinale Roscoe, reduces melanin accumulation. While this active also has shown anti-inflammatory, anti-allergic, antimicrobial and anti-cancer properties, it had not been previously studied for anti-melanogenic effects. The results suggested that zerumbone, as well as Zingiber officinale Roscoe extract in general, could serve as an active ingredient in skin-whitening cosmetics.7
Stimulatory Action
Finally, ginger is perhaps best known for its stimulant activity. Applying a ginger tincture, juice and/or extract to the hair and scalp is a well-known practice to enhance microcirculation and prevent hair loss or stimulate hair growth.8
Furthermore, in the Journal of Pure and Applied Microbiology, it helps move body fluids by stimulating blood circulation throughout the body via a powerful stimulatory effect on the heart muscle, as well as by diluting the blood. This improved circulation is believed to increase cellular metabolic activity for numerous body functions, including those carried out by the skin.9
In the Spa
Ginger is a popular ingredient in spas around the world, with offerings ranging from exfoliation to massage and healthy spa drinks.
Zen Spa in San Juan, Puerto Rico taps into the anti-aging and detoxifying benefits of ginger in its Ginger Wasabi Body Wrap (45 min., $95) The wrap is rich in antioxidants from ginger root and detoxifying effects of wasabi ginger root. It is said to stimulate natural cleansing of the body, nourish skin cells and balance overall wellbeing.
For the ingredient's exfoliating benefits, The Spa At the Four Seasons Westlake Village (Westlake Village, California) offers a Ginger Lime Sugar Glow (50 min., $185) where dead skin cells are first removed with a mild exfoliating combination of sugar cane infused with ginger. The skin is then cleansed with a healing kombucha body wash and warm coconut and argan massage oil are then applied.
Also for exfoliation, ginger is utilized in Body Blitz Spa's (Toronto) Sweet Ginger + Milk Body Glow (60 min., $175). After a body wash, a body scrub of sugar, ginger, cardamom and argan oil is applied to slough away dry and dull skin. After the body is rinsed, a warm milk blend followed by a grape seed oil is massaged into the skin.
For a massage with ginger, look no further than the Melt Spa by Hershey (Hershey, Pennsylvania). Its seasonal Pumpkin Spice Massage (50/80 min., M-Th $95/145, F-Su $105/155) uses its exclusive blend of pumpkin seed oil, sunflower, apricot, sesame, and jojoba oils, with pure organic nutmeg, orange, clove, cinnamon, ginger and cardamon essential oils for a Swedish massage.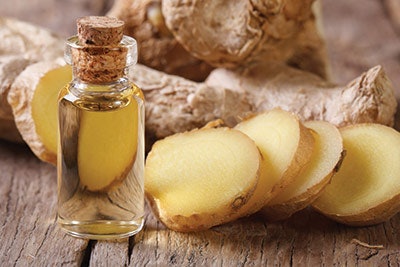 For better circulation, CryoSpa in Southampton, Pennsylvania offers a Ginger Compress Massage (60 min.) as a seasonal offering where towels soaked in hot water and freshly grated ginger are applied to troublesome areas and gently warmed to improve circulation and help to fight cold, mucus formation, joint pain, or any other stagnation in the circulatory system. The towels are then followed by a 30-minute accupressure massage to enhance life energy, support your immune system and boost organ vitality.
Similarly, The Spa at the Estancia in La Jolla California uses ginger essential oil to improve circulation in its Slow Beauty Wrap and Gommage (50/100 min, $180/340. The treatment starts with a white sand and volcanic sand exfoliation, while avocado and shea butter moisturize and protect. It is then that ginger is applied to boost circulation.
Ginger is combined with peach at The Spa at the Atlanta Marriott Marquis in its Ginger Peach Jubilee ($275/Half-Day). The service includes an Anti-Oxidant Peach Facial, Ginger Body Ritual and Ginger-Peach Manicure and Pedicure with a cup of ginger peach tea.
Finally, if you are looking to bring the nutritional benefits of ginger into your spa, consider the Lemongrass and Ginger Spa Water recipe shared by Complexions Spa (Albany and Saratoga Springs, New York). After 5 quarts of water is boiled for five minutes, two cups of lemongrass and one cup of sliced ginger is added. The water is cooled and then refridgerated, and the ginger in it is said to offer anti-nausea, antioxidant and anti-inflammatory benefits to the body.
Of course, all of the above ginger treatments would not be possible if professional spa product manufacturers did not recognize the benefits of ginger.
KM Herbals has dedicated an entire line of bath and body products to its Warming Ginger Aromatherapy Blend, which is a combination of ginger, nutmeg, sweet orange, clove bud and cinnamon leaf. This blend is formulated into all products in The Warming Ginger Body Collection, which includes: a body polish, hand and body lotion, bath salts and foot lotion. The blend is said to brighten and rejuvenate dull skin to improve tone and texture.
Rhonda Allison taps the healing and protecting properties of both Zingiber officinale and Hedychium coronarium (white ginger) for many of its products, such as its cleansers, toners, calming gels and sun protection formulas.
"Ginger is a powerful anti-inflammatory and antioxidant. These properties make it a wonderful wintertime ingredient, as it helps keep skin nourished and irritations at bay," explained Shannon Esau, CEO and director of education for Rhonda Allison.
Kerstin Florian's Organic Ginger Bath & Body Oil combines ginger, coriander and plai essential oils to energize and invigorate the senses while moisturizing and nourishing the skin. Zingiber officinale contributes analgesic, anti-inflammatory and antiseptic benefits to help soothe and ease muscle aches and pains while it relieves fatigue. Zingiber cassumunar Roxb (plai) is ginger from Thailand that helps not only combat joint and muscle problems, but it also helps relieve chronic colds and respiratory conditions.
Conclusions
Science is revealing the depths and complexities of traditional medicine. As such, product developers are embracing these tenets with new confidence, which present as new products on your backbar shelf.
References