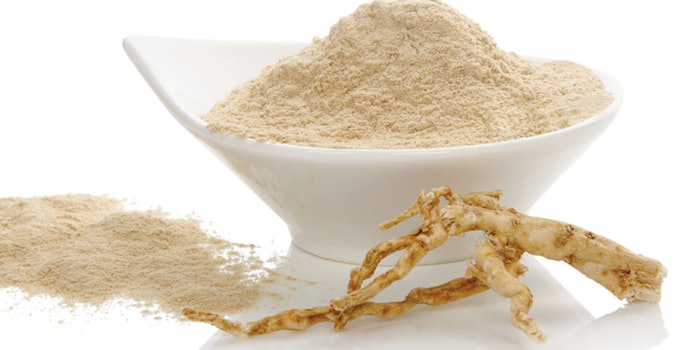 Ginseng is the English name for the root of the Panax genus plant. Ginseng was modified from the Chinese name ren shen, meaning "man" and "herb." This refers to the root's resemblance to male anatomy and traditional use for male sexual vigor. The Latin name for the species, Panax, is derived from the Greek word panacea, meaning "all-healer" or cure-all.1
The three main types of ginseng include American, Korean and Siberian; although technically, Siberian ginseng belongs to a different genus, Eleutherococcus senticosus.1 References to red and white ginseng refer to Asian ginseng roots prepared in two different ways.2
Ginseng is regarded as an adaptogen, helping to balance the body's immune functions and lowering risks of illness. Siberian ginseng has been used in Russian sports medicine to boost athletic performance and immunity.
Korean or Panax ginseng is the species most often studied in the West and used in Asian botanical preparations. In traditional Chinese medicine (TCM) practice, ginseng is recommended for ailments ranging from asthma, weakened pulse, indigestion, lack of appetite, rectal prolapse and hypertension; to diabetes, insomnia, angina, congestive heart failure and heart palpitations.1, 2 In fact, this panacea is one exception to TCM practices in that it sometimes is used by itself; rarely are single herbs prescribed.1
Today, Asian ginseng also is used as a dietary supplement to improve overall health and well-being, physical stamina and concentration.2, 3 It is believed to relieve depression, anxiety, erectile dysfunction and menopausal hot flashes. Oils and extracts made from American ginseng are used in soaps and cosmetics.4 Of particular interest to the spa industry is its reported skin care and anti-aging benefits; detailed below.
Active Constituents
Ginseng root is typically harvested after four to six years of growth.1 It is dried and made into powder, capsules or a liquid tincture. American ginseng is also available in the United States as whole roots. Ginseng contains saponin triterpenoid glycosides, commonly referred to as ginsenosides or panaxosides, which are believed to contribute to the herb's claimed activities.1, 2 Additional compounds include glycans (panaxans), the polysaccharide fraction DPG-3-2, peptides, maltol and volatile oil.
While the polysaccharides appear to act on the immune system for some benefits, the ginsenosides are the major pharmacologically active ingredients of ginseng. Evidence suggests they are responsible for effects related to insulin levels and blood sugar, vasorelaxation, antioxidation, anti-inflammation5 and even anti-cancer.5, 6
Antioxidant Effects
Recent work examined the effects of ginsenosides on reactive oxygen species (ROS), matrix metalloproteinases (MMPs), glutathione (or innate antioxidant) levels, superoxide dismutase and the viability of keratinocytes irradiated with UV-B.7
When keratinocytes were treated with ginsenosides prior to UV-B irradiation, the production of ROS was significantly suppressed. Also, MMPs were reduced, and innate antioxidant and superoxide dismutase levels were maintained—without interfering with the viability of keratinocytes.7
Further, a new study showed the ginsenosides present in Chinese ginseng could protect the skin against UV-B-induced injury. In dermal fibroblasts, ginsenosides alleviated UV-B-induced ROS, MMP-1 and expression of the inflammatory interleukin IL-6. They also accelerated TGF-β and procollagen type I secretion and displayed outstanding antioxidant capacity. The authors concluded they could act as a promising natural cosmetic ingredient for preventing and treating UV-B-induced skin damage.8
Anti-wrinkle Effects
Considering the observed effects on collagen and MMPs, it comes as no surprise that ginseng also demonstrates anti-wrinkle effects. An article explored these effects in a variety of commercial ginseng products; including black snow ginseng (BSG), sun ginseng (SG) and red ginseng (RG). At a concentration of 50 µg/mL, the extracts increased type-I procollagen synthesis by 82.7% (BSG), 26.9% (SG) and 119.2% (RG), respectively. They also significantly decreased the activity of MMPs.9
Similarly, a recent study found Korean red ginseng (RG) to protect skin against aging and wrinkling, as well to relieve the symptoms of atopic dermatitis and allergy. The same study observed improvements in wound healing as well;10 a different paper concurred.11
Skin Whitening
Black ginseng was put to the test to assess its skin whitening effects. Black ginseng was used for its more potent ginsenoside content. This form of ginseng was evaluated in vitro and in vivo against tyrosinase activity. A pronounced skin-whitening effect was observed in a clinical study, and inhibition of melanin activity and tyrosinase levels was confirmed in vitro.12
Also, a review of recent reports of skin-whitening activities found the specific ginsenoside Rg1 actually increased melanin production while another, ginsenoside F1, inhibited pigment production.13 In others, a clinical study demonstrated ginsenoside F1 had a skin whitening effect on artificially tanned human skin, and it reduced melanin secretion.
However, these authors noted there were no findings on the direct whitening effects of ginsenoside F1 in a human epidermal environment including melanocytes and keratinocytes. As such, they used human cell cocultures to explore this type of system and demonstrated that ginsenoside F1 suppressed the formation of dendrites that transfer melanosomes into keratinocytes. It also disrupted melanin transfer from melanocytes in the basal layer to keratinocytes in the upper layer, resulting in a whitening effect in the skin equivalent model.13
In the Spa
There are plenty of spa services that tap the beauty and health benefits of ginseng, both for face and body. Aqua The Day Spa in Ridgeland, Mississippi offers a Bamboo Ginseng Hydration Wrap ($110, 45 min.), where the body is exfoliated with bamboo grains to reveal a brighter skin tone, which is followed by a hydrating wrap.
Ginseng is popular in facial brightening treatments. Immersion Spa & Sauna in Palo Alto, California, offers a Korean Ginseng with 24K Gold Mask as an add-on (+ $20) to body services, which is said to help tone and brighten the skin in addition to boosting the immune system. The Ginseng and Pearl Facial at Laserderm Medi-Spa in Shrewsbury, Massachusettes is said to hydrate and rejuvenate all skin types while promoting metabolism and softening the skin.
The Brightening Facial at The Ahh Spa in Gainsville, Georgia ($135) uses an application of ginseng, green tea and vitamin C for antioxidant protection.
To supply spa treatments with ginseng-related benefits, a number of manufacturers are including the ingredient into their formulations, primarily for hydration, microcirculation and anti-aging benefits.
Lady Burd taps into the hydrating benefits of ginseng in its Oil-Free Moisturizer with Ginseng and Grape Seed Extract. Ginseng moisturizes and soothes the skin on both the face and neck.
Olga Lorencin's Intense Moisturizer formulates with Siberian ginseng root extract to rejuvenate, fortifiy and hydrate skin tissue, while increasing collagen production and skin elasticity.
For microcirculation, PurErb uses ginseng in its Clarity Brightening Bar. The cleansing and illuminating formula contains 38 plant extracts including ginseng to improve microcirculation and create a radiant glow. Yon-Ka energizes the skin with ginseng in its Lait Hydratant. This fragrant body milk intensifies its formulation with a rich concentration of ginseng extract to impart a unique energizing sensation so the skin looks and feels renewed, toned and stimulated.
Stimulation is also the name of the game for Dermaware in its Exotherm Mask and Peel, where ginseng not only stimulates vascular circulation but also reduces inflammation.
Ginseng has noticeable anti-aging benefits, as can be seen in products already on the spa market. Rhonda Allison uses ginseng root extract to revitalize stressed cells and stimulate regeneration by reactivating cell development and restoring normal skin function in its SynErgy A.
Barrier repair is the goal for ginseng in Bioelements' Radiance Rescue, where it also serves an antioxidant role to prevent damage from occurring. Skin is revitalized with ginseng in Eminence's Raspberry Eye Mask. Finally, the ingredient is included in a pro-elasticity complex in Bioline Jato's Body Concept Tonactive Elasticizing Concentrate.
Conclusions
As modern research and ancient folklore suggest, ginseng offers a multitude of benefits beyond skin care. It seems this "man root" is, in fact, a jack of all trades.
References
Encyclopedia.com
https://ac.els-cdn.com/S1226845317303378/1-s2.0-S1226845317303378-main.pdf?_tid=49d15488-5d6e-47a7-8539-76a2e2284b47&acdnat=1529524302_ac42f422c6830c764da5799a1aad29d0