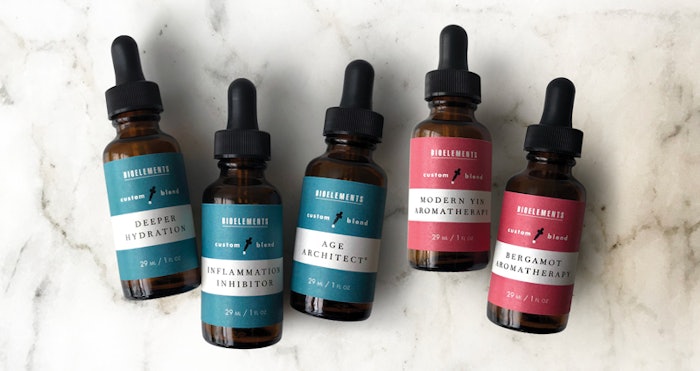 It's a fact: today's consumers expect highly personalized experiences. "Personalization" means that you meet your customer's needs more effectively and efficiently, make your interactions memorable and easier and, consequently, increase client satisfaction and the likelihood of repeat bookings.
Get Personal with Custom Blending
Build client loyalty, make more money and personalize your services with Bioelements exclusive, new Custom Blending System, which includes three Custom Blend formulas that target your clients' biggest concerns: aging, hydration and inflammation, plus two aromatherapy oils with essential oil blends exclusive to Bioelements.
These new Custom Blends are more potent, more concentrated for immediate results and more targeted. You'll use less, see a lower entrance point and always have a low cost-per-treatment.
Age ArchitectTM
Plumps, tightens and targets appearance of lines.
Inflammation Inhibitor
Triple-targets visible, invisible and sensory inflammation.
Deeper Hydration
Multi-level hydration to balance skin barrier.
Bergamot Aromatherapy
Classic fruity, aromatic citrus, with mild spice notes.
Modern Yin Aromatherapy
Harmonious blend of lavender, sandalwood, clary sage and geranium.
Learn more now at Bioelements.com/pros