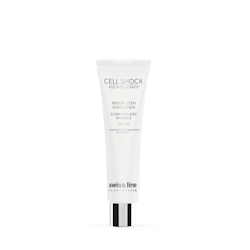 Cell Shock White Never Seen Sunscreen SPF 30 from Swissline by Dermalab multi-tasks by preventing sun damage, protecting the skin from blue light and improving and preserving the skin's condition. The sunscreen uses a trio of antioxidants–niacinamide, vitamin E and pomegranate–to provide all the typical benefits from a broad-spectrum SPF 30 formula while also strengthening the barrier function, brightening the skin, regulating sebum (without a drying effect) and helping to reduce fine lines and wrinkles.
The formula has an oil-free touch and an invisible finish. It is vegan and free of allergens, fragrances and chemical filters. As it absorbs quickly into the skin without leaving any residue or white/grey cast, it can be worn as a sunscreen on top of any moisturizer or on its own as a lightweight moisturizer for those with combination to oily skin.
Key Ingredients:
Niacinamide: On top of known brightening and barrier-supporting benefits, niacinamide has been found to be effective at repairing damages caused by UV stress. It can also potentially offer significant protection against blue light, shielding against damage to proteins and lipids caused by exposure to daytime visible light.
Arginine + Vitamin E: Arginine contributes to restoring moisture and grants a velvet-dry touch to the surface. Vitamin E is traditionally known in skin care as the "anti-dryness" vitamin. The combination of arginine and vitamin E makes this sunscreen ideal for all skin conditions.
Pomegranate Extract: Offers antioxidant properties and inhibits environmental stressors.