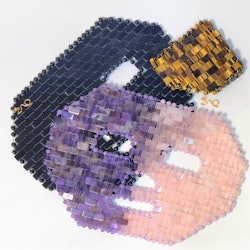 The Gemstones Masks are designed with different crystals that deliver different holistic benefits to guests skin and well-being. These re-usable masks can be incorporated into facial treatments to deliver a luxury experience as well as cooling vibrations with benefits depending on the crystals that are utilized in the mask. The weight of the masks can also help with reducing inflammation and swelling while reducing dark circles, puffiness, redness and irritation and encouraging lymphatic and blood flow.
Gemstone Mask Options
Rose quartz - this mask provides loving vibrations that open the heart chakra while smoothing fine lines and wrinkles. 
Amethyst - this gem can help with sleepless nights and restless days while enhancing meditative states. 
Jade - this gemstone can be used to provide good luck while also promoting all areas of life including longevity, healing and peace. 
Tiger Eye - this gem is a blood fortifier, increasing vitality and strength and restoring balance to the body on all levels. It is traditionally used to heal disorders of the eyes and throat. 
White jade - This gemstone holds a lot of healing properties, and it is well known for its calming and peaceful properties that heal energy. 
Blue Sodalite Eye - this mask can be used to deliver a renewed sense of confidence and self-esteem to help guests feel empowered. 
Black Obsidian - this gemstone helps to cleanse any psychic smog created within the aura and it provides strong psychic protection.