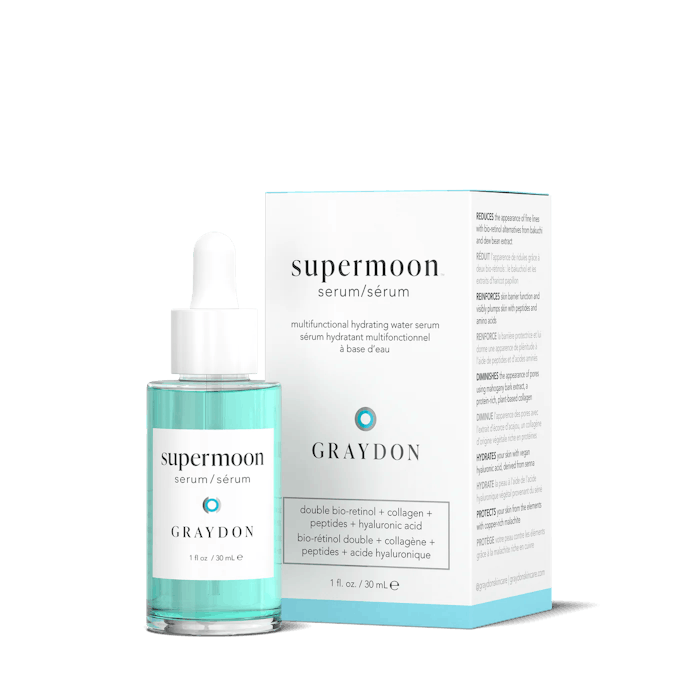 Supermoon Serum is a multi-functional water-based serum that contains a double serving of bio-retinol, while plant-based hyaluronic acid plumps skin. Peptides and plant-based collagen encourage skin longevity and suppleness, while vitamin C-rich moringa and malachite shield against everyday pollutants.
"Like all of our superfood-based products, Supermoon Serum is chock-full of plant-powered and clinically proven ingredients," said skin chef and founder of Graydon Skincare, Graydon Moffat. "While we are committed to using the best ingredients out there like dew bean, mahogany bark and moringa, we are equally dedicated to our products' efficacy; Supermoon Serum is the best of both worlds."
The malachite is what gives the serum its blue appearance that helps detoxify congested skin and target fine lines and wrinkles. Supermoon's multi-benefit formula also has a unique ability to neutralize excess sebum allowing the bio-retinol to work more efficiently.
Because sustainability is part of the brand essence, for every bottle of Supermoon Serum sold Graydon Skincare will donate $1 to the Ocean Legacy Foundation, which will result in one pound of ocean waste plastic being diverted from landfill.You can read more about the brand's sustainability mission at www.graydonskincare.com/pages/sustainability.