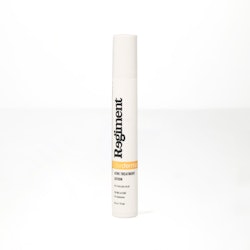 Regiment's Acne Spot Treatment is formulated with 2% Salicylic Acid, aloe vera and vitamin E that work to treat breakouts and blemishes. 
Key Ingredients
Hemp-Derived Cannabidiol has antioxidant properties that help slow down collagen loss significantly and help the skin retain its natural tone and firmness.
Salicylic Acid reduces swelling, redness, and clogged skin pores to allow pimples to shrink.