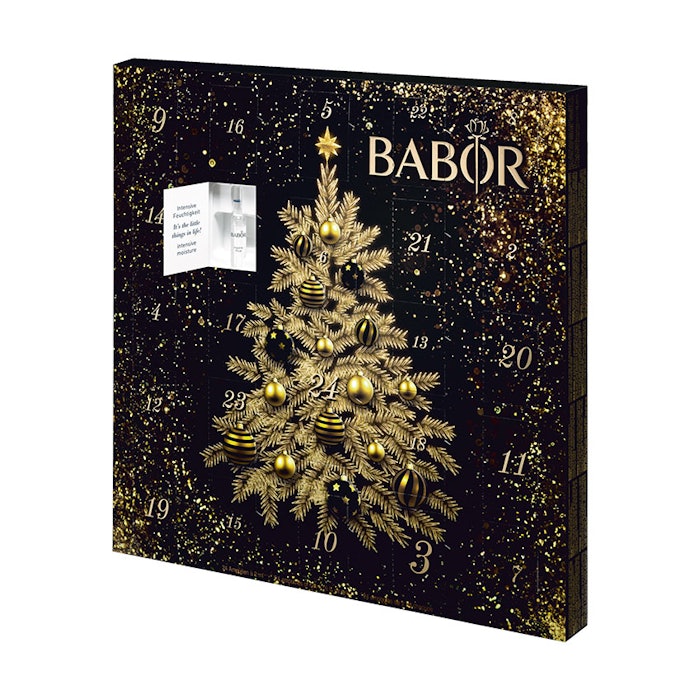 Holiday Advent Calendar includes 24 ampoules that work to make the skin look more radiant by moisturizing the skin. This advent calendar works to regenerate and firm the skin with just 24 ampoule treatments. 
Included in Advent Calendar
Hydra Plus (1): uses hyaluronic acid to quench dry, chapped skin
Algae Vitalizer (2): uses plankton and algae extract to cleanse and hydrate skin.
Perfect Glow (2): provides an instant glow to the skin for a natural radiance.
Beauty Rescue (3): works to reboot and strengthen skin barrier.
Stop Stress (2): uses wild indigo to help with skin sensitivity. 
Oxygen Plus (3): provides oxygen to dry, tired skin.
Active Night (3): uses black algae to regenerate collagen fibers in the skin.
3D Firming (3): helps to reduce wrinkles, tighten tissue and contour the skin.
Lift Express (2): fights against signs of aging by reducing wrinkles and smoothing skin.
SeaCreation The Serum (3): uses deep sea agents to pamper and highlight skin.
800-333-4055, https://us.babor.com