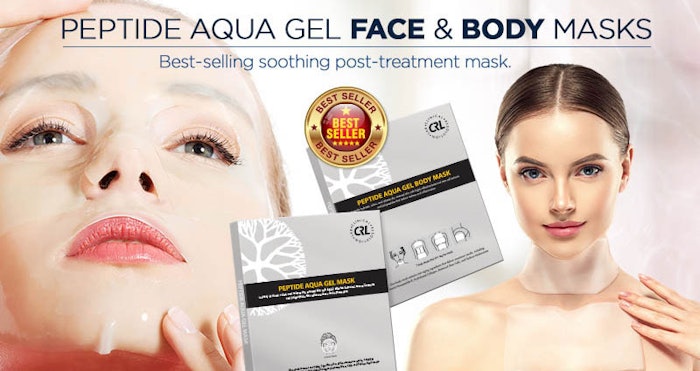 Proper healing is an essential part of successful treatment for any esthetic procedures that require downtime.  Minimizing discomfort, skin irritation, dryness and possible side effects not only prompts safe recovery but also holds a vital key to clinical outcome and patient satisfaction. 
Providing immediate comfort by cooling and soothing the skin with a recovery mask brings a good end-point to any esthetic treatment. However, not all masks are safe to use. It is pertinent to choose the right mask in order to safely deliver the healing benefits.  
Peptide Aqua Gel Mask is designed for post procedure recovery that works to deliver optimal hydration, soothing comfort, anti-aging and skin conditioning benefits which expedites the healing process.
The solid gel sheets mold perfectly to the skin to provide temporary occlusion and protection for proper skin recovery while also providing a pleasantly relaxing experience after microneedling or other ablative clinical treatments.
This best-selling mask utilizes a one-of-a-kind technology called Transdermal Cosmetic Delivery, which responds to body temperature in releasing its active ingredients. 
Infused with clinically proven ingredients, such as Acetyl Hexapeptide-8, Hydrolyzed Collagen, Plant-Derived Stem Cell Extracts and Sodium Hyaluronate, Peptide Aqua Gel Mask is a must-have for all esthetic professionals.
About the product: 

Perfect for post-procedure skin recovery
Replenishes moisture to dehydrated skin
Gently calms and soothes sensitive skin
Instantly cools to reduce redness and control inflammation
Provides occlusive protection for safe recovery of compromised skin
Minimizes fine lines and wrinkles
Paraben-free
Hypoallergenic and non-comedogenic
Good for all skin types, including hyper-sensitive and rosacea, with no side effects
Peptide Aqua Gel Mask is available in two designs – Facial Mask and Body Mask.
Fill out the form to the right to request more information and be entered into Peptide Aqua Gel Mask giveaway drawing!