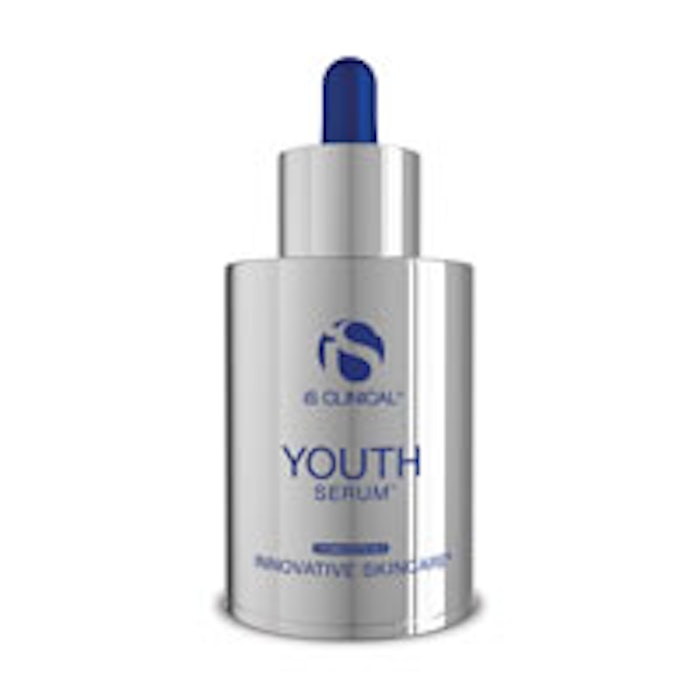 To purchase the YOUTH SERUM or any Innovative Skincare products, please visit www.isclinical.com, call 888-807-4447 or e-mail info@isclinical.com.
Youth Serum is the product that actually does what the others merely promise: to literally turn back the clock on aging skin. This dramatically effective, clinically proven formula is designed to give skin the best of both worlds: Instant smoothing and tightening with dramatic wrinkle reduction over time.
How does it work?
As we age, we lose collagen; the vital connective fibers that give our skin its youthful resiliency. Youth Serum is clinically proven to instantly smooth and tighten the skin, gradually rebuild lost collagen, dramatically soften fine lines and wrinkles, and repair and protect the skin's DNA.
What's in it?
Youth Serum is a highly active, botanically based formula that blends pharmaceutical-grade targeted growth factors, antioxidants, intelligent proteins, and Extremozymes into safe, multipurpose treatment.
What does it do?
Dramatically softens fine lines and wrinkles.
Provides instant improvement with long-term results.
Helps boost structure with collagen synthesis.
Restores resiliency to loose and sagging skin.
Quickly equalized rough, uneven skin texture.
Helps restore and protect DNA.
Paraben-free and suitable for all skin types.
Who is it for?
Suitable for normal, dry, oily or combination skin. Available in retail size 30 mL 1 oz for $150.
Advanced Ingredients. Amazing Results.
Extremozymes. Our proprietary blend of enzymes harvested from organisms able to withstand some of the most extreme conditions in the world. Extremozymes nurture skin on a cellular level, combating aging with powerful antioxidants that ward of free-radical damage.
Copper tripeptide-1 growth factor. The copper tripeptide-1 sequence is found in your body's natural collagen, and is clinically proven to stimulate the synthesis of new collagen. Better still: This growth factor is bioidentical, which means that your body can recognize it and put it to use immediately. As if that wasn't remarkable enough, our growth factors are clinically proven to prevent tumors, helping to protect your skin from cancer development.
Intelligent peptides and proteins. Primarily pseudoalteromonas ferment extract, a glycoprotein from the Antarctic Sea, hydrolyzed wheat and soy proteins. Clinically proven to identify and adhere to damaged sites, providing targeted regeneration.
Active algae extracts. This potent intertidal seaweed extract contains a blend of age-fighting polypeptides, peptides and glycans. It's also an incredibly rich source of a rare amino acid found only in collagen, which triggers the epidermis to begin repairing essential lost collagen.
Antioxidant blend. Antioxidants are critical for the prevention of environmental damage to the skin. Youth Serum contains a highly active blend of antioxidants, including vitamins A, C, E and Centella asiatica, known to encourage cellular health and stimulate new collagen.
Collagen Synthesis
In an independent clinical study, Youth Serum dramatically outperformed two of the leading cosmeceutical growth factor products.
To order your Youth Serum or any Innovative Skincare products today, or to learn more about the company, visit www.isclinical.com, call 888-807-4447, or e-mail info@isclinical.com.