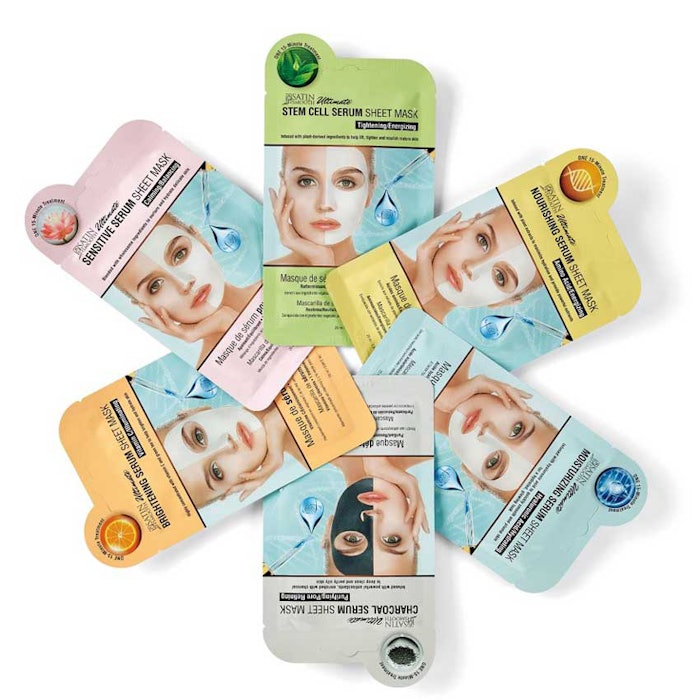 Ultimate Sheet Mask Collection features six customized facial sheet masked. These single use, serum encompassed masks provide the skin with botanicals to help promote a youthful glow for hydrated, healthy-looking skin. 
Designed with spa professionals in mind, these masks can deliver targeted and luxurious skin care solutions for every client. The six different formulations allow the spa professional to choose which mask can best fit their client. 
Six Mask Formulations
Nourish. Amino Acid/Energizing, infused with plant extracts to maximize hydration and provide powerful nutrients.
Moisturize. Hyaluronic Acid/Hydrating, infused with hyaluronic acid to quickly smooth and plump skin for a hydrated, glowing look.
Stem Cell. Tightening/Energizing, infused with plant-derived ingredients to help lift, tighten and nourish mature skin.
Sensitive. Calming/Balancing, blended with wholesome ingredients to nurture and hydrate delicate skin.
Brighten. Vitamin C/ Illuminating, highly concentrated with vitamin C and green tea to help brighten and hydrate skin.
Charcoal. Purifying/Pore Refiner, infused with powerful antioxidants, enriched with charcoal to deep clean and purify oily skin.
800-366-5391, www.satinsmooth.com