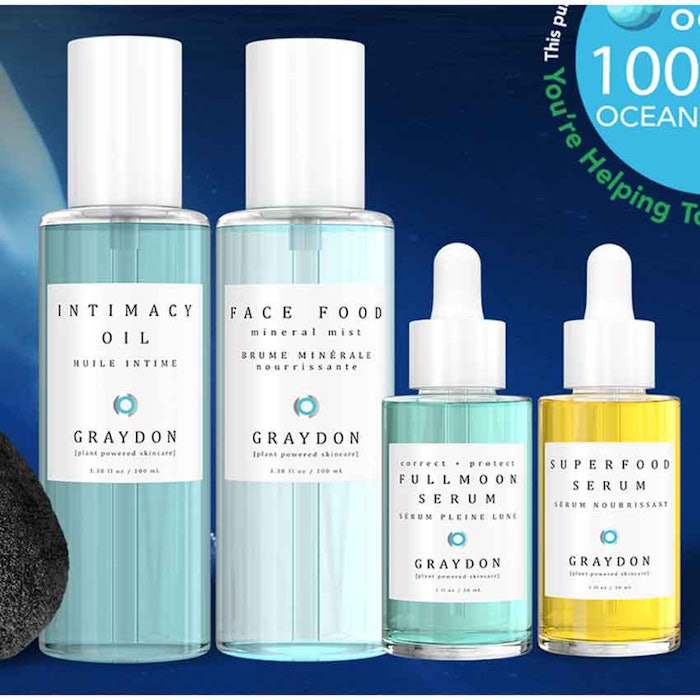 Graydon Skincare's Feel Good Collection was designed to make a difference in cleaning up the planet through sustainable and eco-friendly products. The kit includes five of the brand's most green products, and Graydon Skincare will donate $5 to Plastic Oceans to help them transform global shorelines and process marine litter for every kit sold. Each product in the kit can also be ordered individually with a $1 donation from Graydon Skincare. 
Included in this Kit
Bamboo Charcoal Sponge: This sponge helps make cleaning and exfoliating the skin easy and effective. 
Fullmoon Serum: This serum includes botanical retinol, peptides, plant-based collagen, vitamin C, chamazulene, vegan hyaluronic acid and an anti-pollution concentrate that all work together to provide anti-aging benefits while reducing the appearance of pores, brightening the complexion, reducing redness and boosting hydration. 
Superfood Serum: This serum combines antioxidant rich oils, linoleic acid, omega rich essential fatty acids, stem cell extract, vitamin A, vitamin B3 and curcumin to protect the skin from pollution while smoothing, firming and hydrating the skin. This serum also reduces irritation in the skin and enhances its natural tone and texture. 
Intimacy Oil: This oil aims to hydrate, smooth, protect and rejuvenate the skin by using ingredients like squalane oil, milk thistle, vitamin E and azulene. 
Face Food Mineral Mist: This mist is formulated with ingredients like silver, magnesium, copper, zinc, charcoal, malachite, bamboo and more to relieve redness, reduce inflammation, balance the complexion, rejuvenate the skin, mattify the skin, protect from environmental aggressors, cleanse, exfoliate and remove buildup.