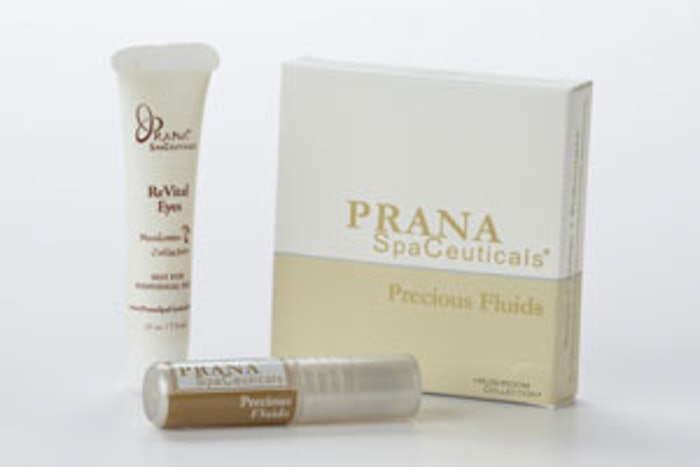 To purchase Precious Fluids or any Prana SpaCeuticals products, please visit www.pranaspaceuticals.com or call 866-589-2949.
A custom blend of proprietary anti-aging actives! The highly concentrated Precious Fluids eliminate the need for injections and let clients wake up to youthful, beautiful eyes. Our comprehensive technology significantly, transforms lines and contours wrinkles. It's an intense booster to help compliment eye creams, gels and serums.
Active ingredients:
Lipid ceramides—increases skin moisture and helps rebuild skins natural barrier;
Caprooyl tetrapepide-3, palmitoyl oligopeptide and palmitoyl tetrapeptide-7 (Matrixyl 3000), acetyl tetrapeptide-5, pentapeptide-18, n-hydroxysuccinimide and chrysin and palmitoyl tetrapeptide-7—superior amino acids to reduce wrinkle depth and length, and improve collagen deposition;
Malus domestica fruit cell culture—protects the skins' stem cells and increases cell viability, and helps to maintain cell characteristics with the capacity to build new tissue;
Cichorium intybus root oligosaccharides—immediate tightening effect on the skin, and combines a lifting action with anti-aging activity as it increases collagen synthesis;
Ocimum sanctum (holy basil) leaf extract—reduces redness and irritation
Inonotus obliquus (chaga) —increases oxygen and blood flow and combats the "killer" cells;
Trametes versicolor (turkeytail) mushroom—immune-building and protein bound;
Organic zingiber oficinale (ginger)—contains an enzyme called zingiban that helps suppress flare-ups;
Organic ganoderma lucidum (reishi)—wellness, vitality, longevity and anti-viral;
Organic simmondsia chinensis (jojoba oil)—moisturizes and softens skin; and
Watermelon extract—rich in vitamin C, amino acids and lycopene.
Conditions/recommendations:
Triggers the relaxation of muscles;
Increases the formation of collagen;
Reduces dark circles;
Decreases puffiness;and
Contributes to smooth, flawless skin.
Directions for home use: Using gentle pressure, roll under each eye from outer corner to inner corner, use fingertip to blend residual serum until completely absorbed. Avoid direct contact with eyes. If contact with eyes occurs, rinse thoroughly with water. If skin irritation occurs discontinue use.
To order your Precious Fluids today, or any Prana SpaCeuticals products, or to learn more about the company, visit www.pranaspaceuticals.com or call 866-589-2949. Learn how to become a professional distributor by visitng www.pranaspaceuticals.com/professional-center.