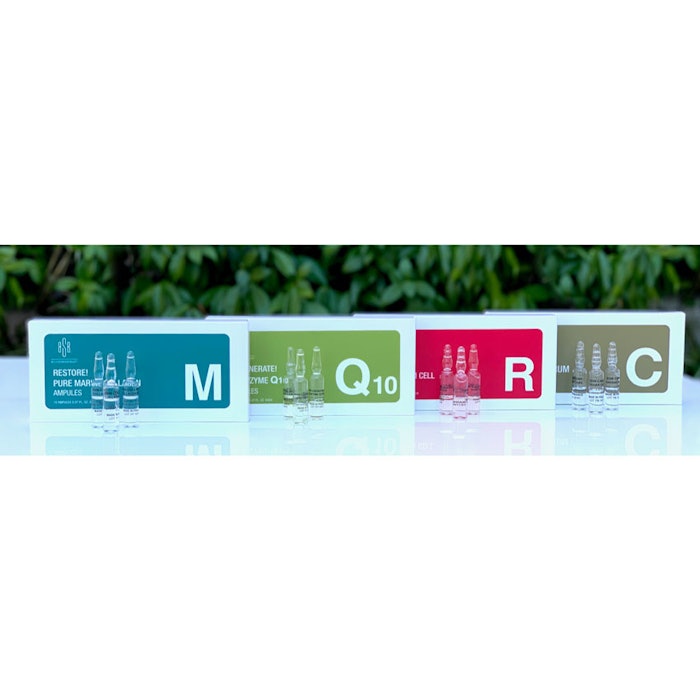 Ampule Collection works to revive, restore and regenerate the skin. This collection includes four unique serums that deliver a high concentration of active ingredients to address individual skin care needs. 
Included in this Collection
Regenerate! CoEnzyme Q10 Ampules: This oil ampule fights lines and wrinkles while bolstering cell strength and energy. This ampule protects the skin from free radicals while also softening and soothing the skin to improve its tone and radiance. 
Restore! Pure Marine Collagen Ampules: These ampules are hydrating and fast-absorbing to energize the skin while moisturizing. The use of native marine collagen soothes the skin from dryness and environmental stressors while also providing anti-aging benefits. 
Revive! Rose Stem Cell Ampules: This ampule stimulates cell renewal while replenishing free fatty acids and ceramides at the subcutaneous level. This ampule coats the epidermis in hydration while rose stem cells promote skin smoothness and suppleness.
Diamond Ampules: This serum delivers anti-aging benefits to the skin with its targeting ingredients. Soy extract helps to delay aging while argon oil nourishes and smooths the skin. The use of almond peptides also helps to boost radiance and protect the skin. 
888-200-3977, www.bellaschneiderbeauty.com