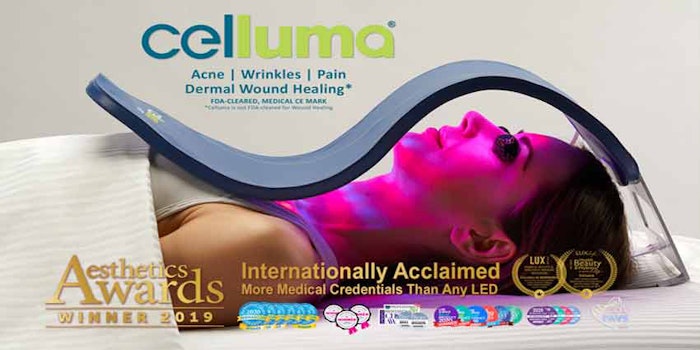 The 3-mode Celluma RESTORE is the first red light therapy device to be FDA-cleared to treat three common concerns of the mature individual in a single LED light therapy machine. Addressing hair regrowth, aging skin and general pain conditions, the Celluma RESTORE is versatile, convenient and easy-to-use in a clinical setting or at home. Celluma's patented, shape-taking design permits customized placement over the head to effectively deliver light energy and promote hair regrowth. Additionally, the Celluma RESTORE can be placed anywhere on the body to reduce pain and improve the appearance of fine lines and wrinkles.
Low-level light therapy is a proven, effective and safe treatment for hair loss, aging skin and a variety of pain conditions. LED red light therapy devices have been cleared by the FDA for treatment of male and female pattern hair loss. It helps to proliferate hair follicle size and prevent catagen hair development (the end of the active growth of a hair).
Let's Talk About Women & Hair Loss
Hair loss is not a strictly male health concern. While suffering mostly in silence, women make up a significant percentage of those who suffer from hair loss. According to the American Academy of Dermatology, 40% of women have visible hair loss by the time they are age 40. Many procedures and products are marketed to men to help with hair loss, while women are relegated to thickening shampoos and collagen supplements.
Hair loss can be temporary or permanent. It can be heredity, or the result of medical conditions, or hormonal changes. It is generally considered a normal part of aging and affects both men and women alike.

Hair loss in women can have an emotional toll impacting their self-image and potentially their mental and emotional well-being. For many women, this can be a life altering condition. The Celluma RESTORE now offers both women and men a non-invasive, non-toxic solution to many forms of hair loss. Women no longer need to suffer in silence. Call today to talk to a Clinical Specialist about how the Celluma RESTORE can help with not only hair restoration but also anti-aging and general pain conditions — all in a single device!
Rental, Retail & Affiliate Opportunities
While there is no replacement for your expertise, knowledge, and caring touch, our Celluma Reseller, Affiliate and Rental Programs keep your clients on protocol while generating new revenue streams for your business. Speak with a Celluma Specialist today to learn more about how these income generating Programs can grow your business and create client satisfaction. With 14 affordable LED models for home and spa use, your clients can maintain results between appointments and referrals.  With devices starting at just $299, there is a Celluma option for everyone. And remember, Celluma is a true whole body, whole family wellness device which can be used by everyone in the home, including beloved pets.
Visit www.celluma.com to learn more.