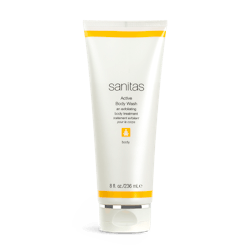 Sanitas Skincare's Active Body Wash treats body acne by clarifying and exfoliating skin. The wash is formulated with glycolic acid, aloe vera gel and glycerin, which provide exfoliation that stimulates skin renewal, keeps pores clean and smooths skin. 
Key Ingredients
Glycolic acid is a natural exfoliator that brightens, stimulates skin renewal and counteracts intrinsic and extrinsic aging factors.
Aloe vera gel is a

 mineral rich plant extract that reduces skin reactivity, reinforces the moisture barrier and stimulates natural moisture factor production

Glycerin is a

 skin identical plant-based humectant that helps protect the skin barrier and smooth dry, flaking skin.
833-287-1088, www.sanitas-skincare.com