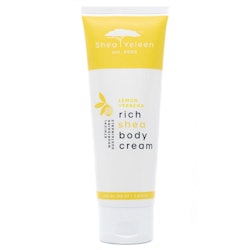 Shea Yeleen's Lemon Verbena Body Cream contains natural, unrefined shea butter and is rich in vitamins. The cream smooths skin and provides a natural glow. 
Key Ingredients
Shea butter contains high levels of fatty acids, vitamins A, E, F and helps restore skin elasticity.
Glycerin is an excellent humectant that helps keep skin moisturized and supple.
Sunflower oil is rich in beta-Carotene, vitamin E, and antioxidants that help prevent premature signs of aging.
Olive oil is rich in vitamins A & E, antioxidants, and helps repair and renew aging and damaged skin.