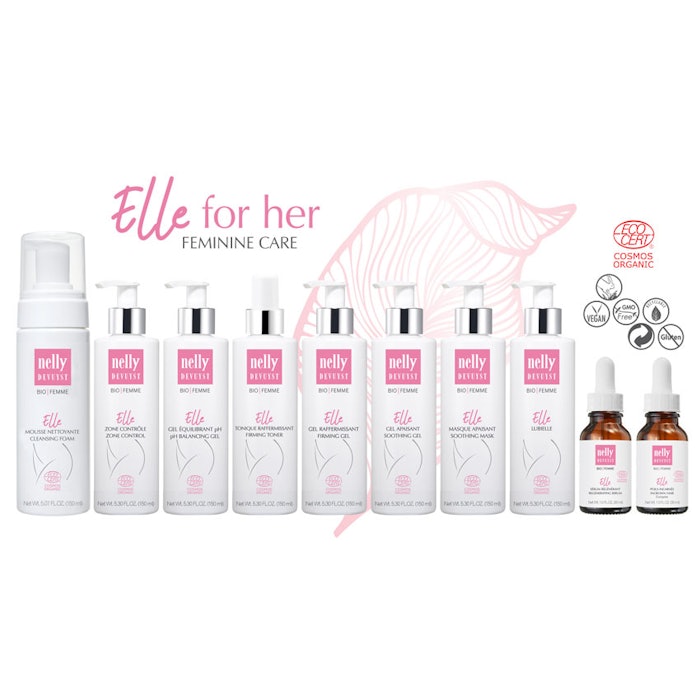 Elle Collection is a feminine care line that offers a range of products intended for the care of the intimate feminine area. The collection is based on a concept of wellness and balancing, so the products are all formulated to help maintain the pH balance and help firm the intimate area. The collection includes 10 products that have various purposes for the feminine area.
Products in Collection
Cleansing Foam: delicate and gently foaming cleanser formulated with anti-fungal and bacteriostatic properties to cleanse and protect area. 
Firming Toner: alcohol-free toner for the feminine area lacking firmness. Helps maintain hydration and balance of the area while firming the texture of the skin.
Firming Gel: formulated for intimate area lacking firmness during menopause or after pregnancy to help restore and tone area to its youthfulness.
Zone Control: three-day cure formula that targets vaginal yeast infections while delivering anti-fungal and anti-inflammatory properties to reduce itching, redness, burning and discomfort.
pH Balancing Gel: designed to prevent the effects related to the imbalance of the intimate flora. The gel works to re-balance the physiological pH of the ecosystem of the intimate area.
Soothing Gel: helps relieve discomfort, dryness and itching through the use of prebiotics for vaginal freshness.
Soothing Mask: helps with post-depilatory care of the bikini area and skin predisposes to ingrown hair while calming irritation caused by razor, wax or laser procedures.
Lubielle: natural lubricant to reduce discomfort associated with dryness of the intimate mucosa.
Regenerating Serum: complex of moisturizing and regenerating oils to relive dryness on all parts of the body; ideal for purifying and moisturizing the intimate feminine area.
Ingrown Hair complex: ideal for after hair removal to prevent ingrown hairs and folliculitis.
514-333-8282, https://nellydevuyst.com