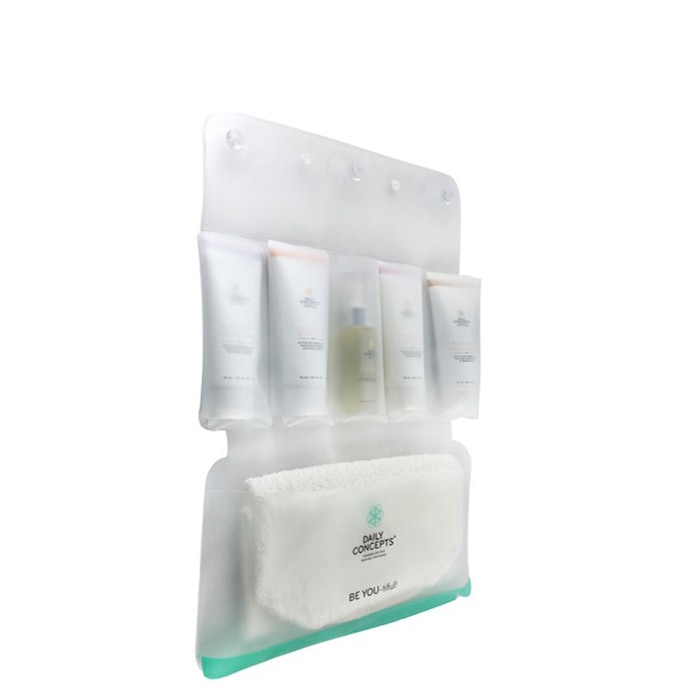 Spa to Go is an integrated system designed to deliver luxury to both the body and soul with a six-piece set. The set includes the Cleansing Wash, Hydrating Lotion, Purging Mask, Exfoliating Scrub, Renewal Oil and Your Stretch Wash Cloth.
The Cleansing Wash cleans the skin without stripping it. This is the first step in the purification process, using humectants that bind water molecules to skin. With a combination of gentle sulfate and sulfate-free surfactants, this product will prevent the skin from drying out.
The Hydrating Lotion combines plant-based humectants with sacha inchi oil to gently detoxify and repair the protective layer of the skin. The lactic acid within this product also refines the skin's surface.
The Purging Mask assists in releasing trapped toxins, while deeply nourishing the skin. This product aids in the upkeep of the body's first line of defense, while also providing a balance to the skin tone for a brighter complexion.
The Exfoliating Scrub is a combination of tice powder, apricot seed and non-GMO corn meal that gets rid of the dead skin cells that build up over time. This product helps to increase the absorption of other products.
The Renewal Oil reduces fluid retention and purges the cells of cellulite causing toxins and boosts the immune system. This product also uses rosemary, lavender and eucalyptus in order to stimulate circulation and effectively remove toxins.
The Your Stretch Wash Cloth can be used as a regular washcloth or stretched to clean hard to reach body parts. This can be used for any body part from head-to-toe. 323-938-8886, www.dailyconcepts.com