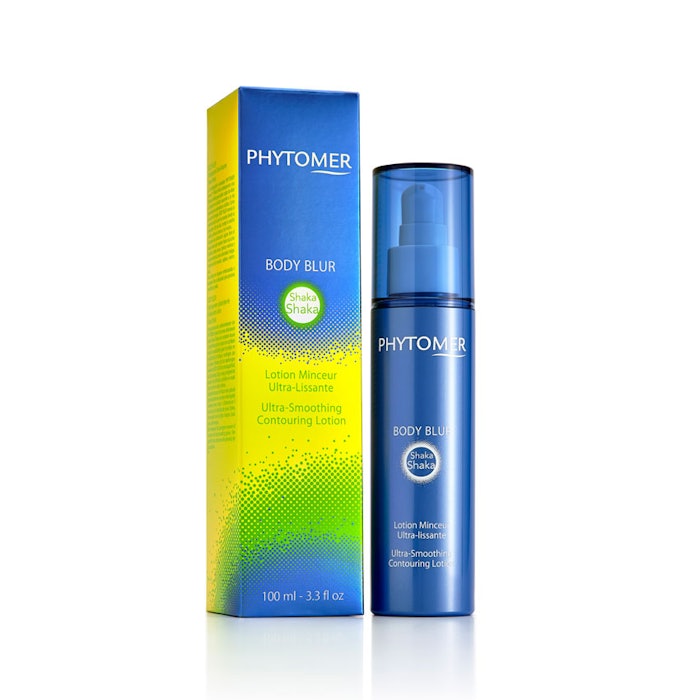 Phytomer has introduced BODY BLUR SHAKA SHAKA Ultra-Smoothing Contouring Lotion, a tri-phase formulation that blurs and smoothes cellulite while fighting excess fat. When shaken, the water, oil and powder phases blend into a soft, silky lotion with a synergetic slimming action and fresh citrus scent.
The powder phase is composed of layered clay, which fans out over the surface of the skin, instantly masking cellulite while simultaneously delivering fat-fighting Adipo-3 (resin of the Pistacia lentiscus tree) to fat cells en masse. The complex weakens fat cells by attacking their protective shields. It prevents potential fat cells (preadipocytes) from becoming mature fat cells (adipocytes), slowing down the production of new fat. It also strengthens support tissues by boosting collagen and fibrillin synthesis.
Within the aqueous phase, a trio of contouring algae (Halopteris scoparia (brown algae), Palmaria palmata (red algae), Laminaria digitata (brown algae)) provides intense draining and firming actions to flush away fat and keep skin taut and supple.
The oil phase provides glide, making application quick and pleasant and leaves a non-greasy, flawless finish. Dimpled skin is smoothed, excess curves disappear and a perfectly-sculpted figure is revealed.  800-227-8051, www.phytomerusa.com