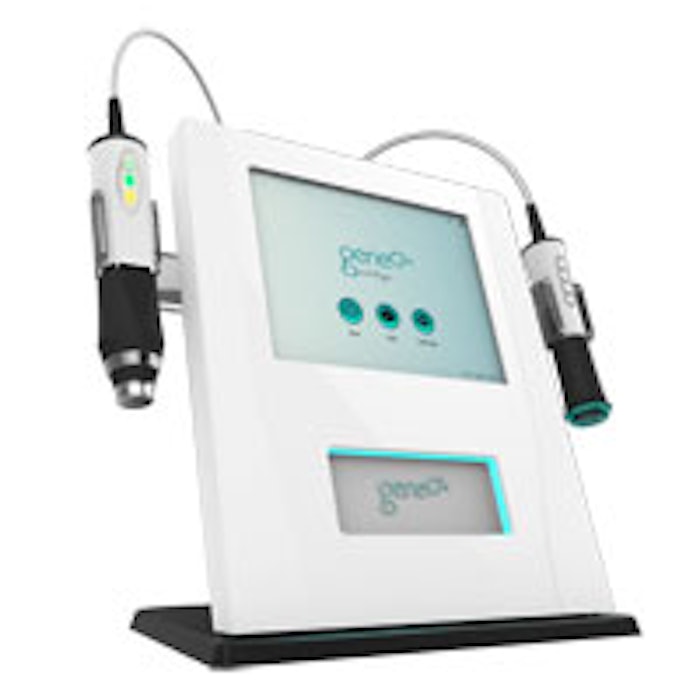 Similar to the natural hot springs effect, the geneO+ 3-in-1 Super Facial is the world's first system that significantly accelerates the absorption and optimal utilization of nutrients by the skin combining exfoliation, nutrient infusion, oxygenation from within and ultrasound.
With the geneO+, OxyGeneo™ Technology begins to oxygenate the skin by first exfoliating the epidermis, preparing the skin to receive active nutrients.
The geneO+ then deeply cleans the skin while creating a chemical reaction between the patented Capsugen™ capsule, your optional skincare serums or solutions, and the NeoRevive or NeoBright gel. This chemical reaction produces countless CO2-rich bubbles which gently burst on the skin's surface, while essential nutrients and antioxidants are infused deeply into the skin.
OxyGeneo™ treatments allow the body to respond by sending oxygen-rich blood to the treated area; it increases the capillary blood flow and the metabolism of essential skin nutrients in the skin. OxyGeneo™ treatments continue to produce results even after the patient leaves your office.
Ultrasound vibration increases the permeability of the stratum corneum. The process causes small spaces to open between skin cells resulting in increased penetration of ingredients. In addition, ultrasound improves absorption of active ingredients via increased cellular metabolism and blood circulation, improves moisture retention, tightens enlarged pores and relieves puffiness around the eyes.
The geneO+ uses two specialized formulas to treat specific skin conditions. The NeoBright formula reduces the appearance of skin pigmentation and sun damage in addition to lightening the skin's complexion. Azelaic Acid is a well-known agent that is used to treat hyper pigmentation by decreasing the activity of pigment-producing cells. Kojic Acid is a naturally occurring agent produced by fungi which inhibits melanin production. When combined with Azelaic Acid, there is a synergistic lightening and bleaching effect. A derivative of Vitamin A, Retinol has been clinically proven to increase collagen and skin cell production. It is also known as one of the best anti-aging solutions.
The NeoRevive formula smooths the appearance of fine lines and wrinkles while revitalizing dull complexion. Hyaluronic Acid is naturally produced by the body and responsible for fluid retention and skin moisturizing. As we age, the body's capacity to produce Hyaluronic Acid decreases. By infusing Hyaluronic Acid, the skin is able to regain lost moisture and volume, thereby reducing the appearance of wrinkles. Peptides are small protein fragments which strengthen the skin's ability to retain fluids. Combined with Hyaluronic Acid, a synergistic effect of dermal repair is created. Retinol completes the formula increasing collagen and skin cell production.
Incorporating patented OxyGeneo™ Technology for unparalleled skin nourishment and oxygenation, your client's will see younger-looking skin after just the first treatment.
To order your geneO+ today, or any DermaMed Solutions products, please call 610-358-4447, email info@dermamedsolutions.com or visit DermaMedSolutions.com.