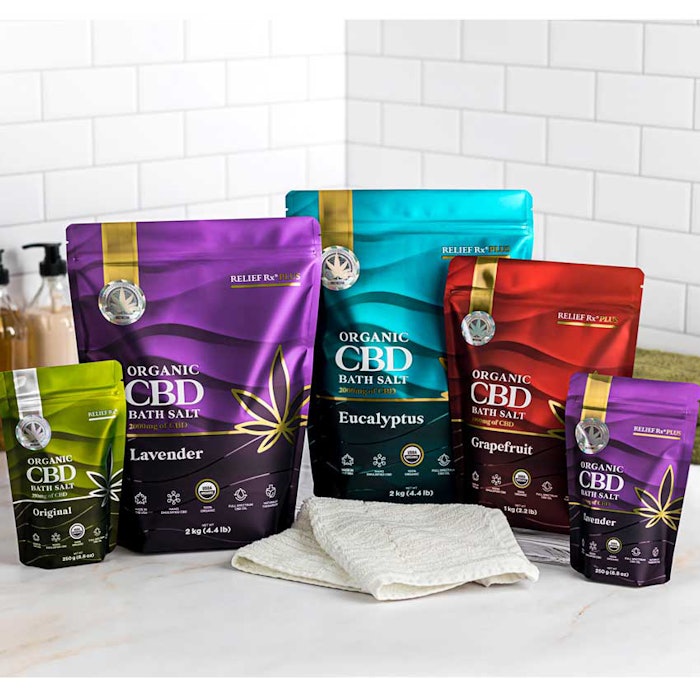 Saltology's RELIEF Rx Organic Full-Spectrum CBD Bath Salt creates a deeply restorative self-care experience. The salts open pores and allow the nano-emulsified CBD to be quickly absorbed in the skin for immediate relief. The RELIEF Rx collection promotes deep relaxation, improves joint and pain relief and reduces everyday stress. CBD bath salts are also reported to reduce inflammation and help treat common skin conditions like eczema and psoriasis.
Collection Includes
Organic Full-Spectrum Nano-Emulsified CBD uses nano-emulsified full-spectrum CBD to optimize absorption for faster, effective full-body relief. The nano-emulsification process allows the nano-particles of CBD to penetrate the skin faster while also enabling the ingredients to work synergistically to improve the overall efficacy and consistency of the bath salts.
Sustainably-Harvested Antarctic Sea Salt is sourced from the cold, clean waters off the southern coast of Australia. 
Organic Essential Oils RELIEF Rx PLUS is made using a process that bonds organic essential oils to each grain of salt for consistency, quality and an aromatherapy experience. Essential oils contain antioxidants and healing properties and when used in bath soaks, each botanical's scent is released providing additional therapeutic relief.
425-885-7258, www.bathsalt.com