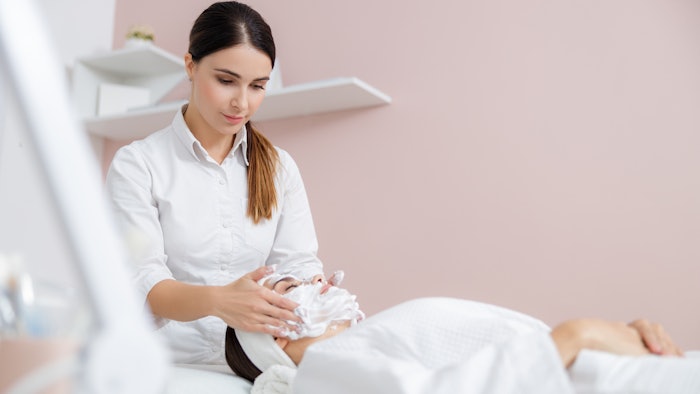 We know that as solo estheticians, spa owners and industry pros, you have interest in continuing education, elevating treatment techniques and enhancing your knowledge in product sales. As always, it's our duty to help you in all of those categories, but we want to know where your focus lies. We're looking for insight into how you want to be trained to further your education and career.
In our most recent survey only 25% of the Skin Inc. audience shared that they were interested in retail product sales, while the other 75% are much more interested in proper treatment techniques. We've got some resources for you to check out. 
Treatment Techniques
Our Face & Body Northern California show, happening Aug. 20-21, 2023 in Sacramento, CA at the SAFE Care Credit Convention Center, is a fantastic opportunity to brush up on some treatment technique skills with plenty of demos to go around. You can find all of the education opportunities on at faceandbody.com.
Here is a preview of some of the classes being offered. 
Dermaplaning Evolved with Amy Morgan, LE, trainer at DermaplanePro on Aug. 20, 2023 10:00 - 11:30 am
We have learned a lot since dermaplaning was introduced over 40 years ago. Since we specialize in dermaplaning and are committed to providing the safest method, highest quality supplies, and premier education, we started asking a lot of "why" questions. Learn how dermaplaning has evolved and how it's become a standalone treatment that you and your clients will love. Join us for a live demonstration, giveaways, and more.
Hot & Trending Brow Service by RefectoCil with Ethel Reddy, Refectocil trainer on Aug. 20, 2023 at 10:00 - 11:30 am
Welcome to a new era of brow & lash styling! The new patented and FDA Compliant tinting system for intensive and natural looking brows and lashes! Achieve more skin staining with this Vegan system. Come join the class to learn all about the new, signature service "Brow Intensifying by RefectoCil™." Learn the 3 techniques developed to respond to your clients' individual brow needs and how to create the most intense and customized looks with this in-demand service.
Male Brazilian Techniques with Tiffany Montalbano, lead educator at Alexander's Aesthetics on Aug. 20, 2023 from 10:00 - 11:30 am
Whether you are experienced or a beginner, there is much to learn about male waxing. This class will provide you with all of the skills necessary to perform a fast, efficient and thorough male waxing treatment using Cirépil waxes. It will focus on everything from how Cirépil waxes will fit into your workplace to client comfort and correct product usage. Cirépil by Perron Rigot Paris is a global leader in the field of intimate waxing.
Acne 102: Treatments & Extractions with Alex Hernandez, lead educator and acne specialists at Face Reality Skincare, an Kelsey Duque, LE, manager of onboarding at traning at Face Reality Skincare on Aug. 20, 2023 from 1:00 - 2:30 pm
Join the leaders in professional acne care as they share acne treatment best practices. This presentation will cover corrective treatment options, ingredient education, extraction techniques, addressing post-inflammatory hyperpigmentation (PIH), and more.
Mastering Facial Massage with Rebecca Olpin, director of education at Sorella Apothecary on Aug. 20, 2023 from 1:00 - 2:00 pm
Facial massage is an art that will keep your clients coming back time and time again. Join us for a live demonstration of the Sorella Signature Facial Massage where we will discuss & demonstrate massage techniques that achieve maximum results. Taking care of clients requires you to take care of yourself so we will cover body mechanics and best practices to ensure your longevity as a professional in the treatment room.
Epilfree Non-Laser Hair Removal Certification with Rene' Stufano, owner at Epilfree, on Aug. 20, 2023 from 4:00 - 5:30 pm
Get certified to use and offer Epilfree. Epilfree is a permanent hair removal system that is an alternative to laser, IPL or electrolysis. It consists of serums that are used by the professional immediately after waxing or sugaring. This is an "in spa" treatment done by certified professionals. Since Epilfree works on the empty anagen hair follicles, it doesn't have any of the limitations that laser has. The serums are effective on every hair color,every Fitzpatrick, over tattoos and no minimum age. Epilfree is quickly becoming the #1 choice of professionals for permanent hair removal.
The 5 P's of Chemical Peeling with Michael Pugliese, educator, writer and CEO of Circadia, on Aug. 21, 2023 from 1:00 - 2:30 pm
Acids are widely used in professional skincare, but some confusion still exists regarding what acids are and exactly how they affect the physiology of the skin. This comprehensive seminar will address the 5 Ps of Chemical Peeling: optimizing pre-treating, the relationship between pH and the strength of the peeling acids, understanding the concept behind percentages, pK values, and the importance of post care.
Understand Acne & Revolutionize Treatments with the Best Natural Solutions for Problem Skin with Boldijarre Koronczay, president of Eminence Organic Skin Care, on Aug. 21, 2023 from 1:00 - 2:30 pm
Uncover the different causes of acne and gain a better understanding of the role hormones, bacteria and lifestyle habits play in this often difficult-to-treat skin concern. Discover nature's alternatives to harsh chemicals and learn to create revolutionary treatments that target acne at its source. In this fun and interactive presentation, learn to continue your client's treatments with effective home care solutions featuring natural, organic and Biodynamic® actives, offering the ultimate client experience with proven results.
LightStim LED- We're At Your Service with Richard Maher, national educator at LightStim on Aug. 21, 2023 from 1:00 - 2:30 pm
Join us to learn how to customize treatments, elevate results, and grow your business with LightStim. Our devices help showcase your expertise with technology that never fails to support your skills. We will discuss the fundamentals of how light therapy works, the many ways it can be used, and why LightStim has been a trusted and respected brand for over 20 years. With intelligently designed devices built to last and to fit every space and budget, our goal is your success.
Retail Tips
How to 10X Your Body Sculpting Business in 2023 with Neal Karski, cEO at Patient Engine, on Aug. 20, 2023 from 1:00 - 2:30
Neal has been instrumental in helping business owners and their teams accelerate their sales revenue in the last 3 years throughout all of the COVID turmoil. He is also an investor in 10+ aesthetics and wellness ventures. He and his team have worked with over 300+ clients in the last 24 months to help them with hands off, predictable client acquisition, as well as sales and growth coaching. In this live session, Neal will cover his top 5 strategies to scaling a body sculpting business to 7 figures, from marketing, to processes, hiring, and sales.
How to Build Your Own Skincare Line: Avoid Costly Mistakes! And Start a New Opportunity with Manon Pilon, medical spa consultant, international educator at Nelly De Vuyst, on Aug. 20, 2023 from 1:00 - 2:30 pm
Have you ever considered having your own skin care line? If private labeling is a good fit for you? What are the different options for a fast roi! It might be the best business decision you will ever make. This class is an insight on the do's and don'ts when you consider launching your own private label skin care products no more competition!. Learn how to start and how avoid costly mistakes! Do not miss a class Gifts and certificate for all participants!
Interactive Brow Mastery: Boost Revenue and Master the Art of Chella Brows with Kayla Park, director of education and events at Chella on Aug. 20, 2023 from 1:00 - 2:30 pm
Elevate your brow game with our interactive and hands-on class. Partner up with fellow attendees as we guide you step by step through the secrets of Chella brows. Chella offers clean, inclusive, vegan brow and eye products perfect for finishing any beauty service in your location. Discover our 1-Step secret technique and learn tailored brow mapping techniques for waxing services. Participate in demos, take on exciting challenges, and practice brow work on each other. Our experienced instructors will be there to support you, ensuring a fear-free and confidence-building environment. Not only will you perfect your brow skills, but you'll learn how to double your revenue with service and retail offerings. Keep clients coming back for more! As you complete the class, you'll leave with guaranteed results and an exclusive offer to partner with Chella. We have exciting product giveaways in store for you too. Unleash your true potential and become the go-to brow expert in the industry.
Increase Your Retail Sales by 50%-125% Over Your Services with Manon Pilon, medical spa consultant, international educator at Nelly De Vuyst on Aug. 21, 2023 from 10:00 - 11:30 am
Do you have a 50%-125% in retail sales ratio over your services? get the secret to successful retail sales! In this presentation, Manon Pilon will discuss the methods and benefits of home care. How you should integrate and convert your sales. Learn a new sales approach and how she sets the standard for professionals. Learn a step-by-step process on how to introduce your products to your clients and gain loyalty.  Do not miss this presentation! Gifts and certificate for all participants.
Do not forget to register for our Face & Body show to partake in this education and so many other opportunities. As a reminder, these advanced education classes also provide continuing education credits, so don't miss out!