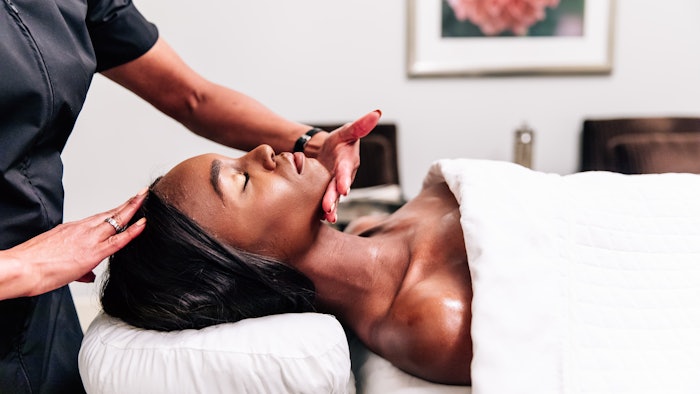 Photo courtesy of Waldorf Astoria Atlanta Buckhead.
The Waldorf Astoria Atlanta Buckhead has debuted enhanced Waldorf Astoria Spa experiences, with signature wellness treatments, product partnerships and impressive renovations. The enhancements to the spa are part of the property's top-to-bottom refresh. 
Related: How to Revamp Your Spa Decor on a Budget
The Waldorf Astoria Spa was designed as an urban sanctuary that offers 13 revamped treatment rooms, vitality pools, a private garden and fitness menu. The extensive spa menu features signature body wraps, massage therapies and facials.
3 New Spa Treatments
Forest Therapy is inspired by shinrin-yoku, also known as forest bathing. This variation features a specialized herbal poultice and anti-inflammatory Georgian herbs, like St. John's wort, rosemary and mint. The treatment incorporates heat and pressure to eliminate toxins from modern stress, as well as a UV lamp to provide guests with the benefits of true daylight. 
Enchanted Sleep helps realign guests' circadian rhythms to encourage deep, peaceful sleep. It begins with an inhalation ritual to increase oxygenation, followed by a light massage with herbal sleep remedies including vetiver, sandalwood and chamomile. 
Illuminating Diamond Bath

 features a diamond Knesko face mask and bioluminescent bath bombs that guests can uniquely enjoy at the spa or in the comfort of their own rooms.
The Waldorf Astoria Spa treatments reflect nature's healing powers and use natural ingredients and cruelty-free products. As part of this mission, the spa recently partnered with ZENTS by ANTARA to offer guests high-tech CBD products.
"The primary mission at our Waldorf Astoria Spa is to create a transformative wellness experience for our guests that will allow them to cultivate deeper connections to themselves and their surroundings," said Samika Traboulay, director of spa and wellness, Waldorf Astoria Atlanta Buckhead. "Our enhanced design elements and new signature treatments, such as the Forest Therapy and The Rose Garden couples experience, bring our 'City Within The Forest' ethos to life more than ever before."