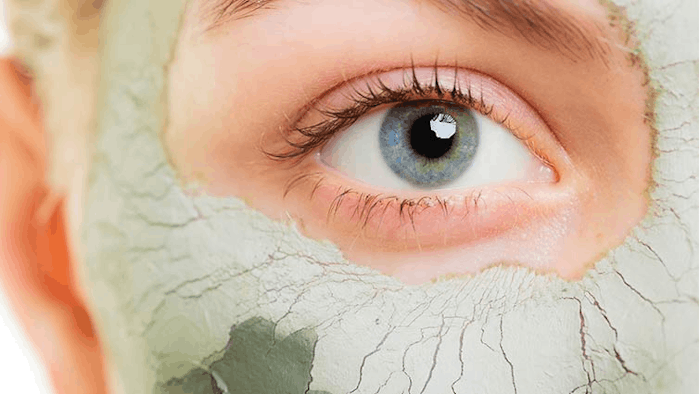 Pelotherapy is the therapeutic use of muds, peats and clays through bathing or application such as skin care. Clays and muds are especially useful when blended with active substances such as milk juices, healing waters (aloe, flower waters, gemstone waters and ionic mineral waters) and nectars to heal or gently cause changes in the skin.
Clay and mud mask terminology is used interchangeably, but they're not the same thing. Mud is a looser consistency of water mixed with a combination of minerals, silts, soils or clays. Clay, by nature, is more pulling and detoxifying to the skin than muds can be, as muds typically have a higher concentration of water.
The difference between muds and clays is that clay is an organic substance containing minerals that can carry a charge. In addition, mud has organic matter, such as peptides, retinoids, carotenoids, antioxidants and other beneficial components. These organic components differentiate mud from clay and make them a powerful anecdote for beauty and natural healthcare.
Clay Properties
Clay is a living substance because it is an organic compound. Organic compounds contain carbon. Organic compounds have essential building blocks, such as protein, carbohydrates, fats and nucleic acids (RNA), which allows the clay to naturally react with body composition in healing or even a detoxification capacity. So, clay represents a significant biological correlation.
Clays form from thin plate-shaped particles held together by electrostatic forces, so there is cohesion. Clay mixtures often come as a powder. You can mix it with water or a desired medium and apply it to clean skin.
The clay absorbs toxins or heavy metals, which detoxifies the treatment area. This makes clay a heavy hitter against oil, dirt, bacteria and many skin conditions. The clay molecules and their minerals attract, bind and accumulate toxic molecules and particles. When using clays, you may discover hard spots or clusters of clay on your client due to bound impurities or detoxification.
Clays vary in color; each type and color of clay offers nutrients and minerals that will address skin conditions and concerns. The body requires many minerals such as potassium, magnesium, silica, sodium, copper, calcium and iron. Many rocks and minerals' chemical compositions are similar to the body. Hydrosols, herbs, tinctures and essential oils are blended with mud or clay to address the needs of various skin conditions for a natural approach.
Clay Treatments
In holistic esthetic practices, clays are a gold star treatment. They can expand and bind to microorganisms and toxins. This factor exemplifies why clays have been instrumental in applying body treatments and detoxification protocols for centuries. In addition, they pull oil and impurities to the surface.
Because clay is composed of minerals and elements, it holds within ionic bonds that possess both positive and negative charges, depending on the ingredients in the clay. The cationic exchange capacity (CEC) is responsible for the balancing effect of clay and is one of its most unique and therapeutic factors. Some have thermal effects or warming of the skin. In addition, because of the cationic charge of some, clays play well together with electricity.
Clays can absorb via a single bond between silicon and aluminum, responsible for possessing an electrical charge. Because of this factor, clays should never be placed in a microwave to be warmed or mixed in aluminum bowls or a metal spoon or whisk. This disrupts the ionic exchange and therapeutic function. In addition, toxins or bacteria in the skin often carry a positive charge. When combined with clays that possess a negative charge, the clay acts like a magnet, pulling the bacteria out of the skin and absorbing it.
Types of Clays
The most abundant mineral in its mixture is what gives each clay its name. Clay does not have just one single mineral in it. All clays are a mix of minerals in varying proportions. Therefore, there are dozens of clays, each having its own name, properties and uses.
Calcium Bentonite. Bentonite clay comes from Fort Benton, Wyoming. Calcium bentonite usually is neutral or slightly acidic, with a pH of 6-7. It has calcium ions (electrically charged particles) within its structure, exchanging ions with a higher atomic weight.
Sodium Bentonite. Sodium bentonite contains sodium ions, which can also be exchanged for ions with a higher atomic weight. This clay has a typical pH of 9-10, which makes it highly alkaline. Sodium bentonite is the swelling type of clay. Its volume increases up to 14 times when hydrated, which means that its active toxin-attracting surface becomes enormous. This property is advantageous in detoxification. This clay acts as a magnet for toxins, so it is the most effective detoxifying remedy available in nature.
Montmorillonite. This clay comes from Montmorillon, France. This clay is formed by an alteration of volcanic glass and other components. Its properties make it perfect for absorbing the toxins commonly found in the skin, adding necessary minerals, as well as cleansing and refreshing the skin.
Red Moroccan Clay. From the Atlas Mountains in Morocco, these clays are perfect for normal to oily skin. They will absorb oils, but will not cause skin issues for those with normal skin.
Kaolin. Kaolin clay is named after Kao-ling, a hill in China that was mined for centuries. Kaolin comes in an assortment of colors and mineral compositions, which blends well with liquids, essential oils, dried herbs and oils. Typically, kaolin contains calcium, magnesium and potassium. White kaolin clay is the most abundant mineral in the kaolinite group. It is also called China clay or white cosmetic clay. It owes its color to a high aluminum concentration. Kaolin the most used clay in cosmetics. It is an essential ingredient in cosmetic manufacturing for soaps, scrubs, poultices, body and face powders. Estheticians can use kaolin clay on the most sensitive skin types. It absorbs impurities from the skin without removing any natural oils. It helps to stimulate circulation in the skin while gently exfoliating.
French Green/Sea Clay. Found off the southern coast of France, these clays are mineral-rich and are helpful for clients with oily skin.
French Red Clay Powder. Found in France, the red clay receives its colors from high amounts of iron oxide. It is best for those clients with normal to oily skin. French red clay powder is an excellent accent for sensitive skin because of its ability to soften, tone and refresh the skin.
Russian Cambrian Blue Clay. From the Salt Lakes in Siberia, Russia, Russian Cambrian blue clay with silver ions is a healing clay. Blue clay is widely used in health resorts and spas around the globe. Russian clay can be helpful with minimizing the appearance of wrinkles, skin discolorations, stimulating blood circulation and enhancing the metabolism of the skin cells.
Mud Benefits
Mud masks will benefit the skin due to the nutrients and antioxidants they provide. Mud masks are known for their antioxidant, antibacterial and exfoliating abilities. In addition, mud masks can eliminate congestion, absorb excess oil and discard impurities from the skin.
Dead Sea mud's high mineral concentration may help inhibit some types of acne-causing bacteria. Because of its purifying and detoxifying-like effects, mud masks may be drying for dry, sun-damaged or combination skin.
Mud Types
There are numerous types of mud. Each mud is sourced from a different locale. Much like clay, they offer various benefits for the skin.
Dead Sea Mud. This mud is commonly sourced from the Dead Sea in Jordan and is known most for its anti-inflammatory and healing properties. The Dead Sea's mud is celebrated for its high concentration of sodium and magnesium. The dead mud will help treat everything from psoriasis to arthritis.
Volcanic Mud. Sourced from land near surrounding volcanoes, this mud is known for use on the face and body. This volcanic-rich mud has antibacterial and anti-inflammatory properties.
Moor Mud. This plant-derived mud has mild astringent and anti-inflammatory properties that are suitable for sensitive skin types. You can find this mud in Iceland's blue lagoon. Additionally, Icelandic silica mud is a light-colored mud known for its cleansing benefits.
Mud and Clay On the Menu
Mud and its minerals will exfoliate dead skin cells, dirt, oil and other impurities, making skin appear cleaner, brighter and less porous.
Health spas use clays in baths, body wraps, body scrubs, masks, compresses and poultices to restore health and vitality. In beauty treatments they can be used as natural ingredients for cosmetic beauty products.
Clay Bar. Make mixing the mask powder, flower essences and oils an experience. Make a clay bar menu for different skin conditions, allowing the client to choose additives for add-on pricing. For example, mix with water, flower water, gold water or aloe water.
Mineral Maintenance. Take a holistic approach and place the clays near the client. Ask what clay or mineral they are drawn to.
Magnet Masks. Create a clay mask with the correct additives and remove with a magnet.
Clay Series. Put together a long-term treatment series introducing different clays for different therapeutic effects to address skin conditions and support the client's ideal skin image. For example, when clients come for a first-time treatment, the mask of choice to unplug and decongest can be montmorillonite or bentonite. However, once the skin is free of impurities and decongested, you will select a different mask for the following treatment. The goal will be to seek more balance. Rather than the treatment mask for acne, eczema, redness or inflammation, you will select the next mask for the series to custom blend and address challenges until you obtain the perfect balance. The clay series can be for the face or body.
Clay and Infrared. Incorporate infrared heat with your clay body treatments to further aid in detoxification and create body treatments for detoxification, inch loss, weight loss, and cellulite and skin tightening and toning treatments.
Clay and LED. Add light therapy to your mask treatments.
Cellulite Treatment. Design a cellulite treatment with a mask and galvanic current. Clays act by detoxifying the body at a cellular level. For example, using a combination of conductive thermal clay such as montmorillonite clay and electrical stimuli-such as galvanic current. This combination can help give you healthier, silkier and balanced skin that works excellent for cellulite.
Add More
Suppose you want to add more effective treatments. Consider grabbing your favorite conductive clay and medium for the appropriate skin type and condition, and then add your galvanic device to help your clients have toned, smooth skin right in time for any season!
Cynthia Malcom-Taylor, an internationally certified CIDESCO diplomat, is the founder of Edgar Renee Aesthetic Education and Consulting Group. She also is the founder of Queen Taylor Cosmeceuticals. She has over 20 years of experience in the esthetic industry, and she continues to help strengthen professionals in the esthetic industry.