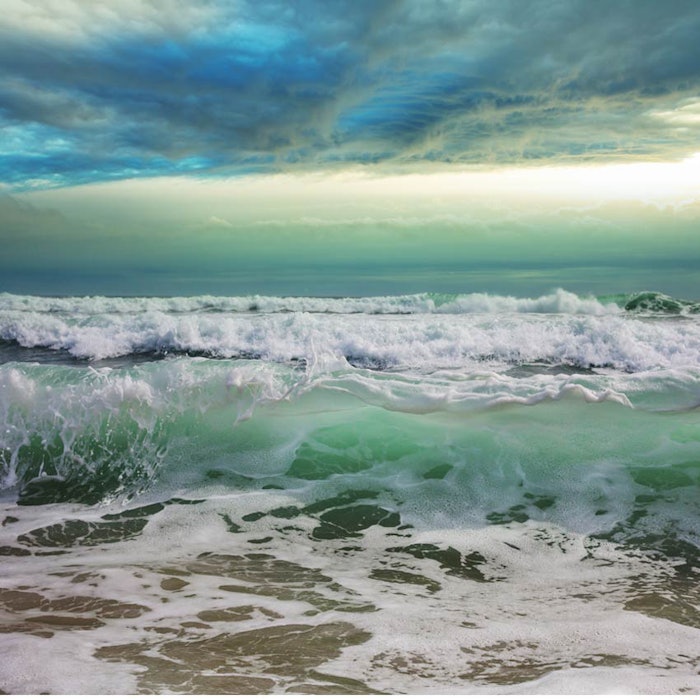 The restorative benefits of seawater is not a new phenomenon. The use of seawater for therapeutic purposes dates back to the ancient civilizations. During the fifth century, the Romans built many curative facilities (or modern day thalassotherapy centers) along coastlines, and near warm and cold springs.
Hippocrates, known as the father of modern medicine, detailed the medical benefits of using seawater for curative purposes in 400 BC. He instructed his patients to take seawater baths to heal wounds and ailments such as arthritis. His theory was that there were medicinal properties that came from the naturally occurring minerals and elements in seawater.
Centuries later, in the early 1900's, French physiologist and biologist Rene Quinton demonstrated the similarity between blood plasma and ocean water. His discovery and creation of diluted seawater (marine plasma) was used to help tens of thousands of children in France and Egypt suffering from virulent diseases including cholera and gastrointestinal infections.
The Science
Today the direct use of seawater, seaweeds and marine elements as active ingredients is growing rapidly in the fields of cosmetics, pharmaceuticals, medicine and biochemistry. Many spas throughout the world, most notably in Europe, have adopted thalasso techniques, and focus their treatments entirely on the restorative benefits of the sea.
Researchers have proven that the human body needs replenishment of minerals such as calcium, magnesium, zinc, potassium, phosphorous and sulfur on a daily basis for optimal restoration and healing. It is these naturally occurring trace elements and minerals found in seawater and seaweed that can help prevent cellular imbalances and improve cell function.
The ocean is the ideal environment for growth and harvesting of marine algae. Nutrients and minerals in seawater are absorbed and concentrated by seaweed as it grows, making it a protein and vitamin-rich resource and ideal for use in advanced skin care products. Seaweed also has a natural ability to protect itself from the sun's damaging ultraviolet radiation. Mico-algae such as spirulina and chlorella contain astaxanthin, a powerful carotenoid that helps protect skin from sun's harmful rays. Seaweed extracts and astaxanthin are now powerful active ingredients used to improve the skin's health and vitality.
Marine Ingredients
Seaweeds, also known as marine algae, have become a key active ingredient in skin care and cosmetic products. Due to the therapeutic benefits of seaweed, it is a favored natural alternative to harsh chemical-based ingredients or artificial synthetic compounds. Manufacturers of marine-based skin care have found seaweeds to be moisturizing and protective, and packed with amino acids, minerals and vitamins.
There are thousands of species of marine algae, each with their own restorative properties. Below are a few examples of more frequently used ingredients.
Laminaria digitata
This brown algae is rich in trace elements, amino acids, and vitamins. When used as an active ingredient in topical creams, the skin's hydration levels are improved. Other benefits include anti-inflammatory and healing properties. Laminaria digitata is also commonly used as a cellulite treatment to stimulate metabolism and flush out excess fluid.
Chlorella vulgaris
A peptide extracted from a green algae, Chlorella vulgaris, stimulates collagen and elastin, and is used to help restore and revitalize mature skin suffering from environmental stress. Its antioxidant properties can condition, protect and help maintain skin's health.
Spirulina maxima
This microscopic blue-green algae is known for its high content of vitamin A, vitamin B-12, vitamin E, calcium, iron and phosphorus. It increases cell turnover, helps to protect against free radicals and has detoxifying properties.
Porphyra Red Algae
Porphyra red algae are rich in omega fatty acids and anti-inflammatories that strengthen the elasticity and refine the texture of the skin.
Lithothamnium calcareum
Lithothamnium calcareum is a red algae that are rich in calcium, magnesium, manganese, iron and iodine. It also has soothing and restructuring properties.
The Future
The use of seawater and seaweeds for therapeutic benefits has been around for thousands of years. Today's advancements in the field of marine biotechnology is creating sophisticated cosmetic ingredients that are making meaningful improvements in the science of skin care. Marine biotechnology is the chemistry of the future, providing highly potent ingredients that are extremely effective and superior in their class.
According to Global Marine Biotech Market 2012-2016, the overall market for marine biotech-based beauty products projects a strong 5% growth annually, with 50% of the demand coming from North America and Western Europe. Innovation drives the market for products with marine-based ingredients.
With many species of seaweeds not yet discovered and the latest advanced research techniques, the ocean remains a vast untapped source of significant possibility for those seeking advanced marine-based skin care products.

For links to all of the papers used to research this article, and to other ocean and marine-based white papers, including The World of Algae, please visit oceanrescuespa.com/research.
About Ocean Rescue Spa Products
Ocean Rescue's premium spa products are based on decades of research specifically designed to bring the benefits of the unique properties of seaweed and other marine-based ingredients to individuals seeking natural solutions to skin care. The sea is an active element in all Ocean Rescue products– not just merely additives to our proprietary formulas. It is our vision to become the premier destination for those seeking information on how the restorative properties of the sea are a repository of healing and health.
Disclaimer:
The above paid-for content was produced by and posted on behalf of the Sponsor. Content provided is generated solely by the Sponsor or its affiliates, and it is the Sponsor's responsi­bility for the accuracy, completeness and validity of all information included. Skin Inc. takes steps to ensure that you will not confuse sponsored content with content produced by Skin Inc. and governed by its editorial policy.