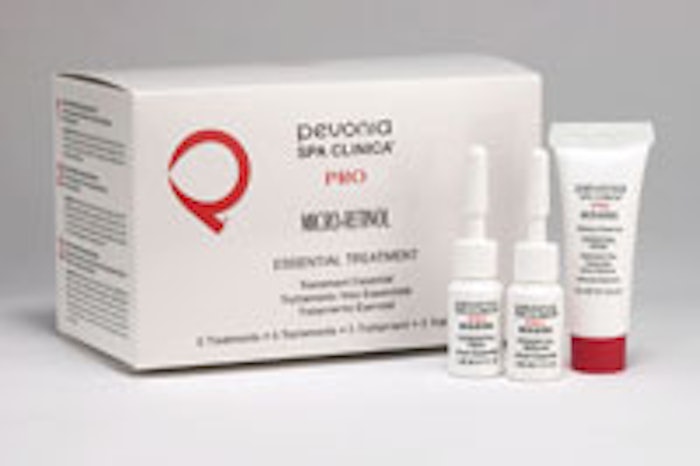 Retinol, best known in chemistry as C20H30O, is considered the most active form of vitamin A that can safely benefit the skin. Vitamin A derivatives have been used for decades in skin care and continue to have a strong reputation as marvel ingredients for topical skin resurfacing. From acne to aging, vitamin A derivatives can improve the skin dramatically and bring self-confidence back to its users. The U.S. Food and Drug Administration (FDA) includes retinol and retinyl palmitate on its list of substances affirmed as Generally Recognized As Safe (GRAS).
What is retinol and where does it come from?
Retinol is a natural derivative of vitamin A that can be obtained from many sources through enzymatic processing. The most common natural source for retinol is beta carotene. Within the skin, retinol can be converted to other metabolites that exhibit different levels of activity; for example, retinoic acid.
How does retinol work?
Retinol is considered an organizer of the skin's architecture. It can easily penetrate properly conditioned skin given its small molecular size and liposoluble nature and, upon absorption into deeper epidermal layers, it can stimulate the reproduction of the cells at the stratum germinativum, increasing their turnover rate, and restructuring and renewing all strata of the epidermis, resulting in a rejuvenated skin appearance. Retinol also has a strong antioxidant activity against free radicals, protecting cell membranes by reducing the oxidation of their phospholipid constituents (lipoperoxidation). In addition, retinol can stimulate fibroblasts to reinforce collagen within the skin. After proper retinol use, the skin emerges healthier with a finer, smoother texture and a more even tone.
How is retinol included in cosmetic formulations?
Common retinol incorporated in skin care products usually produces results. However, one issue in using such a particular ingredient in formulations is instability due to quick oxidation. As a result, some manufacturers opt to include a very small amount of retinol in their products. As a very popular ingredient, retinol has been formulated using many different delivery systems, all aimed at protecting and enhancing its delivery and performance.
The key challenges for effectively delivering retinol in skin care products include the following:
Poor stability;
Prone to chemical breakdown; and
Quick oxidation.
How can retinol be delivered to produce more effective skin results?
One very effective manufacturing technology for retinol delivery is the Tegosphere. The Tegosphere is a spongy microcapsule that swells to trigger the release of actives. The release of actives begins when the Tegosphere senses the pH, warmth and moisture of the skin. This delivery mechanism reinforces the stability, activity and efficiency of the retinol. Studies have shown that the Tegosphere® retains and reinforces the efficacy of retinol delivery by more than 70% of the encapsulated retinol.
Pevonia's Tropicale Body De-Aging Body Balms and professional body treatments deliver high concentrations of retinol to the skin via the Tegosphere® delivery system.
Presently, the advancement of technology has made it possible to deliver retinol in an even more precise and effective form called Micro-Retinol. The Micro-Retinol is naturally stabilized with sodium ascorbate (vitamin C) and tocopherol (vitamin E). This Pevonia-exclusive technology will be introduced in the upcoming Spa Clinica PRO Micro-Retinol line.
This superior presentation of retinol has the advantage of overcoming former manufacturing limitations allowing for higher concentrations to be used while enhancing results and increasing customer satisfaction.
How does Pevonia's Spa Clinica PRO Micro-Retinol line offer retinol in its products?
As part of this new line, Micro-Retinol is offered throughout both retail and professional presentations for outstanding anti-aging treatment benefits. The retail products in the line contain retinol at different concentrations to optimize performance.
Spa Clinica PRO Retail Products include the following.
Micro-Retinol Essential Foaming Cleanser
Micro-Retinol Essential Toner
Micro-Retinol Essential Serum
Micro-Retinol Essential Moisturizer
The professional presentation features an advanced treatment that includes the latest technology for enhanced retinol delivery through a systematic protocol. The Micro- Retinol Essential Treatment box contains five treatments in three easy steps:
Micro-Retinol Peel
Micro-Retinol Serum
Micro-Retinol Mask
The main advantage of this revolutionary formula is a micronized emulsion of retinol containing very small particles that rapidly disperse and absorb into the skin, easily reaching their target: the deeper epidermal layers. Consequently, basal skin cells are stimulated with acceleration of their activity and an increase in their reproduction, causing proliferation of a denser and healthier epidermis. As a result of these processes and many other retinol benefits, the rebuilding of the skin starts delivering a smoother, more even and younger-looking skin.
This treatment:
Smooths wrinkles;
Strengthens elasticity;
Increases moisture;
Evens skin pigmentation and complexion;
Counteracts the aging process and rejuvenates the skin; and
Delivers a radiant glow.
The ideal candidates for this treatment are all individuals with complexion irregularities, mature skin, dull skin, fine lines and wrinkles, acne scars, hyperpigmentation, and dry and dehydrated skin. This treatment should not be used on individuals with sensitive skin or a sensitive tendency.
Important remarks about the use of products with retinol
Retinol products can be used on most skin types; however, it is not recommended for sensitive skin or conditions such as rosacea or active acne. Direct sun exposure should be avoided; since retinol is photo-sensible, it can easily be degraded by UV rays in addition to producing erythema or irritation. The use of a sunscreen is recommended day or night in order to ensure effective results without potential risks.
Become a Pevonia partner today to be one of the first to offer this ground-breaking Micro-Retinol to your clients. To learn more about this new line and how Pevonia can help you build your business through result-oriented natural skin care product offerings and a comprehensive retailing plan, contact Pevonia today at 800-738-6642 or visit www.pevoniapro.com.
Disclaimer:
The above paid-for content was produced by and posted on behalf of the Sponsor. Content provided is generated solely by the Sponsor or its affiliates, and it is the Sponsor's responsi­bility for the accuracy, completeness and validity of all information included. Skin Inc. takes steps to ensure that you will not confuse sponsored content with content produced by Skin Inc. and governed by its editorial policy.