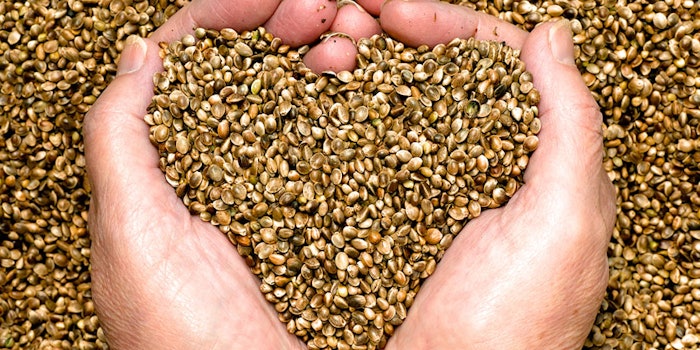 With the passage of the Agricultural Improvement Act of 2018 (aka the "2018 Farm Bill") a massive influx of hemp-infused products rich in cannabidiol (CBD) has hit the marketplace in the U.S. There's an ongoing flood of new CBD-rich hemp brands emerging every week and the range of products being infused with hemp has grown exponentially in just the last six months.
Now, you can find cannabis legally defined as under 0.3% THC infused in nearly everything, including tinctures, transdermal patches, candies, pet treats, makeup, mouthwash and other foods such as sports drinks and breath fresheners. In particular, the use of CBD in topical beauty products has significantly grown in popularity, and many consumers and practitioners are turning to these CBD-containing lotions, salves and massage oils to reap the many potential benefits of topically-applied hemp. With this explosion in interest and availability of CBD hemp products comes a lot of confusion as well.
Know Your Source
Consumers today have access to an incredibly wide variety of CBD-rich hemp products. Some extracts are traditionally produced from the whole flower, while others are made with added CBD isolate, which excludes all other potentially beneficial constituents of the hemp plant, terpenes, flavonoids and a variety of other compounds that many believe work together to impart even greater health benefits. Some products on the market today that are claimed to contain CBD have even been found to not contain any CBD at all; have significantly different quantities than are indicated on the label; or may contain other adulterants such as potentially dangerous synthetic cannabinoids or even pharmaceutical drugs.
With this broad range of approaches to extraction, manufacturing and product quality it is critical that consumers, retailers and practitioners educate themselves about what it means for a product to contain CBD, how to vet where that CBD came from and the effects that CBD can have on the body.
Hemp Extracts vs. CBD Isolate vs. Hemp Oil
To get the greatest variety of the beneficial constituents from the hemp plant, your best bet is to focus on products that contain full spectrum hemp extract. Full spectrum hemp extracts are made by extracting and concentrating hemp flowers. They contain the highest number of elements responsible for the potential healing benefits of hemp, such as cannabinoids such as CBD, CBG, CBC and naturally occurring trace amounts of THC; vitamins and minerals like vitamin A, D, E, calcium, magnesium, phosphorus; essential fatty acids; and polyphenols.
Another beneficial form of hemp extract is hemp oil, which almost exclusively refers to hemp seed oil extracted from the seeds of this amazing plant. If you're seeking the potential benefits that CBD and other phytocannabinoids, you'll find virtually none in hemp seed oil. Hemp seed oil can still be great for your skin, but it does not contain more than trace amounts of CBD.
Many manufacturers also choose to include only CBD isolate in their CBD products. CBD isolate is a pure chemical compound that contains only CBD. All of the other constituents of the hemp plant have been stripped from the final solution, oftentimes using hydrocarbon solvents, and only CBD remains. This is very much a pharmaceutical-type approach; while these products may still provide many great benefits, they lack the full spectrum of ingredients that make hemp really shine in health and beauty products.
Whole Plant Nourishment for Your Skin
Full spectrum hemp extract can provide a myriad of potential benefits to help keep your skin healthy, soft, clear and looking young.
Acne: Acne is one of the most common skin problems faced by adolescents and adults. Almost everyone will suffer from acne at some point in their lives, whether it's temporarily as they enter adulthood, or on a long-term basis throughout their lives. A study in 2014 found that CBD may reduce the rate at which sebocytes produce sebum.1 It also found that CBD may have properties that reduce inflammation in sebocyte cells, which can prevent inflammatory cytokines from being produced. Another study in 2016 found that Cannabis sativa may have antibacterial and anti-fungal properties.2
Anti-aging and wrinkles: Free radicals are well-known antagonists against youthful skin, and their presence contributes to the effects of aging skin and formation of wrinkles.3 Full spectrum hemp extracts contain antioxidants, which can break down free radicals and may reduce the effects of aging on your skin, while also reducing the formation of wrinkles.
Irritated skin: Ongoing scientific research into CBD and other phytocannabinoids found in full spectrum hemp extracts continues to indicate that these chemicals may have powerful anti-inflammatory properties.2 One of the most common causes of irritated or sensitive skin is inflammation. Full spectrum hemp extracts found in lotions, massage oils and salves may have incredible soothing properties for sensitive skin.
Moisturizing and nourishing: The essential fatty acids found in full spectrum hemp extract have been used to help nourish and moisturize skin.4 In particular, omega-6 and GLA fatty acids supply added moisture to the skin, helping to protect against damage and irritation.
CBD can be a great tool in treating many body and skin care concerns, but if you are looking to add some CBD products to your spa, it's best to do your research first. 
References: