Natural products, like nature itself, are a major force within the skin care market. And perhaps one of the greatest and well-known benefits we gain from their bounty comes in the form of antioxidants. In fact, their reputation precedes them, and they find application across the board in cosmetics, food, pharmaceuticals and more.
According to BCC Research,1 the global market for antioxidants will grow rapidly with a CAGR of 4.2% between 2017 and 2022, reaching $6.4 billion. With such ripe opportunity, it's only natural to seek new sources for materials that pack a strong antioxidant punch. Enter: the elderberry.
Elderberry, or Sambucus nigra (S. nigra), is a species of flowering plants native to most of Europe and North America. It grows in a variety of conditions including both wet and dry, fertile soils, primarily in sunny locations.2 Elderberry is known for its healing capabilities, primarily due to its antioxidant power. This natural ingredient has a long history, dating back to Hippocrates—the ancient Greek known as the "father of medicine"—who described the plant as his "medicine chest" for the wide variety of ailments it seemed to cure.3
For example, parts of the plant have been used as herbal medicine in one format or another to treat bronchitis, cough, upper respiratory infections, fever and influenza; and disorders of the respiratory tract, mouth, gastrointestinal tract and skin. The inner shell of its roots is also used to ease rheumatism and joint pain; to act as a laxative; to heal and provide comfort for hemorrhoids; to soothe itch; to treat tuberculosis, epilepsy and kidney and urinary tract diseases; and to aid in the removal of kidney stones.4
Additional uses reported include improving bone mineral density, antiviral effects, anti-toxoplasma activity against parasites and antidiabetic effects.2 It appears Hippocrates was right in his designation of this plant—which as you might expect, also demonstrates key benefits for skin care, outlined here.
Anthocyanin Abundance
Taking it from the top of our discussion, elderberry is packed with antioxidant superpowers based partially on its high content of the polyphenol anthocyanin,5 as well as flavonols, phenolic acids and proanthocyanidins.6 Anthocyanins are natural pigments that impart rich red, purple and blue coloring to some plants. In addition to acting as antioxidants and fighting free radicals, anthocyanins may offer anti-inflammatory, anti-viral and anti-cancer benefits.7
In a study from the Shahrekord University of Medical Sciences in Iran,2 the polyphenol content and in vitro antioxidant activities of S. nigra berries collected from four different areas of Sicily were investigated. Results indicated elderberries are one of the highest anthocyanin-rich fruits, and that Sicilian S. nigra berries showed high antioxidant potential due to their high content of anthocyanins.2
Antioxidant Punch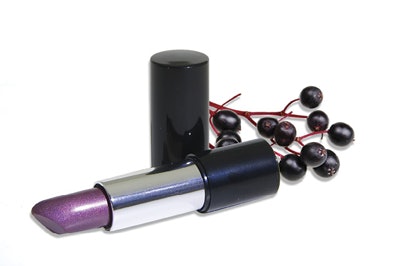 In relation, a recent study demonstrated the antioxidant abilities of elderberry.5 Researchers at the Medical University of Warsaw explored the free-radical scavenging activity of various topical creams containing anthocyanin-rich elderberry or other berry extracts.
Although not one of the most popular antioxidants, anthocyanins, a subcategory of flavonoids, are gaining attention due to their significant antioxidant, anti-inflammatory and antimutagenic effects5—and, as shown, berry fruits are generally rich in anthocyanins.
The results of this study indicated elderberry extract, as well as chokeberry extract, in oil-in-water cream bases showed the highest radical scavenging ability. Furthermore, oil-in-water formulas performed better than water-in-oil formulas.5
Another study,6 from the University of Nis and Institute for Medicinal Plant Research, in Serbia, concurred with these antioxidant observations. In this work, in vitro techniques were used to screen extracts from elderberry prepared using four different solvents for activity against UV-induced free radicals. The four solvents included methanol, propylene glycol, ethanol and distilled water. Interestingly, among the extracts tested, the radical scavenging activity was highest for the water-based extract.
Under the Sun
Researchers from the Wrocław University of Technology in Poland also showed the polyphenol content in elderberry acts as a UV absorber. Emulsions were prepared using elderberry or other extracts, and samples were tested via UV transmission;8 note that additional formula ingredients were not disclosed in this article abstract.
In vitro photoprotection and photostability efficacy were evaluated according to: sun protection factor (SPF), UVA protection factor (PF-UVA), UVA/UVB ratio and critical wavelength (λc), before and after UV irradiation. The results indicated formulations containing the polyphenols demonstrated broad-spectrum UV protection and met official sunscreen requirements; in addition to offering high photostability and antioxidant properties.8
Pucker Up
Finally, a study from Ohio State University called upon anthocyanin for double duty in topical products—i.e., to act as a bioactive natural colorant in lipstick formulations.9 The researchers hypothesized that by targeting anthocyanin sources such as elderberry, and leveraging anthocyanins' high stability and reported health benefits, that these properties could translate
to cosmetics.
Results indicated the formulas were successful; no only matching similar shades to commercial lipsticks, but also demonstrating high color stability against accelerated environmental testing. They also imparted high free-radical scavenging abilities and UV protection while inhibiting melanin production.9
In the Spa
Elderberries are a native plant of North America and have been popping up in supplements, cuisine, medicine and even beauty since this country was first inhabited by Native Americans. Their myriad of benefits to health and beauty have made them a popular ingredient in spa treatments for both face
and body.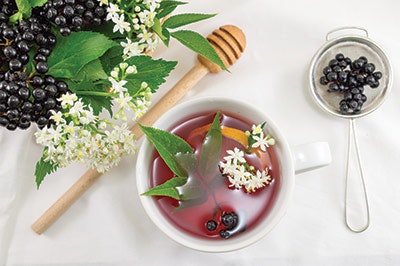 Aspira, The Spa in Elkhart Lake, Wisconsin, incorporates both elderberry fruit and flower extract in its Elderberry Facial (80 min., $190/$200 on Saturday). The treatment starts with an elderberry-infused foot bath. Next, the face is cleansed and then steamed with warm, moist towels infused with elderberry tea. The exfoliation cream is blended with ground, dried elderberries then a mask of elderflowers is applied. The final application of moisturizer is personalized by element type.
Elderberry is used to heal the body for Lasapa Lelima Purification (100 min., $324) at The Spa At Pebble Beach (Pebble Beach, California), which is combined with white sage and blue cornmeal. This combination scrub, wrap and massage creates an environment for healing to occur naturally.
Radiant skin is achieved with elderberry at Kelinci Spa Bed & Breakfast in Long Beach, Mississippi. In its Biotec Radiance Renew (50 min., $170/25 min., $90), ultrasonic vibrations dislodge impurities and exfoliate, while galvanic combined with elderberry and orange flower helps skin appear more radiant and luminous.
As it is located within The Estate By the Elderberries, it is a sure bet that the Spa Du Sureau (Oakhurst, California) offers treatments that tap the berry's tremendous powers. Treatments with the berries are offered year-round; however, in late Spring/Summer, The Elderberry Experience (240 min., $400) provides a robust immersion into all things elderberry. The treatment begins with the spa's signature item, its Elderberry Footbath. The client then experiences its elderberry buff and skin is nourished with an elderberry cream elixir. Clients are then guided to explore the spa's Hydrostorm water experience, followed by a classic massage.
Plenty of spa skin care manufacturers have explored the benefits of elderberry.
Amarte utilized the ingredient to calm the skin and reduce redness in its Aqua Veil Hydration Serum. "This soothing emollient enhances tone and softness and is rich in bioflavonoids that enhance skin circulation. It also boasts potent antioxidative activity derived from a combination of alpha-flavonols and tannins," explained the company. The healing benefits of elderberry are also used by Dermaware in its healing and soothing line of products including its Pure & Gentle Cleanser, Delicate Balance Toner and Healing Powers Mask. "Rich in vitamin C and vitamin B, elderberry is excellent in promoting renewal," noted Gül Ç. Zone, CEO and founder of DermAware.
The antioxidant benefits of the berry are tapped by 4.22 Organics in its Elderberry Treatment Crème, where flavonoids protect cells against damage. Similarly, Bellecôte utilizes elderberry in its Triple Stem Cell Mask. The extract's antioxidant benefits help the mask fight free radicals.
Conclusions
Taken together, if Hippocrates can find room in his medicine chest, who doesn't have a little room in their makeup bag for this powerful, natural cure-all?
References