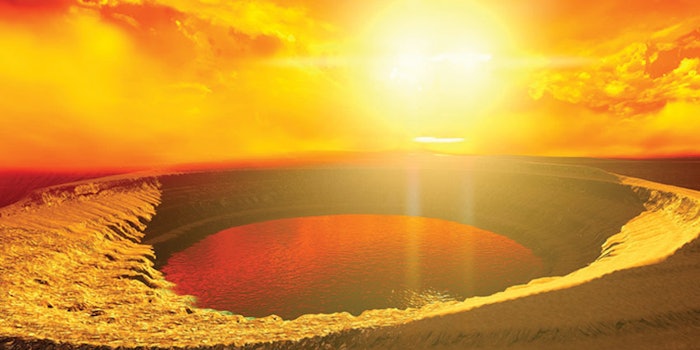 Skin care is heating up; geothermally that is. Why? For one, the medical tourism market is erupting and expected to expand from US $19.7 billion in 2016 to $46.6 billion by 2021.1 Here, medical tourism is defined as traveling for a medical treatment of some form that might not be accessible in the travelers' nation of origin. While this often refers to elective cosmetic surgeries, it also means wellness and holistic treatments in exotic locations that offer geographically unique properties.
A perfect example of this is balneotherapy—bathing in thermal springs that contain minerals, sulfur, Dead Sea salts, volcanic ash, pumice, clays, mud, lava extract and other region-specific materials. Humans have been tapping into the health benefits of volcanic springs since Roman times, if not before.
Treatments such as these are not only relaxing, but the mineral-rich content (carbon dioxide, magnesium, iron, potassium, zinc, sodium chloride and sulfur) is said to provide a number of health benefits including: increased circulation, pain relief, improved digestion and liver detoxification. They also are reported to relieve skin conditions such as psoriasis and eczema, and provide additional skin benefits, described here.
Volcanic Ash and Bentonite
A closer look at specific volcanic ingredients reveals their tried-and-true benefits. For example, in an interview with the Business Insider,1 Kristina Goldenberg, M.D., of Goldenberg Dermatology, reported volcanic ash contains antioxidants and imparts collagen synthesis properties. She added it is rich in minerals, which helps to protect skin and heal tissues similarly to medicinal mud.
In a Reader's Digest article, Sejal Shah, M.D., founder of Smarter Skin Dermatology, agreed.2 "Volcanic ash is basically like clay, so similarly, it is very good at removing oils, dirt and debris from the skin. Volcanic ash is also rich in minerals including sulfur, which has antibacterial properties."
Shah explained that volcanic ash works by adsorption, similarly to bentonite clay and charcoal. "Adsorption is basically an electrical attraction that causes substances to stick together, so it ... acts like a magnet for dirt, oil and other impurities. It also exfoliates the skin." Importantly, Shah noted that products containing volcanic ash are safe, but individuals with dry or sensitive skin types might find them harsh or drying.
In relation, according to a report by NDTV,3 bentonite clay consists of aged volcanic ash mined from the earth. It reportedly contains nutrients that help rid the body of toxins, and when it comes in contact with water, acts as a magnet to pull out toxins, heavy metals, impurities and chemicals.
NDTV added, "Bentonite is extensively used as a beauty product for skin care as well as a mud pack for bath. It is a grey-colored clay [that] is odorless, non-staining and smooth. It provides important minerals to [the skin and] is used for all kinds of skin problems." The clay also contains beneficial minerals such as potassium, iron, sodium, calcium, silica, etc.; so it is touted for healing properties.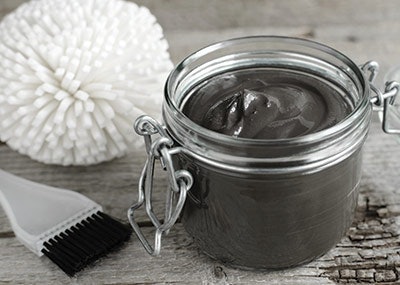 Form and Function
While there's plenty of anecdotal evidence for the skin benefits of these ingredients, The Personal Care Products Council (PCPC) notes that lava, volcanic ash, bentonite and pumice are closely related but can serve different functions in cosmetics, as outlined below.4
Volcanic ash. This amorphous, inorganic—i.e., non-carbon based—silicate is obtained from lava deposits. It is indicated for product thickening benefits and absorption properties; for example, to absorb sebum and lipids. It also has reported skin-conditioning benefits.
Lava extract and powder. These ingredients are derived from ground-up, igneous lava rock and reported to have both hair- and skin-conditioning benefits.
Pumice and pumice extract. Also volcanic in origin, pumice and pumice extracts consist primarily of complex silicates of aluminum and alkali metals. Pumice is well-known for its abrasive benefits, but pumice extract also touts antioxidant, skin protectant and skin-conditioning benefits.
Moroccan lava clay. In relation, Moroccan lava clay is a type of smectite clay mined in Morocco. It, too, is used for abrasive, absorbent and bulking properties; i.e., to add volume or bulk to a product. Furthermore, it stabilizes emulsions, acts as an opacifier (to reduce the transparency of formulas), and adds viscosity to formulas.
Bentonite. Bentonite is generally considered an aged volcanic ash, although the PCPC specifically defines it as a native hydrated colloidal aluminum silicate clay. It is used in cosmetic products as: an absorbent, a bulking agent, a dispersing agent, an emulsion stabilizer, an opacifying agent and a viscosity-increasing agent.
In the Spa
Spas around the world located near Mother Nature's hot springs, such as Yellowstone, Beppu and Blue Lagoon, offer wellness through hot spring bathing.
The Calistoga Spa Hot Springs (Calistoga, CA) offers Traditional Calistoga Volcanic Ash Mud Baths ($99), which include a mineral whirlpool bath with aromatherapy bath salts, a eucalyptus steam bath and a blanket wrap in addition to a soak in volcanic ash.
Also in the Calistoga area, The Baths at Roman Spa (Calistoga, CA) offers a Mud Bath treatment (60 min., $90/person) in Calistoga volcanic ash, natural peat and geothermal water to relax, soften skin and detoxify the body.
Similarly, Gló Spa at Rosalie Bay (Dominica) offers a sulfur and seaweed wrap, a detoxifying treatment using local volcanic mud, seaweed and hot river stones.
In facial skin care products, volcanic clay and ash confer some of the same detoxifying and soothing benefits.
Kohala Spa (Waikoloa, Hawaii) offers a Fire and Ice Facial, where a mask of volcanic ash shrinks the pores and soothes the skin. Blue Lagoon spa (Grindavík, Iceland) has created a Volcano Facial (110 min., ~$208) where the face, neck and shoulders are massaged with algae massage oil and warm stones. It also includes pampering for the feet, including massage with warmed stones, a silica mask and, to finish, nourishing Blue Lagoon cream.
Volcanic ash and clay are incorporated into a myrid of professional spa products both for the face and body. Volcanic mud is most popular in facial masks, where it primarily helps draw out impurities and absorb oil.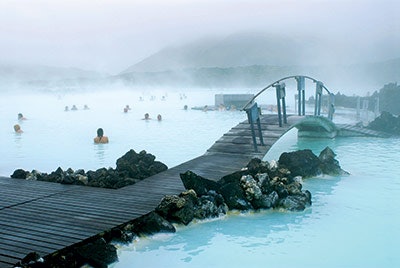 Epicuren uses volcanic clay in its Volcanic Clay Purifying Mask, where it helps to detoxify the skin. It is also utilized by Kona Skin Care in its Hawaiian Coffee Volcanic Clay Mask, which detoxifies, brightens, shrinks pores, hydrates and helps rejuvenate the skin.
DermAware uses volcanic clay in its Clean Slate Mask. Regarding its use, CEO and founder Gül Ç. Zone noted, "This utilizes volcanic clay and has many great benefits. In addition to reducing oils and impurities for acne and oily skin, it is excellent in healing and repair as well, due to the high concentration of minerals present including magnesium, calcium and sodium."
Bentonite is utilized in Pevonia's Micro-Pores Bio-Active Mask, where it helps refine pores. "Using the ingredient is helpful due to the minerals it possesses which can help from having astringent purposes to soothing, calming, antiseptic and detoxifying benefits. It is mostly used in creamy masks that dry out with a pasty consistency," added Christian Jurist, medical director of global education for Pevonia.
Finally, BelleCôte Paris launched its Marine Volcanic Mud Cleanser in 2017, which is formulated with marine volcanic mud, volcanic ash and pumice. Pumice helps exfoliate the skin, which marine volcanic mud and volcanic ash help absorb impurities and oil while reducing the look of pores. Volcanic ash also is said to help soothe and heal acneic skin. "Marine mud helps balance the skin while serving as a great dermatological salve base with a positive effect on damaged skin," noted Irina Mark, president of Caviar of Switzerland.
Conclusions
Whether clients apply or bathe in them, these earthly treatments and ingredients are certain to keep their skin and wellness well-grounded.
REFERENCES