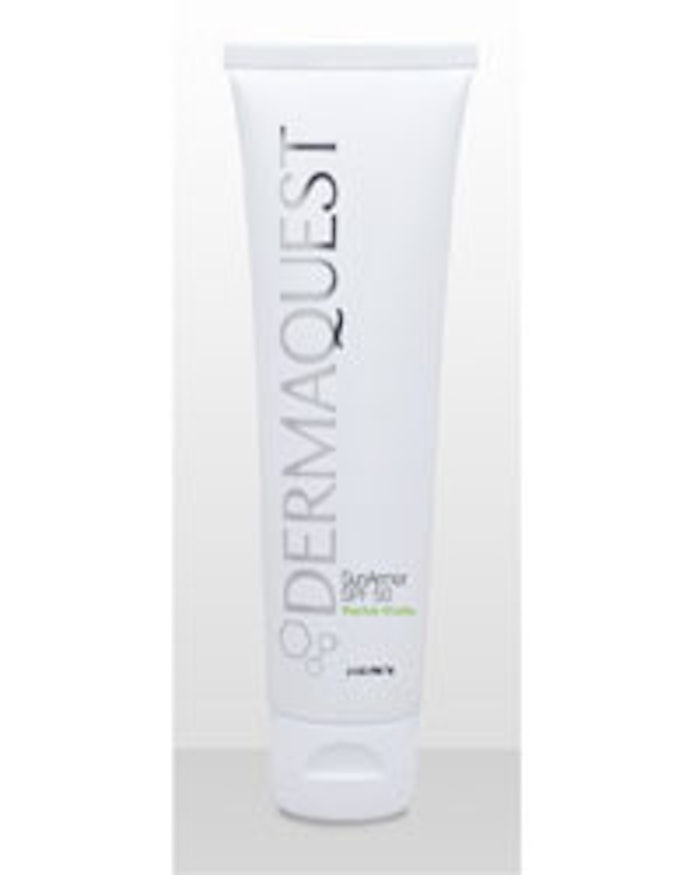 To purchase SunArmor SPF 50 or any DermaQuest products, please visit www.dermaquestinc.com or call 510-489-8836.

Suit up for summer with DermaQuest's new SunArmor SPF 50! Our sunscreen does double duty to combat aging skin as a potent blend of peptides wage war to rejuvenate and the physical, broad-spectrum sun protectant combats harmful UV rays to stop future damage in its tracks. Now you can fight signs up aging just as diligently as you prevent them. SunArmor will be available all summer long, so get it while it's hot. Do you have your armor on?
Benefits:
Provides immediate, natural protection from the sun;
Rushes antioxidants to the skin and stimulates collagen and elastin; and
Helps to shield the skin from damaging UV rays.
Directions: Apply to face and neck before sun exposure. Reapply as needed or after towel drying, swimming or perspiring.
DermaQuest is the leader in plant stem cell technology and innovation and a professional skincare line committed to discovering and formulating the absolute finest and most advanced skin care therapies.
The DermaQuest advantage
DermaQuest's exclusive products are the most advanced skin care formulas available due to the following seven factors.
Innovation. The entire DermaQuest operation happens under one roof, giving our chemists the unique advantage of being able to communicate extensively with our sales and education departments. Whereas other skincare companies subcontract production to other companies, our position as manufacturer and marketer gives us the advantage of being able to take feedback and concerns from clients directly to the lab for review. We can address our client's needs quickly and effectively, ensuring that DermaQuest's products are not only of an excellent quality, but also meeting the demands of a discerning clientele.
Quality. Our products and formulations incorporate the highest industry standards. Quality control is our highest priority and is ensured by professional estheticians and chemists who are dedicated to the long-term success of our brand.
Value. Controlling the process from formulation through final distribution allows us to carefully manage costs, allowing us to make greater investments in research and development while keeping our products affordable.
Layering technology. No single product meets every skincare need. Since multiple products are often needed to achieve treatment goals, we use specific layering sequences to achieve maximum effectiveness and absorption of our products.
Superior ingredients. DermaQuest's ingredients and formulas address complex skincare concerns at a cellular, ensuring the results that clinical professionals and their clients expect.
Advanced delivery systems. Even the most remarkable products are useless if they cannot penetrate the skin. Our chemists employ and develop the most effective delivery systems for maximum absorption, ensuring client satisfaction.
To order your SunArmor SPF 50 today, or any DermaQuest products, or to learn more about the company, please visit www.dermaquestinc.com or call 510-489-8836. To open a professional account, visit www.dermaquestinc.com/professional-sign-up.