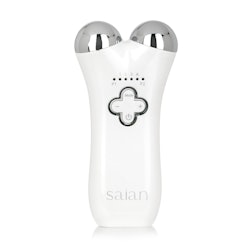 Saian FaceFyt is a microcurrent device for professional and home esthetic use. When used with conductive gel, FaceFyt treats the face and neck to help reduce and eliminate fine lines and wrinkles. It increases the penetration of anti-aging and moisturizing products and diminishes the visible signs of aging.
FaceFyt's two modes—Microcurrent and EMS, use low-voltage pulsating electrical currents to boost ATP production, stimulate facial muscles and help reduce skin laxity.
The dual treatment probes are ideal for contouring faces of all shapes and sizes, and the device provides an adjustable output of microcurrent pulses delivered through eight levels ranging from 150μA to 670μA.