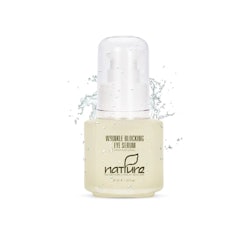 Nature Pure Clinical Skincare Wrinkle Blocking Eye Serum is a silky serum that uses a professional formulation infused with organic botanicals for lightweight hydration and nourishment. Designed to combat fine lines, wrinkles and signs of aging, this potent holistic formula rejuvenates the delicate eye area.
Its multi-peptide and retinol complex stimulates collagen synthesis, enhancing elasticity. Irish Moss, Yerbamate Leaf, Comfrey, Spirulina, Squalene, and other extracts soothe and regenerate, while vitamins A and E provide antioxidant benefits for skin renewal.
Gently tap a pea-sized amount of serum onto the surrounding eye area, targeting lines, dryness, and darkened areas. Use daily for youthful, radiant eyes.