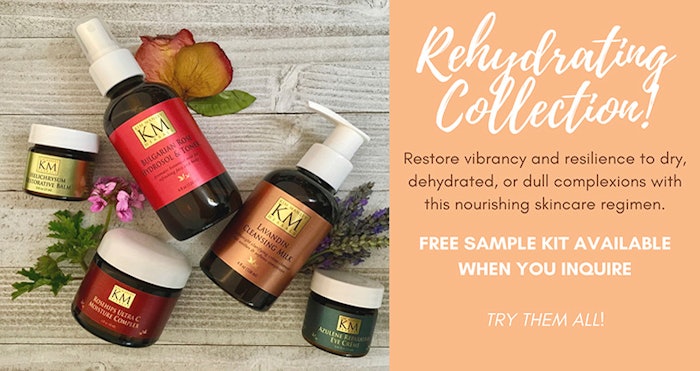 Balance and nourish with post-winter self-care!
As we emerge from the dry winter months, it's time for self-care routines that establish balance and nourishment.Soothe, moisturize and protect your skin with our Rehydrating skin care product selection. These formulas will help calm, clarify and lock in moisture at every step, gently restoring vibrancy and resilience to dry, dehydrated or dull complexions. 
Explore this nourishing and revitalizing collection, including our Lavandin Cleansing Milk, Bulgarian Rose Hydrosol & Toner, Helichrysum Restorative Balm, Rosehips Ultra C Moisture Complex and Azulene Reparative Eye Crème.
Featuring Essential Botanicals of:
Rose Hydrosol (Rosa damascena): hydrating and protective; soothing and calming; gently astringent and cleansing; improves skin texture and tone
Rosehip CO2 (Rosa canina): moisturizing and balancing; improves the look of damaged or discolored skin
Comfrey (Symphytum officinale): high in vitamins, minerals and Allantoin; moisturizing and soothing
Seaweed Extract (Fucus vesiculosus): high in vitamins and minerals; moisturizing and soothing
Borage Oil (Borago officinalis): high in gamma linoleic acid; moisturizing, smoothing and calming
Try them all! Inquire with KM Herbals today and receive a free Rehydrating Sample Kit!
** Offer limited to one sample kit per inquiry to be delivered to continental United States addresses only.**