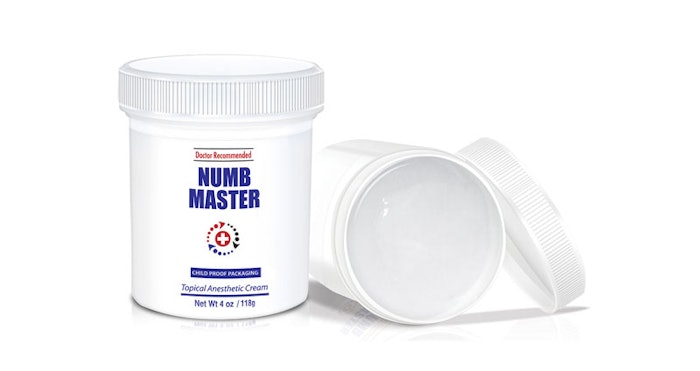 With an ever-increasing variety of procedures and devices available that can cause discomfort or pain during treatment, delivering comfort to the patient has become even more critical. 
Numb Master, made by Clinical Resolution Lab, Inc., is a topical anesthetic cream with 5% liposomal Lidocaine that provides safe and effective pain alleviation.
When patients are prepared more comfortably for a procedure, they relax and breathe easier, their blood pressure and pulse is lower, and they typically bruise less as a side benefit to their comfort level.
Numb Master is convenient. It is made with a light-weight, water-based formula, which makes the application and removal of the product easier. Unlike oil-based formula, it does not leave any greasy, tacky residue.
Numb Master is safe. There is less toxicity in Numb Master because it is made with Lidocaine only and there are no other drugs like Benzocaine or Tetracaine that could cause an adverse reaction in the skin. With only one active ingredient to be concerned with, it makes it simple and easier for the practitioner to manage product sensitivity.
Numb Master is effective. Numb Master employs liposomal encapsulation technology to increase product penetration through the skin layers. The more penetration to the dermal level, the greater patient comfort. This technology also allows for controlled release of the active ingredient to provide better stability and consistency of numbing efficacy over time.
Numb Master is fast-acting. It kicks in quickly and reaches peak of numbing efficacy in only 20-25 minutes!
Make the right choice for your patients, and deliver safe comfort with Numb Master for a variety of treatments, including waxing, injectables, microneedling, microblading, and permanent makeup!
Here's a related article for additional reference: https://aestheticinsider.com/2019/03/15/using-topical-numbing-agent-can-help-manage-patient-pain-aesthetic-procedure/
Fill out the form to the right to request more information and be entered into Numb Master giveaway drawing!